S'mores Pie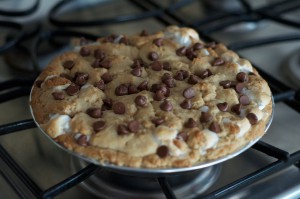 1 stick butter, softened
½ cup white sugar
1 egg
1 teaspoon vanilla extract
1 cup all purpose flour
1 cup graham cracker crumbs
1 teaspoon baking powder
1 (7 ounce) container marshmallow creme
8 (1.55 ounce) Hershey's chocolate bars, unwrapped
1 cup marshmallows
¼ cups chocolate chips
Preheat oven to 350 F. Lightly spray a 9 inch pie tin with cooking spray.
In a large bowl, beat the butter and sugar together until well combined. Stir in the egg and vanilla extract. Stir in the flour, graham crackers and baking powder and mix until well combined.
Divide the dough in half. Press half of the dough evenly into the bottom of the pie tin. Make sure the the dough covers the sides of the tin as well. Spread the marshmallow creme over the bottom of the crust. Separate the chocolate bars into rectangles and layer them evenly over the marshmallow creme. Place marshmallows in an even layer over the chocolate rectangles.
Place the other half of the dough in even chunks over the marshmallows, allowing some of the marshmallows to show through the top. Sprinkle the chocolate chips over the top of the dough. Bake the pie until the top is golden brown, about 20 minutes.
Allow the pie to cool completely before serving.