Chicken Tortilla Soup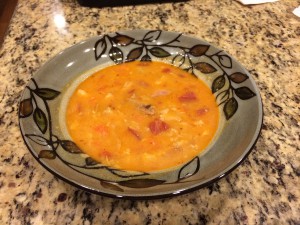 1 cup carrot, chopped
1 small onion, diced
1 garlic clove, minced
1⁄8 teaspoon salt
1⁄4 teaspoon pepper
1 tablespoon olive oil
8 cups chicken broth
2 (15 ounce) cans tomatoes, diced
1 (1¼-1½ ounce) packet taco seasoning
10 (8 inch) corn tortillas (cut into small pieces, about 1-inchx1-inch)
2 cups cooked rotisserie chicken, diced
1 cup milk
1 cup cheddar cheese, shredded
In a Dutch oven, heat the olive oil over medium-high heat. Add the garlic and sauté until fragrant, about 30 seconds. Add the carrots, onions, salt and pepper and cook until tender, about 5 minutes.
Add chicken broth and bring the soup mixture to a boil. Add the diced tomatoes, taco seasoning, tortillas and chicken. Stir to combine.
Continue to boil the soup for another 20 minutes, or until the soup has thickened and the tortillas are incorporated into the soup, stirring occasionally.
Add cheese and allow the soup to simmer for 10 minutes. Add milk let the soup simmer for another 10 minutes.
Serve immediately.