Pasta al Forno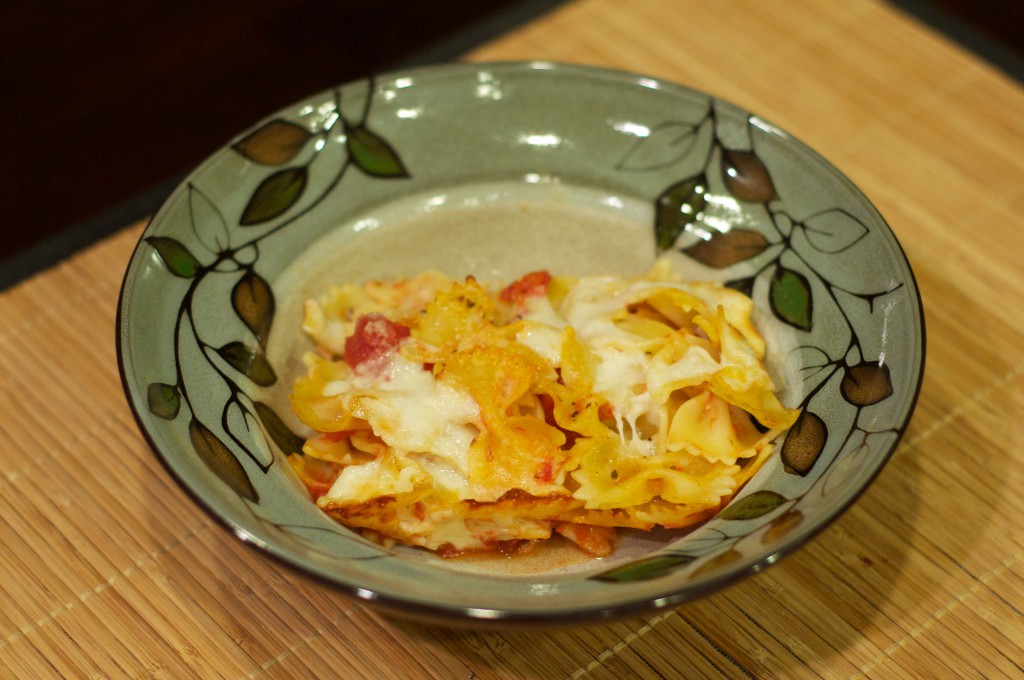 1 tablespoon olive oil
2 garlic cloves, minced
2 (14.5 ounce) cans of diced tomatoes
1 teaspoon dried oregano
1 teaspoon dried basil
½ teaspoon salt
¼ teaspoon pepper
1 pound Farfalle noodles, uncooked
Cooking spray
8 ounces mozzarella, cut into 1 inch cubes
⅔ cup grated Parmesan cheese
Preheat oven to 400 F.
Cook the pasta for about a minute less than the instructions on the package. The pasta will continue to cook in the oven as it is baked.
Meanwhile, heat the olive oil in a large saucepan over medium heat. Add the garlic and cook until fragrant, about 30 seconds. Add the tomatoes (including the juice), oregano, basil, salt and pepper and bring to a boil. Reduce heat and simmer for 10-15 minutes, or until the sauce is slightly thickened.
Add the drained noodles to the saucepan and stir to combine.
Spray a 9 x 13 pan with cooking spray. Pour half of the pasta and tomato mixture into the pan. Evenly spread half of the mozzarella cubes and Parmesan cheese over the baking pan. Add the rest of the pasta and tomatoes and top with the rest of the mozzarella and Parmesan cheese.
Bake for 10-15 minutes or until the cheese has melted and the dish is hot and bubbly.
Serve immediately.