One Pan Greek Chicken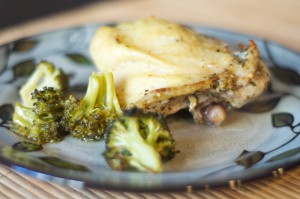 8 bone-in, skin-on chicken thighs
¼ cup olive oil
3 cloves garlic, minced
3 tablespoons lemon juice
1 tablespoon rice vinegar
1 tablespoon dried oregano
Salt and ground black pepper, to taste
1 large head of broccoli
1 tablespoon olive oil
Salt and pepper to taste
In a large zip top bag, combine the olive oil, garlic, lemon juice, vinegar, oregano, salt and pepper to taste. Add the chicken and massage it so that that the chicken is well coated in the marinade. Place chicken in refrigerator and allow to marinate for 20 minutes to an hour. Turn the bag periodically.
Meanwhile, cut the broccoli into bite sized florets. Set aside.
Preheat oven to 400 F. Line a baking sheet with foil. Lightly coat foil with cooking spray.
Place chicken on the baking sheet, shaking off excess marinade. Make sure there is space between each piece of chicken. Discard the rest of the marinade.
Roast the chicken for about 25 minutes or until it is almost done. Remove from oven. Add broccoli to the pan, around the pieces of chicken. Pour olive oil over broccoli pieces and sprinkle with salt and pepper, to taste. Place pan back into oven and cook for another 5 minutes, or until chicken is cooked through.
Broil the chicken for about 2-3 minutes, or until it is golden brown.