Mien Xao Ga (Bean Thread Noodles Stir Fried with Chicken)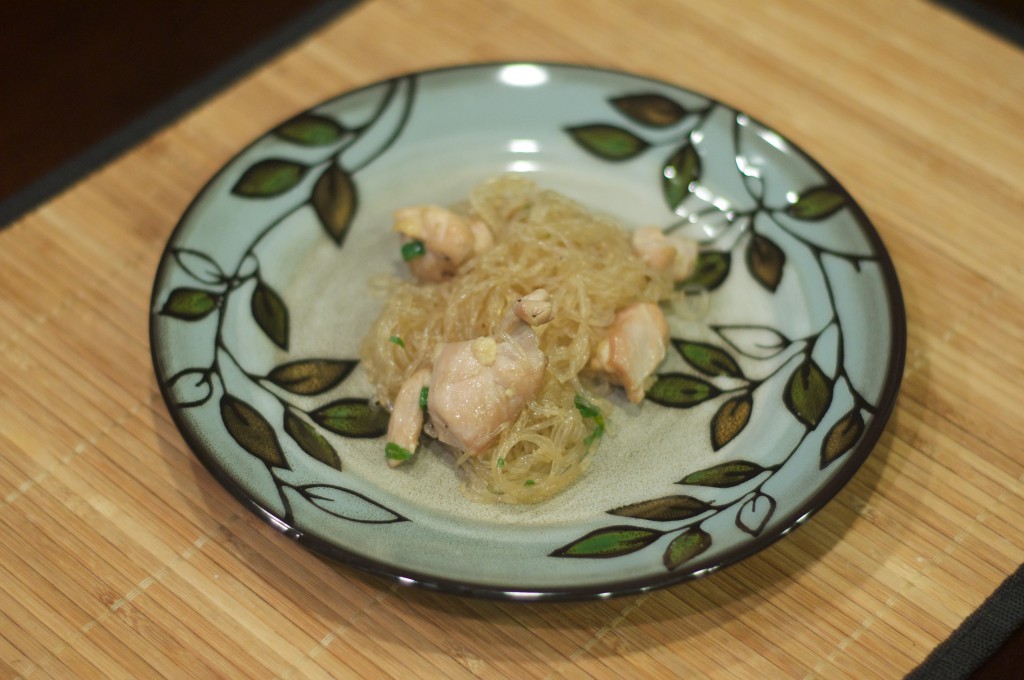 ¼ pound dried bean thread noodles (mien), about 2 small bundles
2 tablespoons olive oil
3 garlic cloves, minced
½ small onion, diced
¾ pound boneless skinless chicken thighs, cut into bite sized pieces
¾ cup chicken broth
2 tablespoons fish sauce
1 tablespoon soy sauce
½ teaspoon pepper
2 tablespoons thinly sliced green onion
In a medium sized bowl, place the bean thread noodles. Add enough warm water to cover the noodles. Soak the noodles until they are pliable, about 10 to 20 minutes. Once the noodles are pliable, cut them into roughly 3 inch pieces. Place the cut noodles near the stove.
Heat oil in a large skillet over medium heat. Add garlic and onion and sauté until fragrant, about 30 seconds. Next, add the chicken and sauté until all sides of the chicken are brown (chicken does not need to be fully cooked), about 5 minutes. Then add the noodles and cook for another minute.
Add the broth, fish sauce, soy sauce, pepper and green onion and stir to combine. Sauté until the chicken is cooked through and the noodles are al dente, about 3 to 5 minutes.
Divide stir fry among individual bowls and serve hot.
Recipe by
The Little Chef
at http://littlechefblog.com/mien-xao-ga/