Strawberry Apple Oatmeal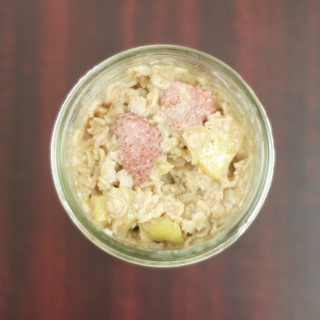 1 cup milk
½ small apple
½ cup rolled oats
5 fresh strawberries
½ teaspoon vanilla extract
½ teaspoon cinnamon
Heat milk in a small pot, over medium high heat.
Meanwhile remove core and seeds from the apple and dice it. Hull and quarter the strawberries.
Once the milk has come to a boil, add the apples, oats and strawberries and stir to combine.. Cook for 5 minutes.
Once most of the liquid has been absorbed, add vanilla extract and cinnamon. Stir to combine.
Serve hot or refrigerate and serve cold.