Traeger Smoked T-Bone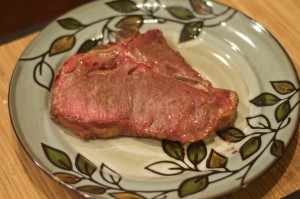 2 T-Bone Steaks about 1 inch thick.
Course Salt
Freshly Ground Black Pepper
Start the Traeger Grill in accordance with the instructions and then set to the "Smoke" Setting.
Flavor the steaks with your favorite seasoning or with salt and pepper to your liking. Place the steaks onto the grill and smoke for 30 minutes.
After the 30 minute smoking has finished, turn the grill to the "High/450" Setting.
Cook until the steaks hit an internal temperature of 140F (or approximately another 20 minutes).
Allow the steaks to rest for 5 minutes and serve.