Cinnilla Nut Mix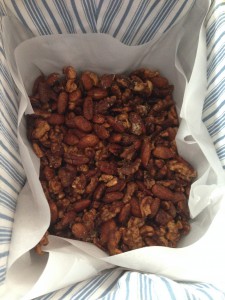 1 egg white
1 tablespoon coconut oil, melted
¼ teaspoon vanilla extract
1 teaspoon ground cinnamon
2 pinches of sea salt
¼ cup pecans
¼ cup cashews
½ cup walnuts
2 tablespoons almond meal
Preheat the oven to 275 F. Line a baking sheet with parchment paper.
In a large bowl, combine the egg white, coconut oil, vanilla extract cinnamon and sea salt. Whisk until well combined. Add the nuts and almond meal and mix well. Ensure that all the nuts are well coated with the egg mixture and almond meal.
Spread the nuts evenly on the parchment paper so that they are in a single layer. Bake until they are toasted, about 30 minutes.
Allow the nuts to cool slightly. Break them into smaller chunks and serve.