Baked Avocado Fries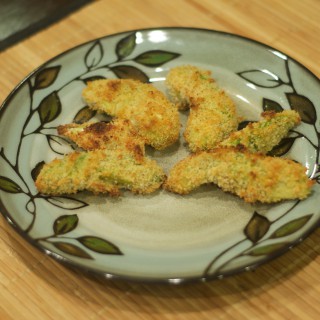 ½ cup flour
3 eggs
1¼ cup panko bread crumbs
1 teaspoon garlic powder
1 teaspoon chili powder
1 teaspoon salt
4 avocados, peeled, pits removed and cut into slices
Preheat oven to 450 F. Line a baking sheet with aluminum foil. Lightly coat the foil with cooking spray.
Place flour in a medium sized zip top bag. In a shallow plate, lightly beat the eggs with 2 tablespoons water. In a separate shallow plate, combine the panko, garlic powder, chili powder and salt. Mix until all ingredients are well combined.
Place avocado slices in zip top bag and close top. Shake the bag until the avocados are lightly dusted in the flour.
Working with one slice at a time, remove avocado from the bag, shaking off excess flour. Dip the avocado in the egg mixture and then place in the breadcrumb mixture, pressing to coat. Place avocado in a single layer on the prepared baking sheet. Repeat with the remaining avocado slices.
Spray the coated avocado slices with the cooking spray.
Bake for 15 minutes, or until avocado slices are golden and crispy.
Serve hot.