"From Scratch" Pumpkin Pie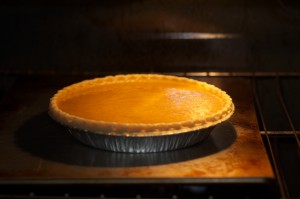 ¾ cup sugar
1 teaspoon ground cinnamon
½ teaspoon salt
½ teaspoon ground ginger
¼ teaspoon ground cloves
2 eggs
1 can (15 ounces) pumpkin*
1 can (12 ounces) evaporated milk
1 unbaked 9 inch deep dish pie shell
Preheat oven to 425 F.
In a small bowl, combine sugar, cinnamon, salt, ginger, and cloves. In a large bowl, beat the eggs. Add the pumpkin and sugar mixture and stir to combine. Slowly stir in evaporated milk. Pour pumpkin mixture into pie shell.
Bake for 15 minutes. Reduce oven temperature to 350 F. Bake for an additional 40-50 minutes, or until a fork inserted into the center of the pie comes out clean.
Allow the pie to cool on a wire rack for 2 hours. Serve immediately, or place in refrigerator.
* Make sure this is pumpkin, not pumpkin pie mix.
Recipe by
The Little Chef
at http://littlechefblog.com/from-scratch-pumpkin-pie/