Lemon Yogurt Chicken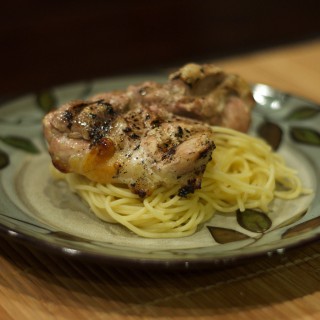 1 cup plain yogurt
2 cloves garlic, minced
4 teaspoons salt
½ cup lemon juice
2 tablespoon honey
2 tablespoon olive oil
4 pounds boneless, skinless chicken thighs
In a small bowl, combine yogurt, garlic, salt, lemon juice, honey and olive oil. Stir until well combined.
Place marinade in a zip top bag. Place chicken thighs in the marinade. Massage the bag so that all the chicken thighs are well coated in the marinade. Place in the refrigerator and allow the chicken to marinate for at least 4 hours.
Heat the Traeger to 450 F, per standard instructions, or heat a regular grill to high heat. Place chicken in a single layer on the grill. Cook until chicken has reached an internal temperature of 165 F, about 30 minutes. If using the Traeger, there is no need to flip the chicken. If using a regular grill, flip the chicken every 15 minutes.
Serve hot (I served mine over pasta).