Swedish Meatballs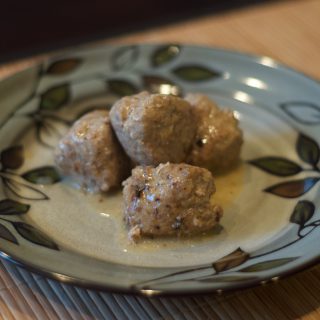 1 cup panko breadcrumbs
2⅓ cup chicken broth, divided use
4 tablespoons unsalted butter, divided use
1 cup minced onions
2 slices thick cut bacon, minced
2 pounds ground turkey
3 large eggs, lightly beaten
1 tablespoon salt
1½ teaspoons black pepper
1 teaspoon ground allspice
½ teaspoon ground nutmeg
2 tablespoons flour
2 tablespoons sour cream
In a small bowl, combine breadcrumbs and ⅓ cup chicken broth. Stir to combine. Set aside.
In a large skillet, melt 1 tablespoon butter over medium heat. Add the onions and sauté until they are softened, about 10 minutes. Remove onions from the skillet and place them in a large bowl. Set aside.
Add bacon to the skillet and cook until bacon is crispy, about 8 minutes. Using a slotted spoon, remove bacon from the skillet and place the bacon in the large bowl along with the onions. Reserve the bacon fat (leave it in the skillet).
Add ground turkey, eggs, salt, pepper, allspice and nutmeg to the onion mixture. Stir to combine. Add the reserved bread crumb mixture to the onion mixture. Stir to combine.
Line a baking sheet with parchment paper. Roll meat mixture into a 1 inch ball and place on the prepared baking sheet. Repeat with the remaining meat mixture.
Add one tablespoon butter to the reserved bacon fat in the skillet and heat over medium low heat. Working in 3 batches, place ⅓ of the meatballs in the skillet, per batch and brown on all sides. This will take about 6-8 minutes per side. The meatballs will not be cooked through. If needed, add a tablespoon of butter between batches. Line a plate with paper towels. Transfer the meatballs to the plate after they have been browned. Dab the top of the meatballs with more paper towels.
Drain fat from skillet, leaving 2 tablespoons behind. Slowly whisk in flour and stir until a paste is formed. Slowly whisk in 2 cups of chicken broth. Raise the heat to medium high and bring the broth mixture to a simmer.
Add the meatballs back to the skillet. Cover the skillet and simmer the meatballs until they are cooked through, about 15 minutes. Remove skillet from heat and whisk in the sour cream. Stir so that the sauce coats the meatballs.
Serve hot with pasta or mashed potatoes, if desired.