Breaded Pork Chops with Cream Gravy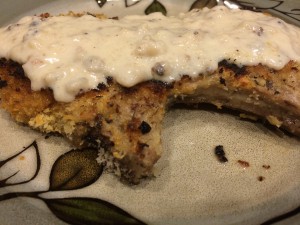 8 bone in pork chops, ½ inch thick each
Salt and pepper
1 egg
3 tablespoons milk
½ cup all purpose flour
3 cups panko bread crumbs
1 teaspoon dried thyme
2 tablespoons vegetable oil
6 tablespoons flour (reuse flour leftover from pork chops, but more fresh flour may be needed)
½ teaspoon salt
1 teaspoon ground black pepper
2½ cups milk
Pat pork chops dry with a paper towel. Season with salt and pepper, to taste.
In a shallow bowl, whisk together the egg and milk. Place flour in another shallow bowl. In yet another shallow bowl, combine the breadcrumbs and thyme. Stir to combine.
Dip a pork chop in the flour, shaking off excess flour. Next dip the pork chop in the egg mixture, again shaking off excess. Finally, dip pork chops in the breadcrumb mixture, pressing so that the pork chop is coated in breadcrumbs. Repeat for each pork chop.
Heat oil in a large skillet, over medium heat. Working in batches, fry the pork chops until they are cooked through, about 4 to 6 minutes on each side. Do not overcrowd the skillet. Make sure there is space between each pork chop. Repeat for each pork chop.
Serve hot, smothered in cream gravy.
Drain the oil from the pan used to cook the pork chops, but do not wipe it clean. There should be a small amount of oil in the pan. Heat the pan over medium heat, and add the flour. Stir to mix the flour with the oil/pork chop remnants.
Add salt and pepper and stir to combine. Slowly whisk in milk. Continue to cook gravy until it has thickened slightly, about 5 minutes. Remove from heat. Gravy will thicken as it cools. Serve over pork chops
Recipe by
The Little Chef
at http://littlechefblog.com/breaded-pork-chops-cream-gravy/