Herb Baked Catfish Nuggets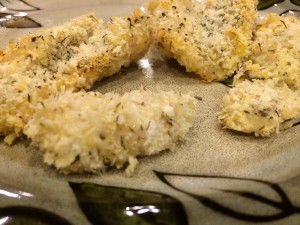 1 pound catfish nuggets
1 egg white, beaten
1 tablespoon lemon juice
1 cup Panko breadcrumbs
1 teaspoon dried dill
1 teaspoon dried basil
½ teaspoon dried oregano
Salt, to taste
Preheat oven to 400 F. Line a baking sheet with aluminum foil and lightly spray foil with cooking spray.
Rinse the catfish and pat dry with a paper towel. In a small bowl, combine the egg white and lemon juice. In a shallow plate, combine the breadcrumbs, dill, basil and oregano.
Working with one nugget at a time, dip the catfish in the egg mixture and then place suggest in the breadcrumb mixture, pressing so that the nuggets are well coated in the breadcrumb mixture. Place on the lined baking sheet, leaving space between each nugget.
Sprinkle the tops of the nuggets with salt, to taste. Lightly spray the nuggets with cooking spray. Bake until the nuggets are lightly brown, and the thickest nugget flakes easily, about 12-15 minutes.
Serve hot.
Recipe by
The Little Chef
at http://littlechefblog.com/herb-baked-catfish-nuggets/