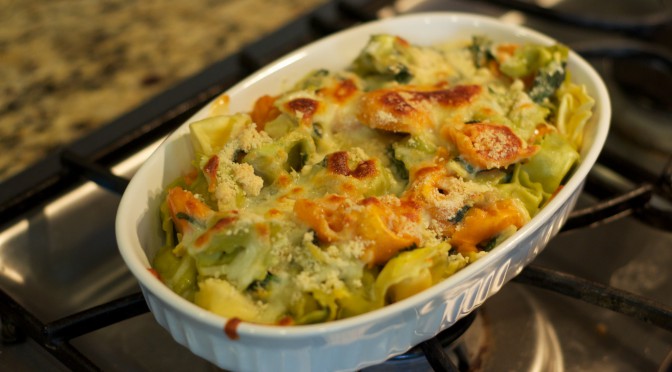 Tortellini Spinach Artichoke Bake
Mike loves Spinach and Artichoke dip.  It's not that I don't like Spinach and Artichoke dip, I just don't like it as much as Mike does.  I also find it really hard to find ways to use up the ingredients that were used in the dip afterward.
It's a great way to use up spinach and artichoke!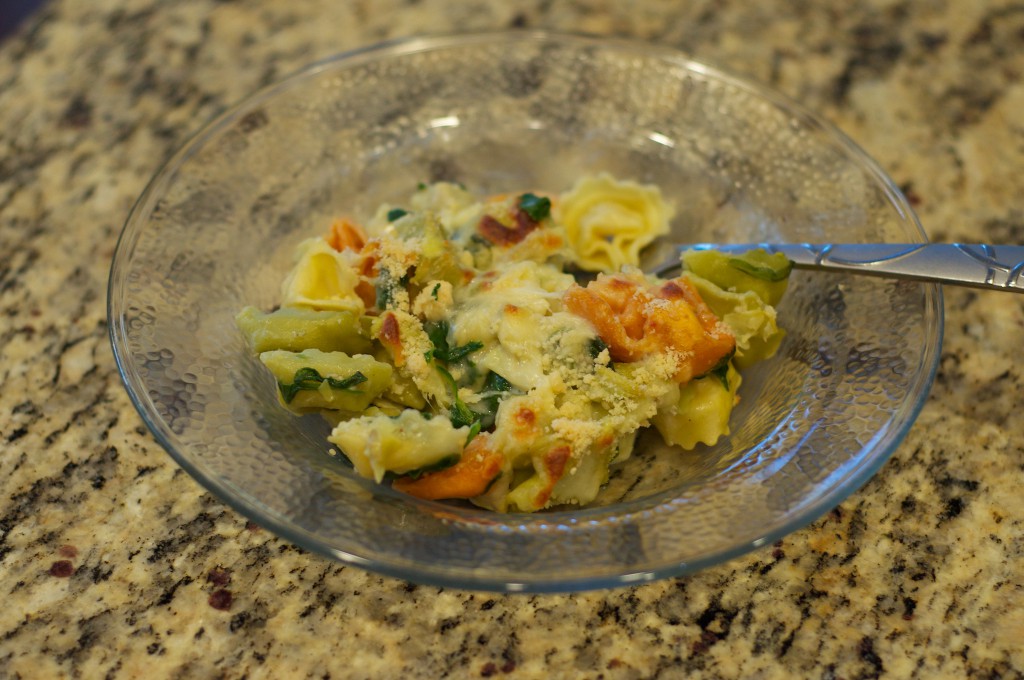 Mike tried to make this a few days later, but did not realize we had artichoke and spinach, so he didn't use either of those. He said it did not taste quite the same….  I highly suggest using both spinach and artichoke when making this dish.

Tortellini Spinach Artichoke Bake
Ingredients
1 pound tortellini, uncooked
1 tablespoons butter
1 garlic clove, minced
1 tablespoon all purpose flour
1 cup milk
Pinch of nutmeg
5 ounces cooked spinach, chopped, excess water squeezed out*
½ cup canned quartered artichoke hearts
Salt and pepper to taste
¼ cup grated Parmesan cheese
¼ cup shredded Mozzarella cheese
Instructions
Preheat broiler.
Cook tortellini according to instructions on the package.
While the tortellini is cooking, melt the butter in a large skillet, over medium high heat. Add garlic and saute until fragrant, about 30 seconds. Add flour and stir to combine. Add milk and cook until the sauce has thickened slightly, stirring frequently.
Add nutmeg, spinach, artichoke, and salt and pepper to taste. Cook until the vegetables are heated through.
Add tortellini to the sauce and stir so that the the tortellini are coated in the sauce. Pour into a casserole dish and top with Mozzarella and Parmesan cheese. Place under the broiler, allowing the cheeses to melt and the top to brown, about a minute
Notes
* Can use frozen spinach, defrosted
Adapted from RachelRay.com