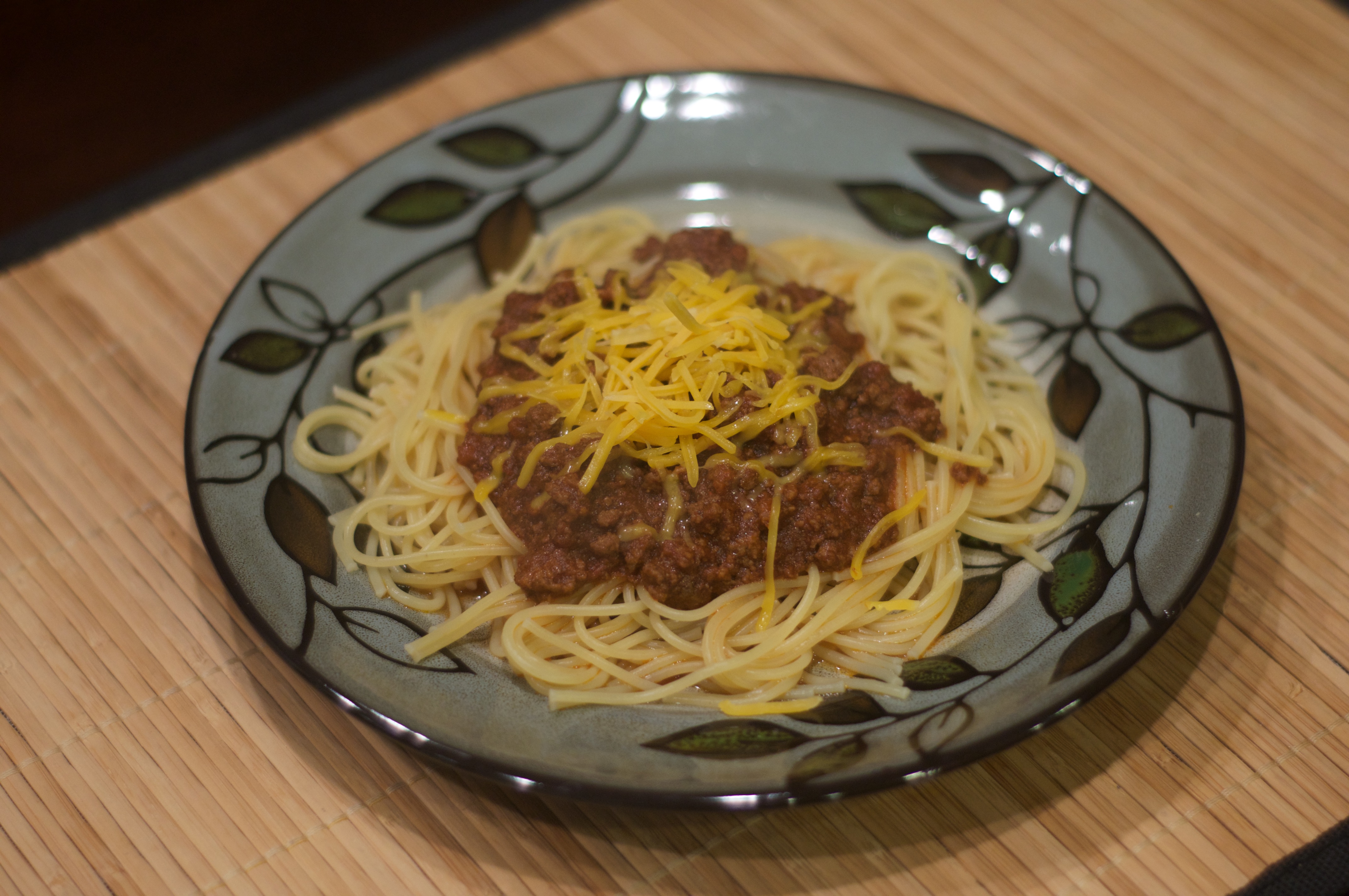 Cincinnati Style Chili
Cincinnati style chili is different from the other types of chili out there.  It's slightly sweet and contains cocoa powder.  I have no idea if the "real" Cincinnati chili contains chocolate or not, but this recipe does, and chocolate makes most food items better.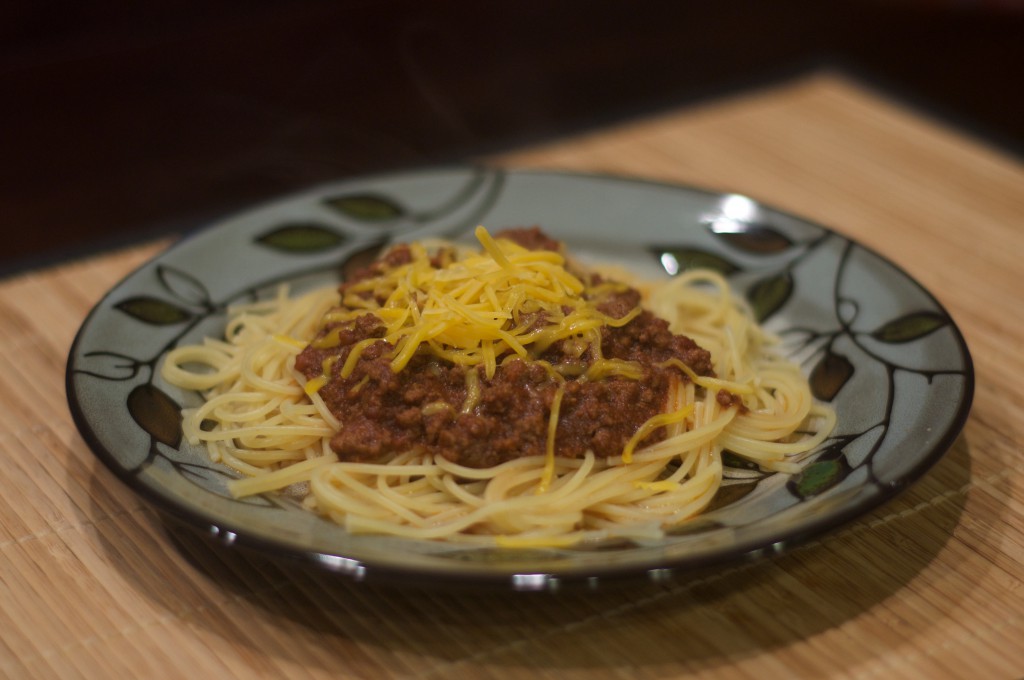 Although there are multiple ways to serve Cincinnati style chili, I don't like beans or onions, so I just serve it over spaghetti and top it with cheese.  It really doesn't need anything else.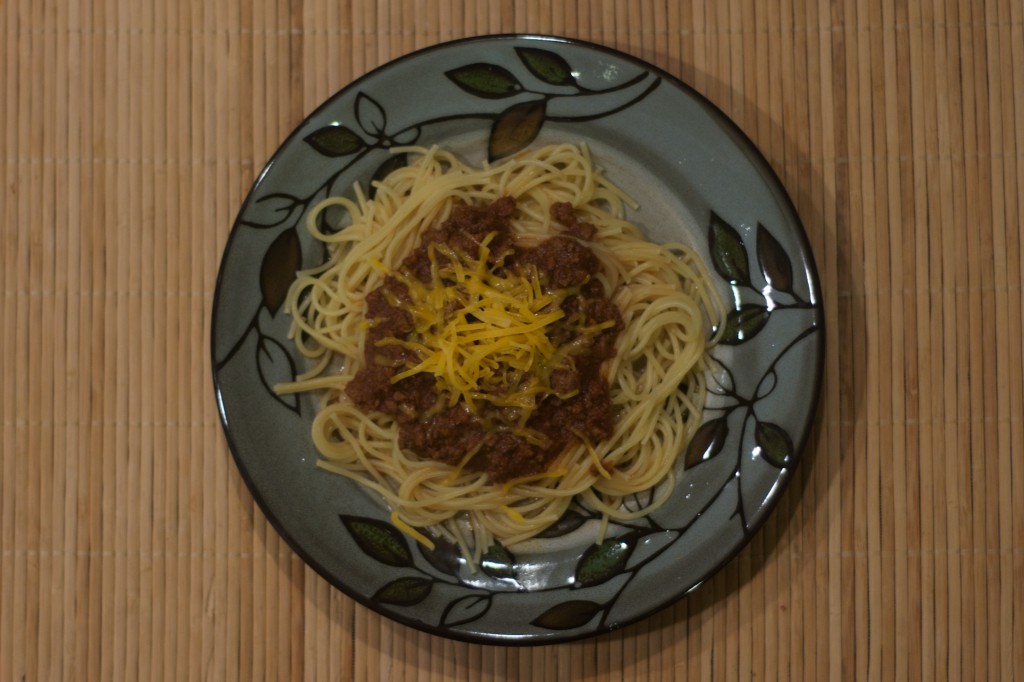 Although this chili takes a long time to cook, you can spend that time making dessert.  The chili is simmered for a while to allow the flavor from the spices to really seep into the meat.

Cincinnati Style Chili
Ingredients
1 pound 93% lean ground turkey
1 small onion, chopped
1 garlic clove, minced
1 tablespoon chili powder
1 teaspoon ground allspice
1 teaspoon ground cinnamon
1 teaspoon ground cumin
½ teaspoon salt
1½ tablespoons unsweetened dark chocolate powder
1 (15 ounce) can tomato sauce
1 tablespoon Worcestershire sauce
1 tablespoon apple cider vinegar
½ cup water (plus more for cooking spaghetti)
1 pound uncooked spaghetti
4 cups shredded cheddar cheese
Instructions
Heat a Dutch oven over medium high heat. Add the ground turkey, breaking up the meat into smaller pieces. Cook for 3 minutes, continuing to break up the meat as it starts to cook. Add the onion and garlic and cook until meat has browned, about 3 more minutes, continuing to break up the meat as it cooks.
Add the chili, allspice, cinnamon, cumin, salt, chocolate, tomato sauce, Worcestershire sauce, vinegar and water. Stir to combine. Bring chili mixture to a boil.
Reduce heat and simmer uncovered for 90 minutes, stirring occasionally.
Meanwhile, about 15 minutes before the chili finishes, cook the spaghetti according to the instructions on the package.
Divide the cooked spaghetti among 8 plates. Ladle chili over the top of the cooked spaghetti. Top with ½ cup of cheddar cheese (per plate).
Serve hot.
Adapted from What's Cooking America