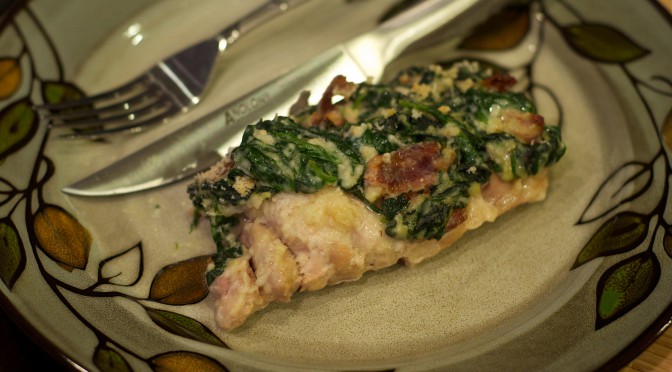 Spinach Sauced Chicken Thighs
Wow, when Kim told me she was making another dish out of spinach, honestly I didn't exactly become exuberant. However, after quite a lot of prep work (which included cooking some amazing smelling bacon, yes Jeff, bacon) and 40 minutes or so of cooking, Kim came out with this delicious dish.
Upon taking my first bite into this spinach surprise, I was actually delighted by the flavors that it possessed. Then I realized that I hadn't even gotten to the bacon yet!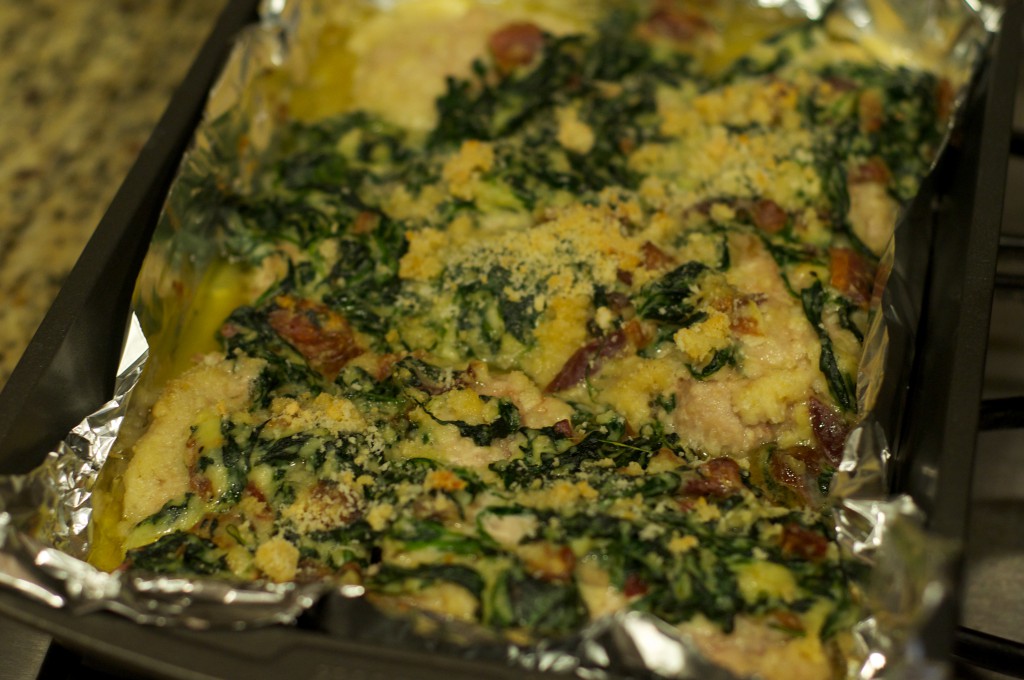 This chicken does not reheat well, and did not taste as good for lunch the next day.  That just means you get to eat it all in one meal!

Spinach Sauced Chicken Thigh Halves
Ingredients
⅔ cup Panko breadcrumbs
½ cup grated Parmesan cheese
6 boneless, skinless chicken thighs
2 tablespoons butter
2 tablespoons all purpose flour
1 cup milk
10 ounces cooked baby spinach, drained of excess water
6 slices of bacon
Instructions
Preheat oven to 350 F. Line a 9 x 13 inch pan with aluminum foil
Cook bacon according to the instructions on the package. Pat bacon with a paper towel to remove as much grease as possible. Cut into 1 inch pieces.
In a shallow dish, combine breadcrumbs and Parmesan cheese. Dredge chicken in cheese mixture, pressing to coat both sides of the chicken in the cheese mixture. Place chicken in prepared pan. Set aside any remaining breadcrumbs.
Melt butter over medium high heat in a large skillet. Whisk in flour and cook until golden brown, about 2 minutes. Slowly whisk in milk, stirring frequently. Cook until sauce starts to bubble and thicken, about 5 minutes. Add spinach and bacon and stir to combine.
Spread spinach mixture evenly over chicken. Sprinkle the remaining breadcrumb mixture over the sauce.
Bake, uncovered, until chicken has reached an internal temperature of 175 F, about 35-40 minutes.
Serve hot.
Adapted from 9 x 13: The Pan that Can