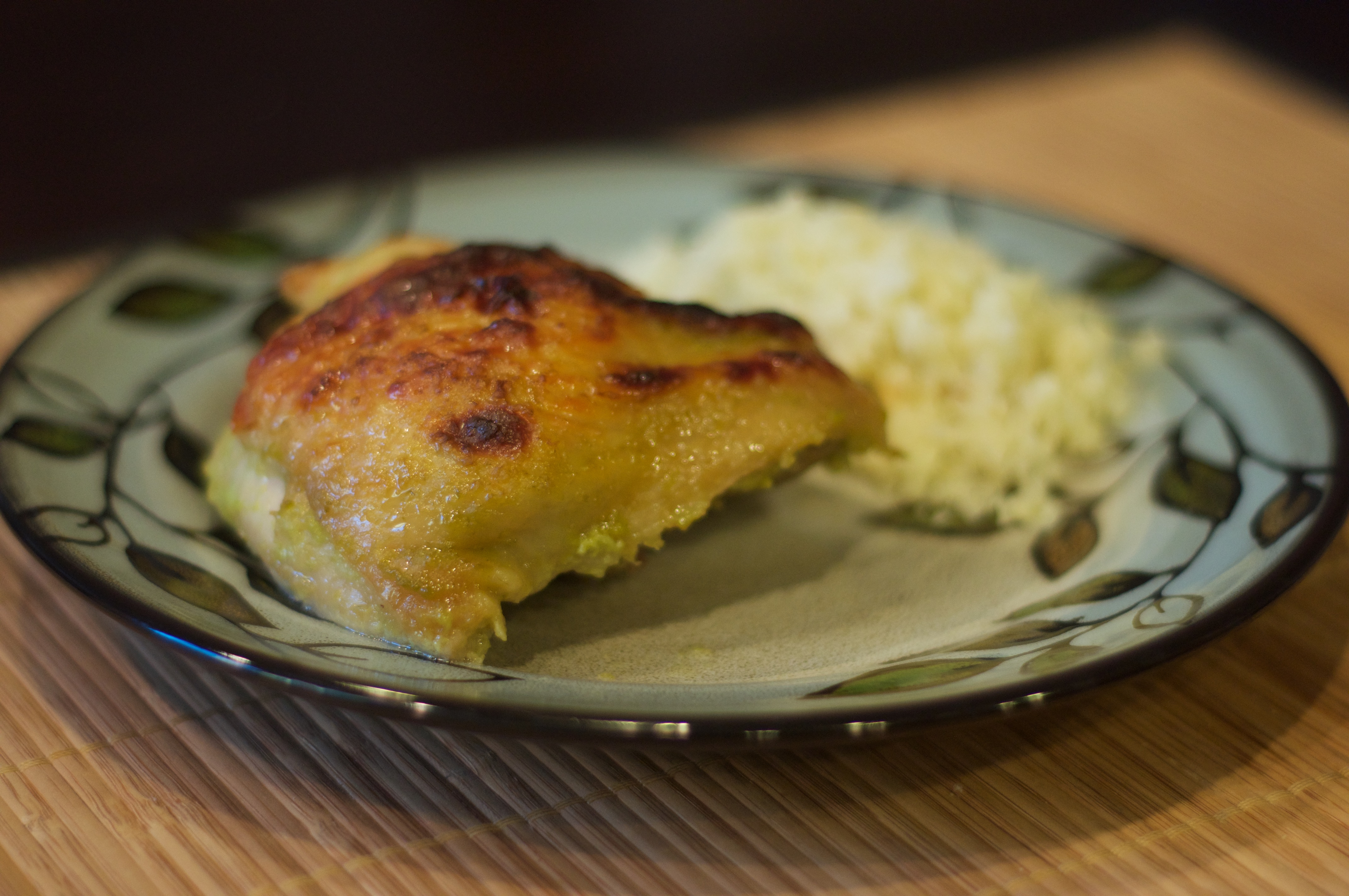 Asian Chicken Thighs
I tend not to make food that needs to be marinated because then I have to plan out the meal ahead of time.  I then spend all this time making the marinade and "preparing" the food, but then don't get to enjoy it until a later time!  I then have to make another meal to eat that night.  I'm essentially making two meals in one night!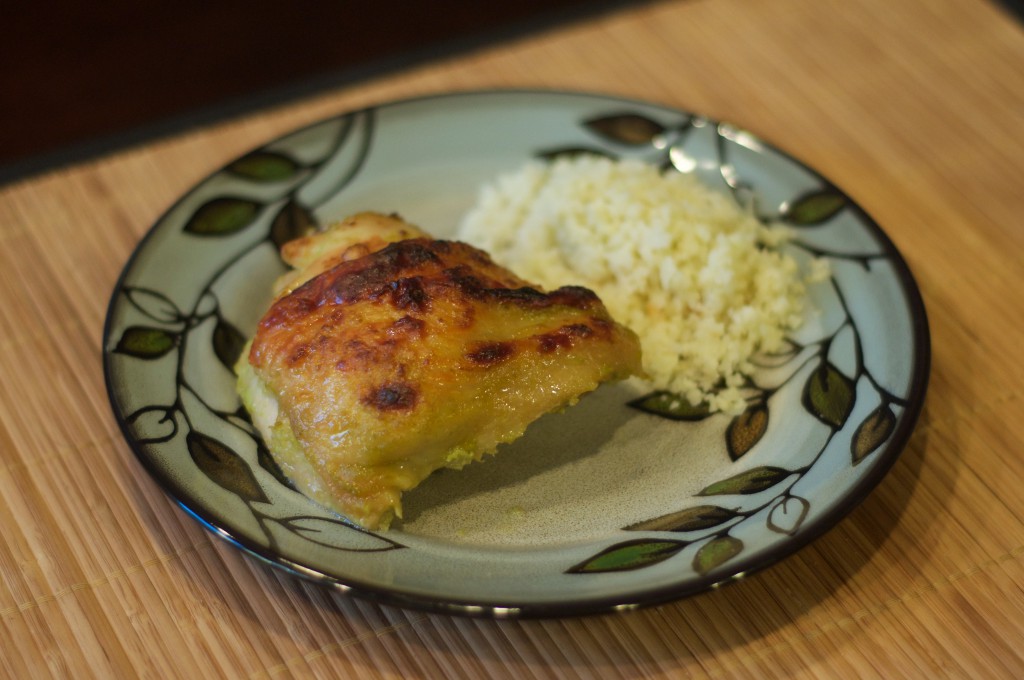 This marinade is actually pretty quick to make.  I had  a few doubts about it since I'm not the biggest fan of scallions.  I realize that they enhance the taste of many food items, but they do have a pretty strong flavor.
The chicken actually turns out pretty good and the scallions were not too strong.  It did have an "Asian" flavor to it.  It's hard to describe since it's not a "teriyaki" or "five spice" flavor.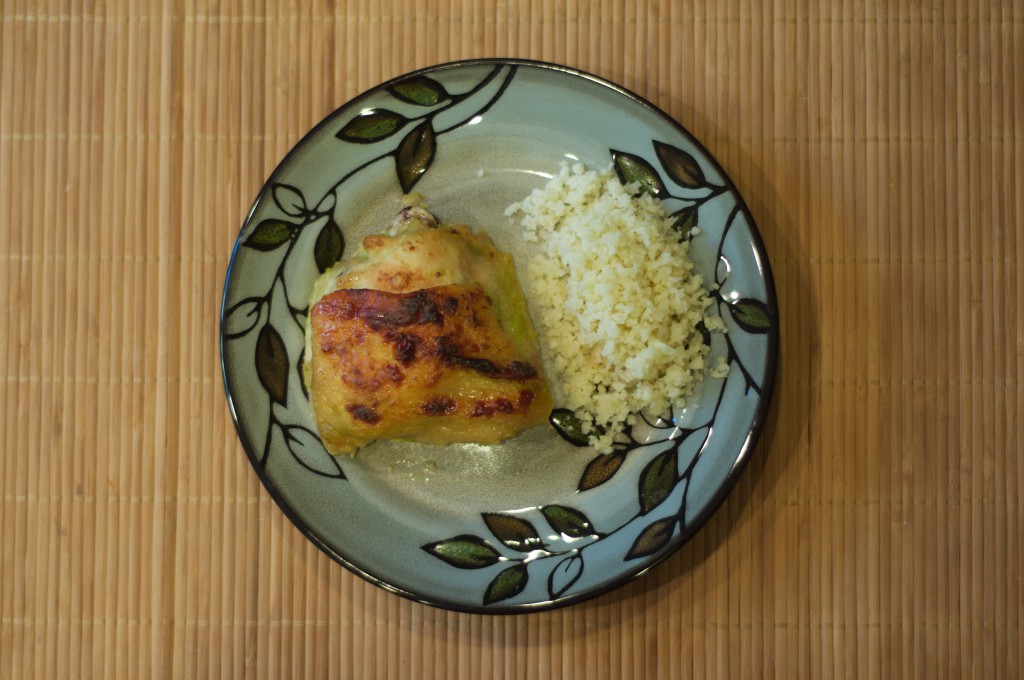 The marinade was really quick and easy to make.  I put all of the ingredients except ginger in my Vitamix and blended it until it was smooth.  I marinated the chicken the night before and baked the chicken the next night for dinner.
I did forget to turn the chicken over in the oven, but I don't think it made a huge difference in the taste.  Some parts of the chicken did look a little green since the marinade was green and those parts of the chicken did not necessarily receive as much heat and did not turn brown like the other parts.

Asian Chicken Thighs
Delicious baked chicken with an Asian flare!
Ingredients
1 bunch scallions, trimmed and cut into thirds
2 garlic cloves
3 tablespoons rice wine vinegar
3 tablespoons olive oil
1 tablespoon soy sauce
1 tablespoon fish sauce
2 tablespoons honey
2 teaspoons salt
8 chicken bone-in, skin on chicken thighs
Instructions
Place the scallions, garlic, rice wine vinegar, olive oil, soy sauce, fish sauce, honey and salt in a high powered blender (I used my Vitamix). Blend on medium speed until smooth, about 30 seconds.
Place the chicken in a plastic bag with a zippered top and pour the marinade over the chicken. Massage the bag so that the chicken is well coated with the marinade. Marinate the chicken overnight.
Preheat the oven to 400 F. Line a baking sheet with foil.
Place the chicken, skin side down on the baking sheet. Roast the chicken for 40 minutes, flipping the chicken half way, or until the chicken is cooked through, and has reached an internal temperature of 165 F.
Serve immediately.
Adapted from Nom Nom Paleo