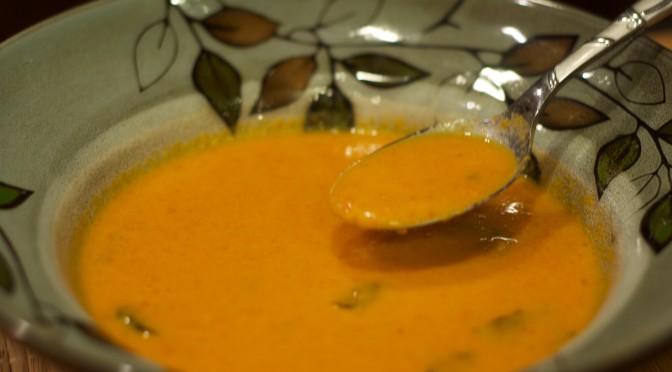 Creamy Tomato Basil Soup
I bought heavy whipping cream to make some recipe. Unfortunately I don't remember which recipe I wanted to make. I have a quart of quart of heavy whipping cream and I'm trying to find recipes to make with it. I guess I could make whipped cream, but I've never been much of a baker.
Mike has commented before that he likes tomato soup (I've never been a big fan of it), so I thought I would try this Creamy Tomato Basil Soup, which uses whipping cream and is a tomato soup. I was pleasantly surprised by how it tasted.
Be sure to puree this soup until it is smooth.  It can have a "grainy" consistency if it is not properly pureed.

Creamy Tomato Basil Soup
Ingredients
1 tablespoon olive oil
1 small onion, diced
1 garlic clove minced
1 (14.5 oz) can diced tomatoes
2 cups chicken broth
Salt and pepper, to taste
½ cup heavy cream
1 bunch basil, torn into small pieces
Instructions
In a Dutch Oven, heat olive oil over medium heat. Add the onions and cook until soft, about 5 minutes. Add garlic and and sauté until fragrant, around 30 seconds.
Add tomatoes and chicken stock to the pot. Season with salt and pepper, to taste. Bring the mixture to a boil and then reduce heat to a simmer. Simmer for 15 minutes.
Place soup in a blender (I used my Vitamix), and puree until smooth. If unsure, puree it longer. This soup can taste "grainy" if it is not pureed long enough. Return the soup to the pot.
Add the cream and basil to the soup. Simmer for another 15 minutes, or until it has reached desired consistency.
Serve immediately.
Adapted from Shared Appetite