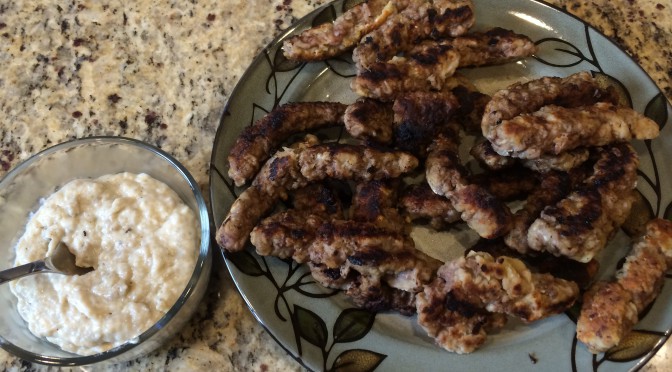 Chicken Fried Steak Fingers
I haven't had chicken fried steak many times, but of the 3 or so times that I've had it, I remember loving it.  On the other hand, one of the reasons why I don't eat it very often is because of how unhealthy it is.
This recipe is by no means healthy.  But, it is amazingly delicious, especially when the chicken fried steak fingers are dipped in the creamy gravy.  They are also finger food, and who doesn't love finger food?
Gravy will thicken as it cools.  Don't add too much flour at the beginning if the gravy doesn't look very thick.  It will come out lumpy (as you can see from my picture).  If the gravy is lumpy, it can be thinned out by adding milk.  I was pretty hungry and decided to just eat the lumpy gravy instead.

Chicken Fried Steak Fingers
Ingredients
1 cup flour
½ teaspoon black pepper
3 eggs
3 cups milk, divided use
2 pounds cube steak, cut into 1½ inch pieces
Canola oil, for frying
2 tablespoons butter
Salt and pepper, to taste
Instructions
Combine the flour and pepper in a shallow dish. In another dish, beat the eggs together with one cup milk.
Dredge a piece of steak in the flour, shaking to remove excess flour. Then dip the steak in the egg mixture, shaking to remove excess egg mixture. Dip the steak in the flour again. Place on a plate. Repeat with the remaining steak pieces until all of the pieces have been breaded. Set the unused flour aside for later.
Heat the canola oil along with the butter in a large skillet, over medium high heat. Fry 4-5 steak pieces, or however many will fit in the skillet without overcrowding it, at a time until golden brown. Flip the steak pieces and fry the other side. Transfer to a paper towel lined plate. Repeat until all of the steaks have been fried. Loosely cover the plate with foil to keep it warm.
Pour all of the grease out of the skillet, into another container. Add ¼ cup of the grease back to the skillet. Sprinkle two tablespoons of the flour mixture over the grease. Stir to combine. Reduce heat to medium low and cook the flour mixture until it is golden brown. Add more flour if desired. Slowly whisk in the remaining two cups of milk, stirring constantly. Remove from heat and allow the gravy to cool and thicken, stirring constantly. If the gravy is still too thin, add flour, one tablespoon at at time. If the gravy is too thick, slowly add milk. The gravy will thicken as it cools. Season with salt and pepper, to taste.
Serve with the chicken fried steak fingers.
Adapted from The Pioneer Woman