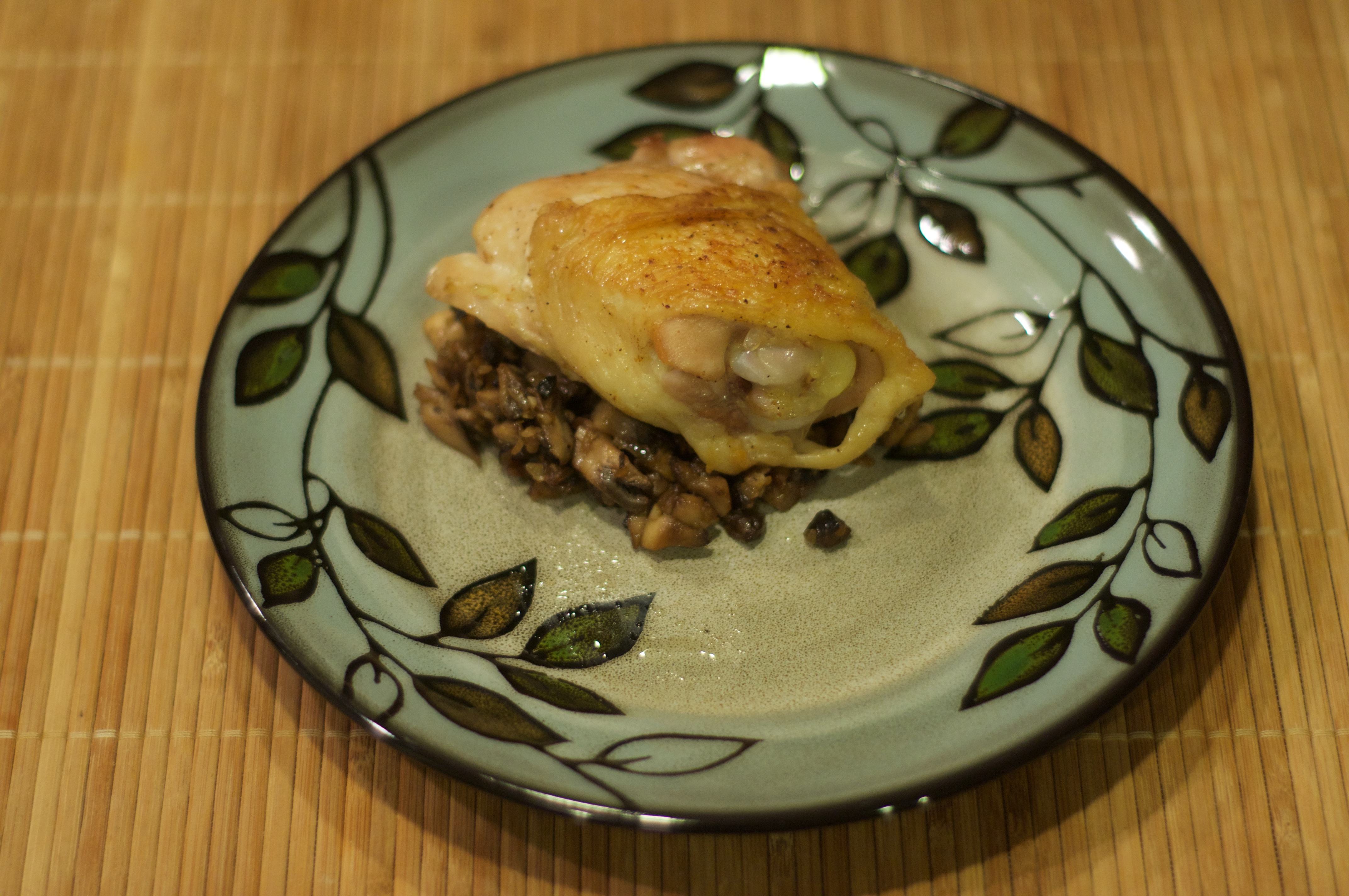 Crusty Chicken with Mushrooms and White Wine
I try to eat mushrooms periodically, since they have nutritional value.  Mike will claim that they are evil and have no nutritional value at all.  I don't understand his hatred of mushrooms.  He won't touch anything that has touched a mushroom.  Mushrooms don't have a strong taste, and you can't really taste if something has been touching a mushroom.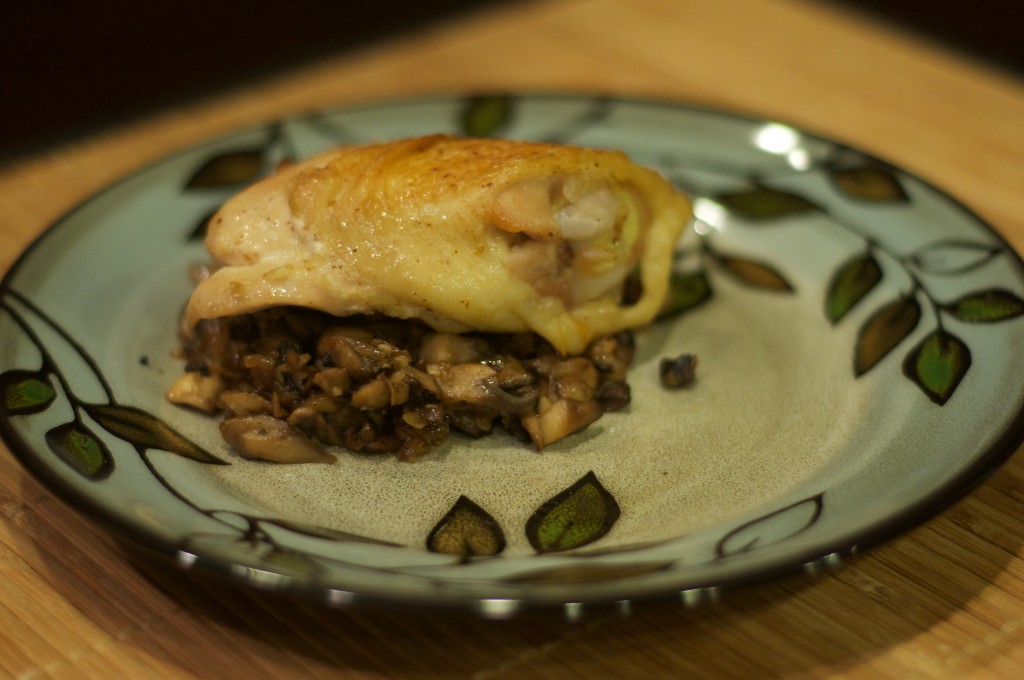 My personal opinion is that he decided that mushrooms taste terrible (maybe he ate a mushroom dish that wasn't good one time?) and refuses to try any dish with mushrooms (or any food that has recently touched mushrooms).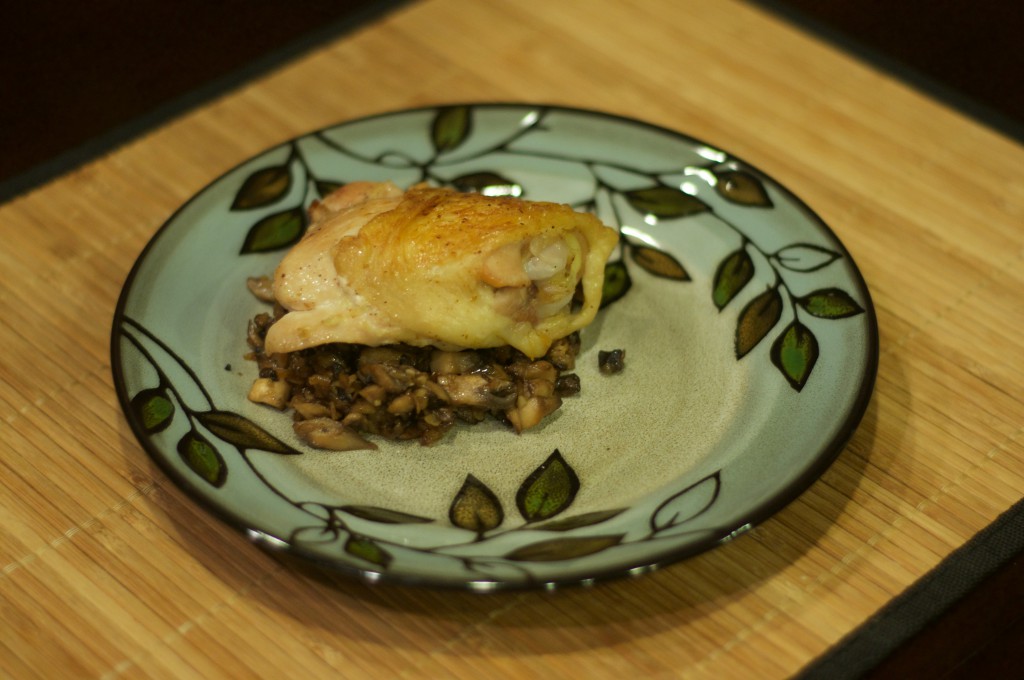 In this simple dish, the chicken is served on top of the mushrooms, instead of serving mushrooms on the side.  It slightly of resembles a dish that you might find in a restaurant, where a piece of protein is artistically placed on top of a vegetable.  I said "slightly".  I'm obviously not a professional chef, and this doesn't look as nice as a dish from a fancy restaurant, but it can be fun to try sometimes.

Crusty Chicken with Mushrooms and White Wine
Ingredients
4 bone in, skin on, chicken thighs
¾ teaspoon salt, divided use
¾ teaspoon black pepper, divided use
1 small onion, diced
1½ tablespoons minced garlic
2 cups white mushrooms, diced
⅓ cup white wine
Instructions
Place chicken thighs skin side down on a cutting board. Make a ½ inch slash on either side of the thigh bone. Evenly sprinkle both sides of the chicken thighs with ½ teaspoon of salt and pepper, or to taste (use ½ teaspoon of salt and pepper, total on all the pieces of chicken. Don't use ½ teaspoon of salt and pepper on each piece of chicken unless you like really salty and peppery chicken).
Place a large skillet on the stove, but do not turn on the heat. Place chicken, skin side down, in the skillet, leaving space between each piece of chicken. Turn on the stove to high heat. When the chicken begins to sizzle, reduce heat to medium. If necessary, move the chicken slightly so that the skin does not stick to the bottom of the skillet.
Cover the skillet and cook until the chicken has reached an internal temperature of 175 F, about 16 minutes. Reduce heat if the chicken skin is turning brown too quickly. Once the chicken is cooked through, remove from the skillet and set aside.
Pour off all but two tablespoons of the chicken fat from the skillet. Heat the skillet over high heat and add the garlic. Sauté until fragrant, about 30 seconds. Add the onions and mushrooms and sauté for 3 minutes. Add the ¼ teaspoon salt and ¼ teaspoon pepper, or to taste. Slowly stir in wine and cook until sauce reduces, about 1 minute.
Place some of the mushroom sauce on a plate. Place a chicken thigh on top of the mushroom sauce.
Serve hot, with additional mushroom sauce, if desired.
Adapted from Serious Eats