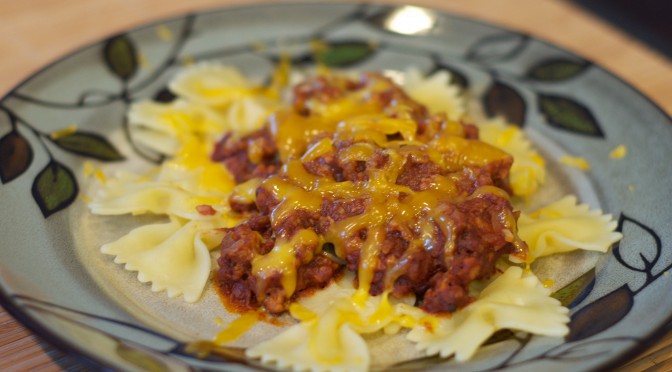 "Cincinnati" Chili
My chili experiences are basically no bean chili from the can (usually Hormel), or the Cincinnati chili from Hard Times Cafe.  The chili from Hard Times is much saltier, and much fattier.  They probably use ground beef instead of ground turkey.  Their meat is also much smaller.  My chili had chunks of meat in there because I couldn't quite get the meat to the consistency of the meat from Hard Times.
I like Cincinnati chili and have always wanted to make my own.  I've bought the spice mix from Hard Times before, but I didn't want to have to stock up on their spice mix or go there every time I wanted Cincinnati chili.  I wanted to be able to make my own from scratch!  That way I can also control the salt content.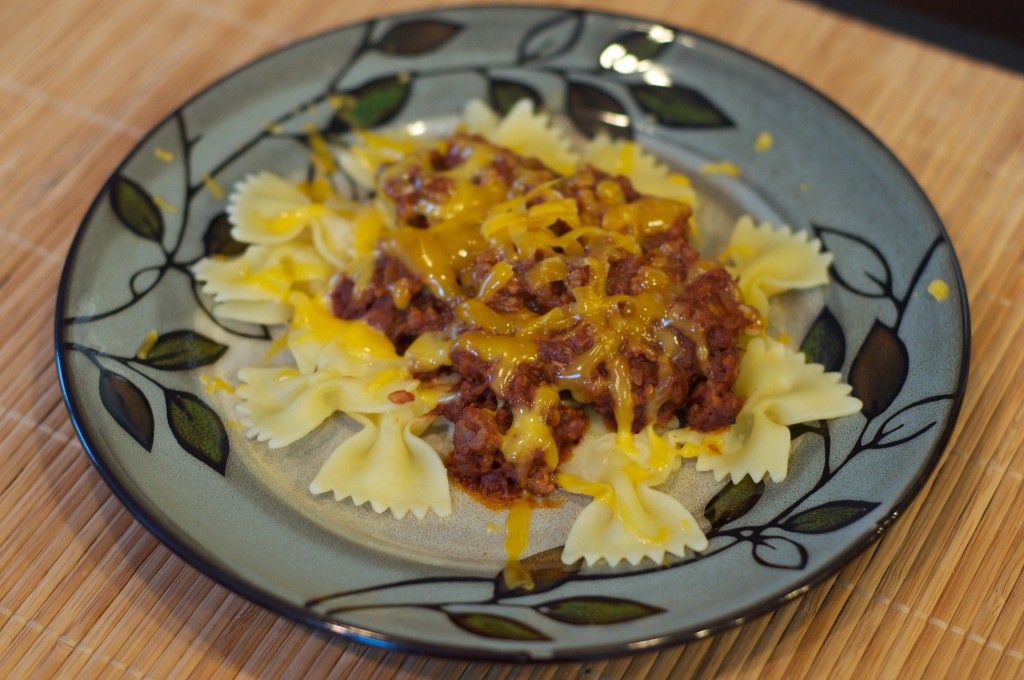 Although I did enjoy this chili, I didn't feel that it actually tasted like the Cincinnati Chili, that I had eaten at Hard Times.  That being said, the chili was delicious.  I never want to eat chili out of a can again, since I can now make my own at home!

Cincinnati Chili
Delicious chili that you can make at home.
Ingredients
1 tablespoon olive oil
20 ounces 93% lean ground turkey
2 cups chopped onion
4 garlic cloves, minced
5 teaspoons chili powder
2 teaspoons dried oregano
2 teaspoons unsweetened cocoa powder
1¼ teaspoon cinnamon
Pinch of nutmeg
Pinch of cloves
¾ teaspoon cumin
¼-1/2 teaspoon salt
¼ teaspoon pepper
1½ tablespoons rice vinegar
1½ tablespoons brown sugar
1 (15 ounce) can tomato sauce
1 cup low-sodium chicken broth
Cheddar cheese (optional)
8 ounces of pasta of choice (optional)
Instructions
In a large skillet, heat olive oil over medium heat. Add the turkey, onion and garlic. Break the meat into small pieces as it is cooking. Cook the meat until it is brown, about 10 minutes, continuing to break the meat into smaller pieces if possible.
Add the chili powder, oregano, cocoa powder, cinnamon, nutmeg, cloves, cumin, salt, and pepper, stirring to combine, and cook until fragrant, about a minute.
Add the rice vinegar, brown sugar, tomato sauce, and chicken broth and stir again to mix all the ingredients together.
Reduce heat to low and simmer for 30 minutes. If desired, cook pasta and grate the cheddar cheese at this time.
Serve immediately over pasta, topped with cheese if desired, or just eat it plain.
Adapted from Sweet Tooth Sweet Life