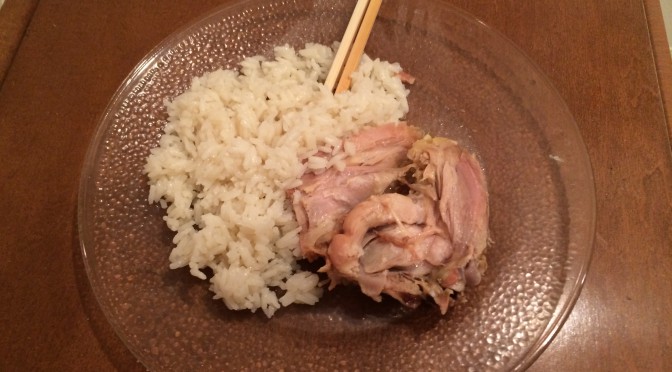 Columbian Coconut Rice
I had some coconut milk leftover after making a few other dishes.  I wasn't sure what to do with the rest of it since I don't make very many dishes that use coconut milk.
I love rice in general.  I love sticky rice (in sushi), Spanish rice, rice in burritos, fried rice etc.  I even love Rice-A-Roni (yes, I know how unhealthy that stuff is).  I decided to try adding the rest of the coconut milk to some long grain rice that I already had at home.  The result was amazingly delicious rice that wasn't overpowering.
I paired the rice with a chicken thigh from a Costco rotisserie chicken. The rice is fantastic as a side, but does not have enough flavor/salt to be eaten by itself.

Columbian Coconut Rice
Ingredients
½ cup coconut milk
1 teaspoon olive oil
⅔ cups uncooked long grain rice
4 teaspoons brown sugar
½ teaspoon salt
1 cup water
Instructions
In a medium pot, heat the coconut milk over high heat until it has just started to boil. Reduce heat and simmer until only there is only about a tablespoon of liquid in the pot, stirring frequently. Add olive oil to the pot. Continue to cook, scraping the coconut oil and solids together until they cook down to a deep brown, about 20 minutes.*
Add rice, sugar and salt to the pot and stir to combine. Turn heat to medium and cook until the rice is golden and translucent, about 2 minutes, stirring frequently.
Add water and bring to a boil. Cover, reduce heat to low and simmer for 15 minutes, or until the liquid has been absorbed. Remove from heat and allow the rice to rest for another 15 minutes.
Fluff the rice and serve.
Notes
* Cooking the coconut milk down to the deep brown color gives the rice a nice rice color. However, the rice still tastes delicious even if it doesn't have this nice color.
Adapted from Serious Eats