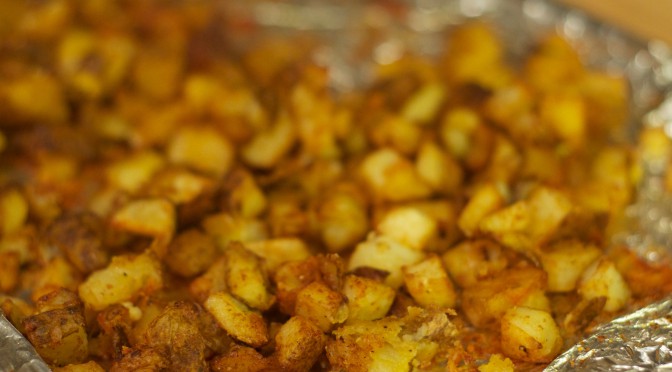 Parmesan Roasted Potatoes
I had been wanting to make Parmesan Roasted Potatoes for a while.  I just had to figure out the right main dish to serve with the potatoes.  I also had to make sure I had enough other recipes that would use potatoes, since I normally buy a five pound bag of potatoes.  I decided to make a rack of lamb one day and knew this would be the perfect accompaniment.
The first time I made these,  I diced the potatoes, then put them on a foil lined baking sheet and poured the olive oil over them.  I then used my hands to move the potatoes around so that they would be coated in the olive oil.  I then washed my oil covered hands before moving on to anything else.
I mixed the other ingredients together in a small bowl, sprinkled them on the potatoes and again used my hands to try to evenly distribute the seasoning.  I then had to wash my oil and parmesan cheese and other spices covered hands.
The next time I made this, I was smarter.  This time, I put the diced potatoes in a gallon ziplock bag.  I added the olive oil to the bag and shook mix the two together.  I mixed the seasoning ingredients together in a separate bowl and then poured this into the ziplock bag.  Again, I shook the bag to mix the ingredients.  I then poured the potatoes onto the foil lined baking sheet.
This way the potatoes were well seasoned, and my hands didn't have to get dirty (twice).  I had considered throwing in all the seasoning ingredients straight into the bag instead of mixing them in a bowl first, but decided that was not a good idea.  I didn't think that the seasoning would necessarily be mixed in the correct proportions if I did that.
I was right, these potatoes were AMAZING with the rack of lamb .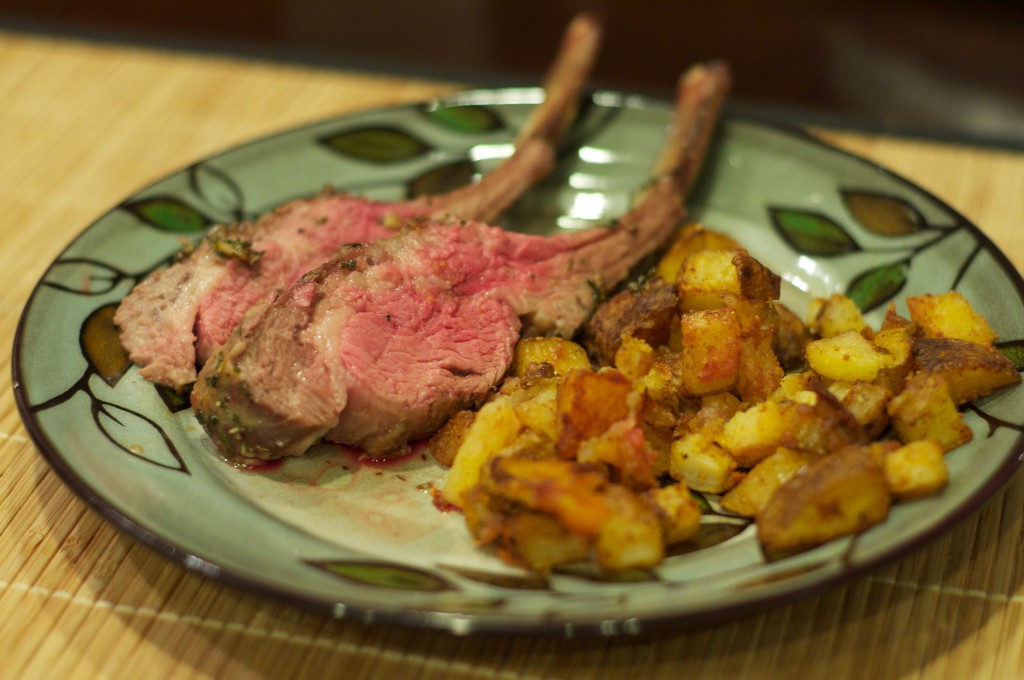 Parmesan Roasted Potatoes
Crunchy, flavorful potatoes that are roasted, not fried!
Ingredients
5 russet potatoes, diced
3 tablespoons olive oil
¼ cup grated Parmesan cheese
1½ teaspoons paprika
¾ teaspoon garlic powder
½ teaspoon salt
¼ teaspoon pepper
Instructions
Preheat oven to 425 F. Line a rimmed baking sheet with aluminum foil.
Add diced potatoes to a large zip top plastic bag. Pour olive oil over the potatoes, make sure the bag is tightly closed, and shake the bag so that the potatoes are coated in olive oil.
In a small bowl, mix the Parmesan cheese, paprika, garlic powder, salt and pepper together. Pour the cheese mixture into the plastic bag, close the zipper and shake to coat the potatoes with the seasoning.
Place the potatoes on the baking sheet in a single layer.
Roast the potatoes for 35-45 or until crispy and crunchy, flipping the potatoes every 10-15 minutes so that they will become crispy on all sides and not stick to the aluminum.
Serve hot.
Adapted from  Six Sisters Stuff