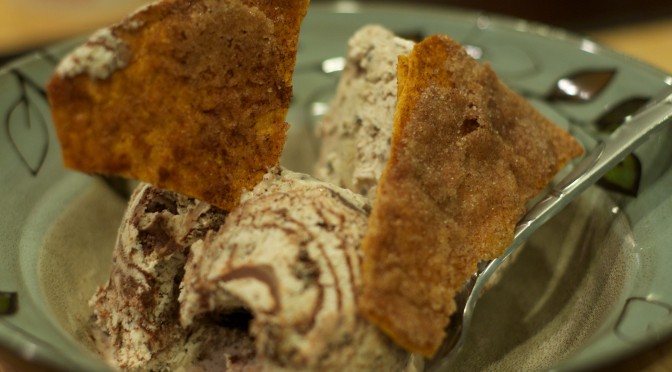 Cinnamon Crisps
I bought a pack of tortillas to make the Mini Deep Dish Pizzas.  I only needed a few tortillas to make those pizzas.  I had to find uses for the  rest of the tortillas.  The best part is that these are baked, not fried.
I ended up serving this dessert to my guests with a variety of ice cream flavors, including Samoa (I was able to find Girl Scout ice cream flavors!) flavored ice cream, as shown in the picture.
After letting the tortillas cool (this is actually really important), Mike broke up each crisp into a number of smaller pieces.  This dessert is very rich.   Each person only ate a few of each of the small pieces.  They really couldn't eat more than those few pieces.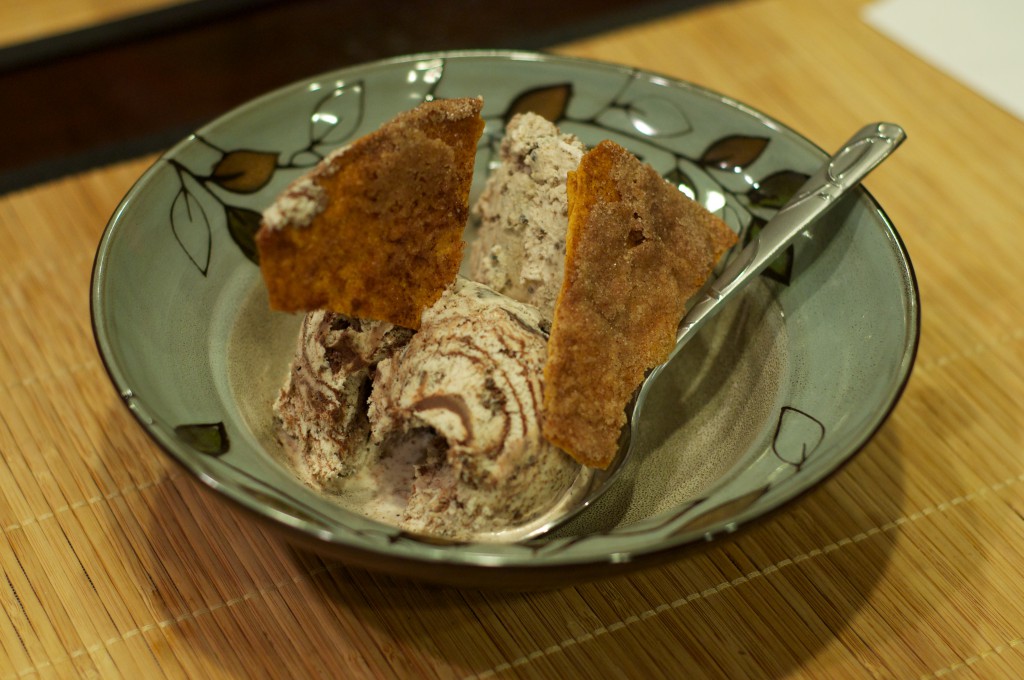 The cinnamon crisps were  crispy and reminded me a little bit of a churro.  However, it was much sweeter than any churro I've ever had.  They are a little messy to break/eat.  The cinnamon and sugar does have a tendency to fall off of the crisps.

Cinnamon Crisps
Ingredients
1 cup sugar
1 tablespoon cinnamon
1 stick butter, melted
3 (small size) flour tortillas
Instructions
Preheat oven to 350 F. Line a baking sheet with parchment paper.
In a small bowl, combine the sugar and cinnamon.
Place tortillas evenly on the baking sheet, in a single layer. Brush the top of the tortillas with the melted. butter. Sparkle the tops of the tortillas with the cinnamon sugar mixture. Flip the tortillas over and repeat on the other side.
Bake until the tortillas are crispy, about 15-17 minutes. Remove the baking sheet from the oven and allow the crisps to cool completely.
Once the crisps have cooled, break them into smaller pieces and serve with vanilla or your favorite flavor of ice cream.
Adapted from The Pioneer Woman