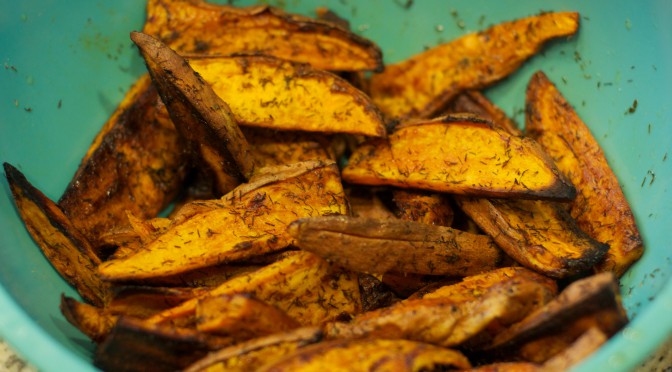 Garlic Dill Yam Wedges
Mike really likes sweet potato fries.  I am not a big fan of sweet potatoes, but I do acknowledge that they have a lot of health benefits.
I was at the grocery store, and the yams looked a lot better than the sweet potatoes.  I decided to buy three yams and make yam fries instead of sweet potato fries.  I did try looking up the differences between yams and sweet potatoes.  There are quite a few differences, though many people use the two terms interchangeably.

Garlic Dill Yam Wedges
Ingredients
3 large yams
½ cup olive oil
½ teaspoon garlic powder
½ teaspoon salt
¼ teaspoon paprika
2 tablespoons dried dill
Instructions
Cut each yam into quarters and then cut each quarter into 4 or 5 wedges.
Place wedges into a large bowl. Add water and ice so that all of the wedges are covered. Allow wedges to rest in the water for 30 minutes.
Preheat oven to 450 F. Line two baking sheets with parchment paper.
Remove wedges from the water and pat dry with paper towels. Combine the garlic powder, salt and paprika in a small bowl, and stir to combine.
Place wedges into a large, dry bowl. Add the oil and garlic powder mixture. Toss the wedges so that they are well coated with the oil mixture. Do not wash this bowl
Place wedges in a single layer on the baking sheets. Bake for about 15 minutes, or until the top is slightly golden brown. Flip the wedges and cook for another 15 minutes on the other side.
Allow the wedges to cool for about 5 minutes. Place wedges back into the bowl with the oil mixture. Sprinkle dill over the wedges and toss so that the wedges are evenly coated with dill.
Serve hot.
Adapted from PaleOMG