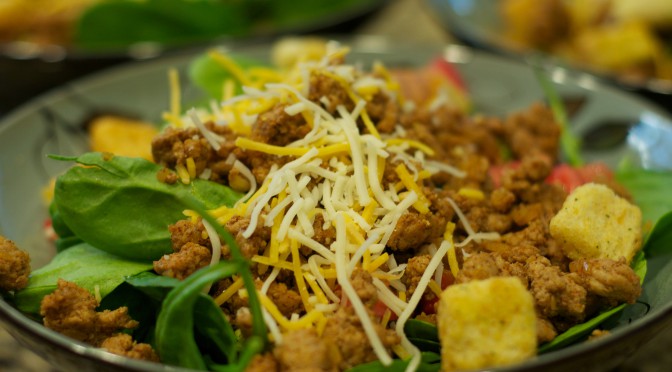 Taco Salad
I was able to "build my own tacos" recently, however there were people in line, so I didn't have time to open the shell to put the meat and other items in the taco shell.  I ended up just piling the meat, tomatoes, lettuce and cheese around the shell.  I then broke off chunks of the shell and used that to scoop up the rest of the food.  I realized that this was similar to a taco salad.
I was at home one day, trying to decide what to make for dinner, and knew there was some ground turkey that would be going bad soon.  I also had about a half a pound of spinach that was sitting in the refrigerator as well.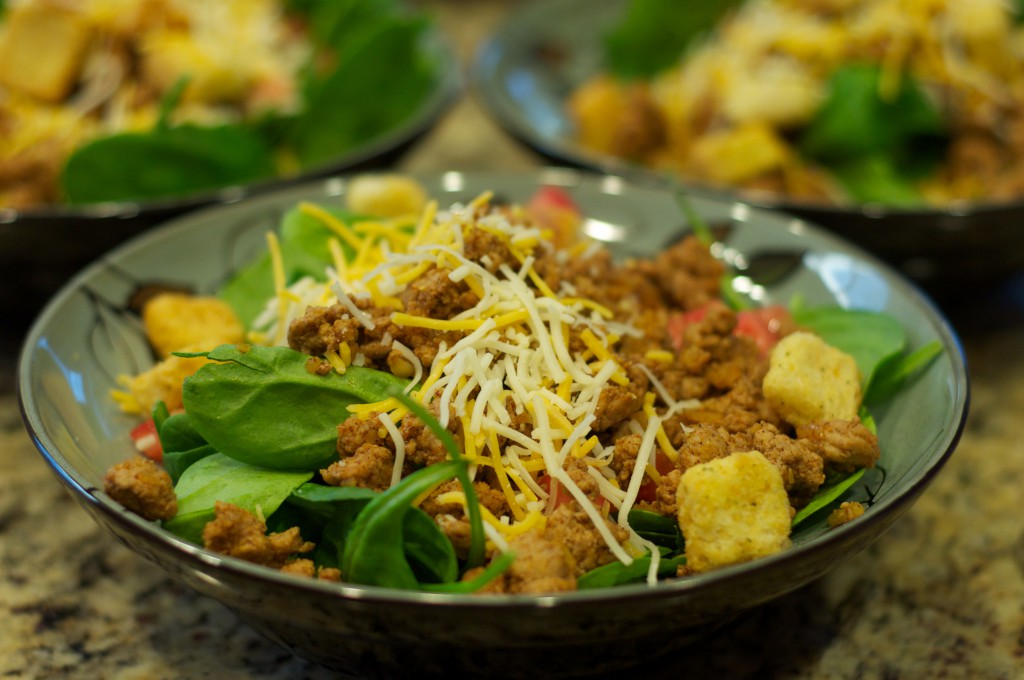 You could cut up two heads of Romaine Lettuce instead of using spinach, and Nacho Cheese Doritos instead of croutons.  This makes for a quite delicious, but not as healthy salad (can you even call it a salad if it also has Doritos?).  I didn't have any avocados today, but this is also delicious with some diced avocados as well.

Taco Salad
Ingredients
For the Seasoned Taco Meat:
1 (20 ounce) package 93% lean ground turkey
2 small onions, finely chopped
1 cup water
1 tablespoons chili powder
1¼ teaspoon salt
¼ teaspoon garlic powder
¼ teaspoon cumin
For the Salad:
8 cups baby spinach, washed
4 Roma tomatoes, diced
¼ cup shredded Mexican blend cheese
1 cup cheese flavored croutons
Instructions
Cook turkey in a Dutch oven over medium heat, about 7 minutes. Break the pieces apart into smaller pieces as it is cooking. Try to make the pieces as small as possible.
Add onion, water, chili, salt, garlic powder and cumin to the Dutch oven. Stir to combine. Bring to a boil and reduce heat. Simmer for until most of the liquid has been absorbed, about 15 minutes. Remove from heat.
Divide spinach evenly among 4 bowls. Place ¼ of the diced tomatoes each of the bowls. Divide the taco meat evenly among the 4 bowls. Sprinkle the meat with the cheese. Top each bowl with the ¼ cup of croutons.
Serve.
Adapted from Taste of Home