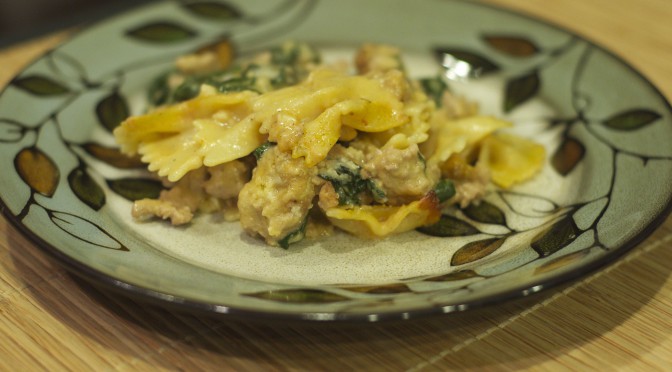 Pastitsio
Pastitsio is also known as Greek Lasagna.  I'm not sure if this is considered Greek since it uses lamb, but I chose to use ground turkey and add spices to it since I didn't have any ground lamb.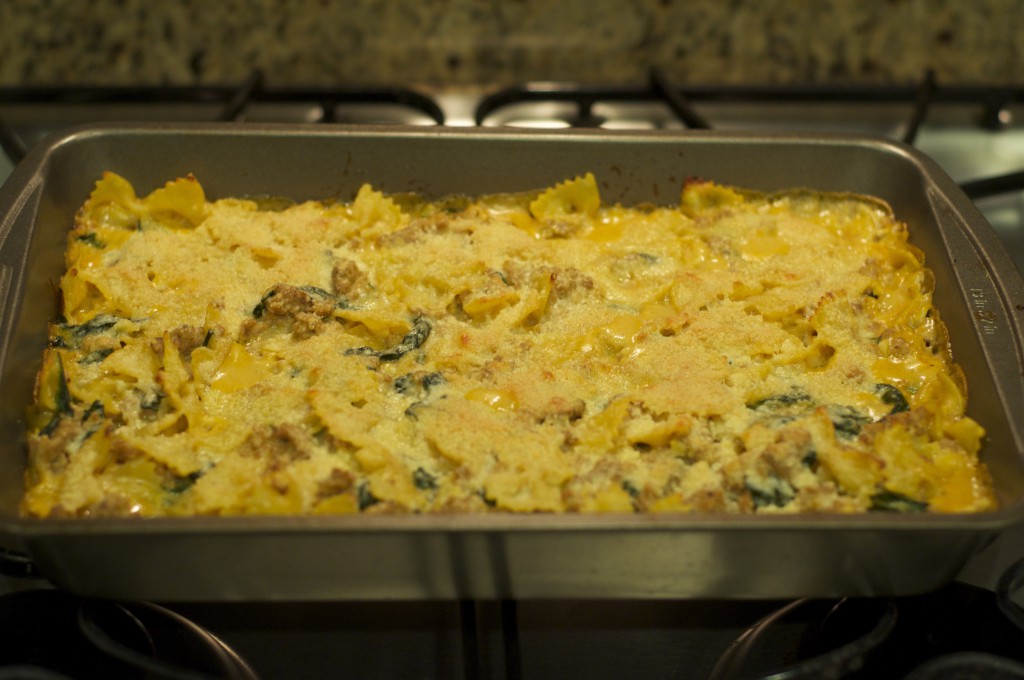 I didn't think this dish tasted like any lasagna recipe I've ever made.  I guess when I think of lasagna, I usually think of layers for noodles with tomato and ricotta cheese in between.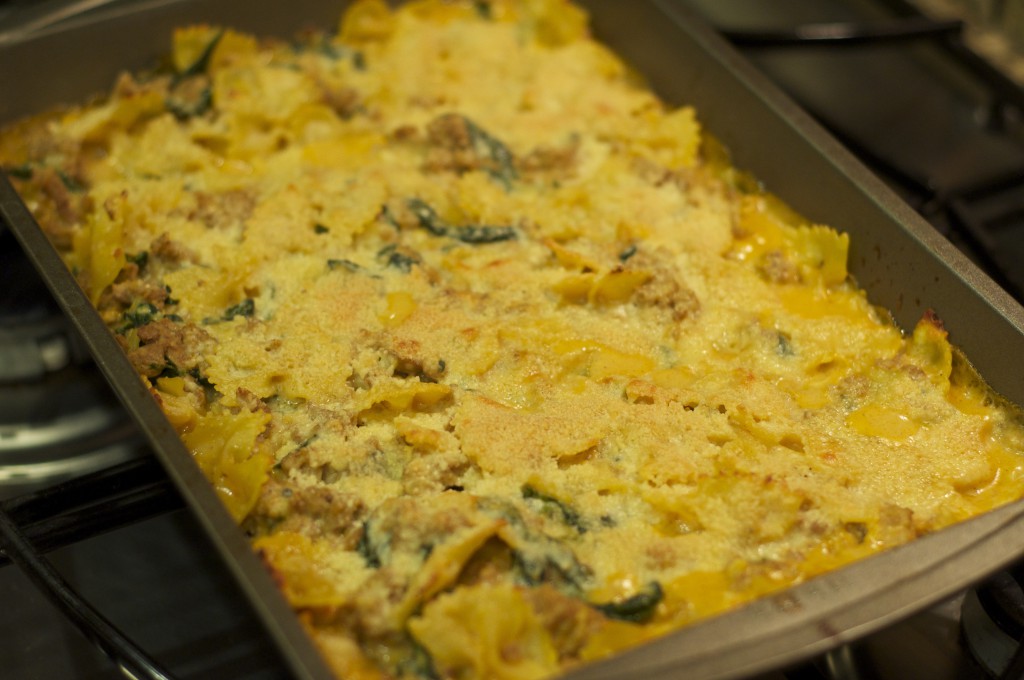 This dish has a creamy parmesan sauce instead of the "typical" tomato based sauce in most lasagnas.  This creates a decadent and delicious dish.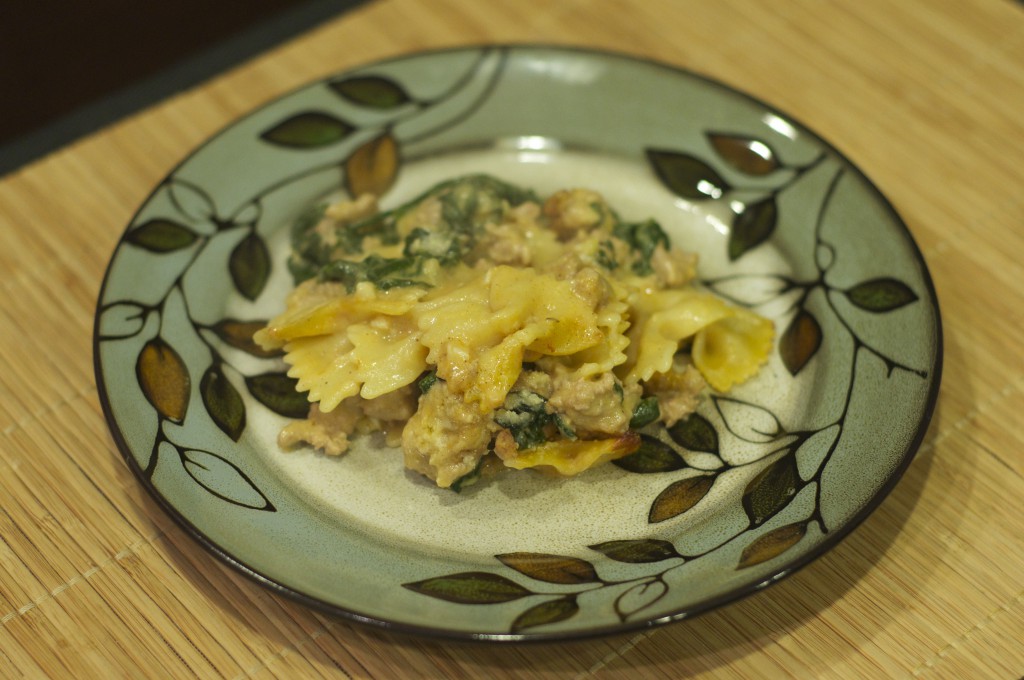 The pasta is cooked in chicken broth along with the meat, to make the pasta even more flavorful.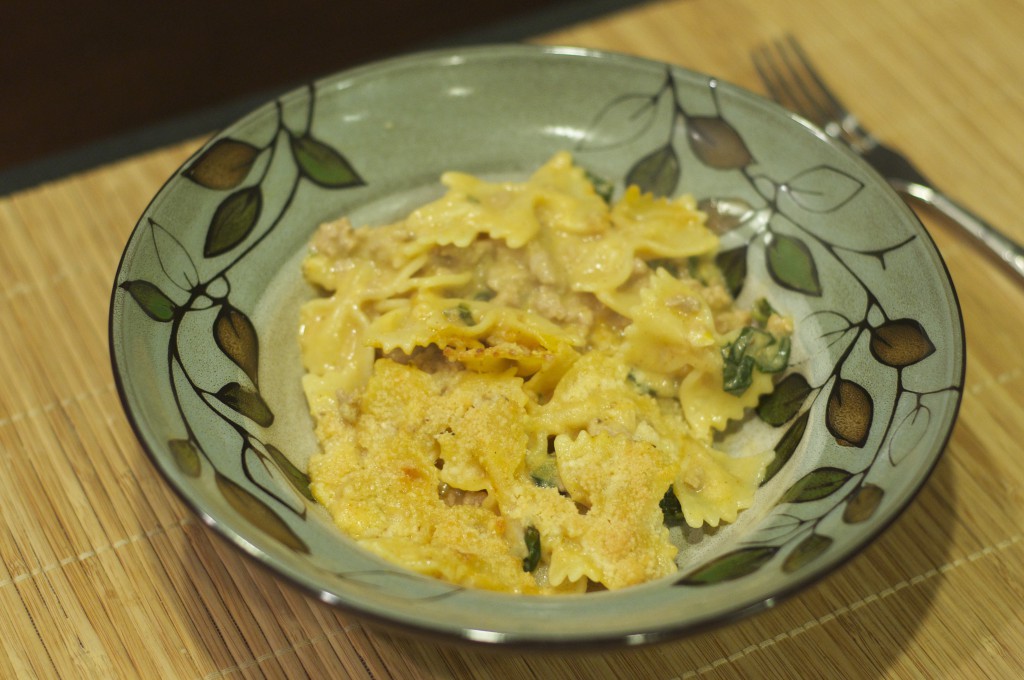 I added spinach to this dish to make it seem at least slightly healthy.  That plus I had some spinach I was trying to use up.  You could also use half and half instead of the heavy cream for a lighter version of this dish.

Pastitsio
Ingredients
1 pound Italian Sausage, casing removed*
1 tablespoon olive oil
1 small onion, minced
¼ teaspoon cinnamon
⅛ teaspoon ground nutmeg
6 garlic cloves, minced
2 tablespoons tomato paste
¾ teaspoon dried oregano
3 cups low sodium chicken broth
1 cup heavy cream, divided use
½ teaspoon salt
2 cups of spinach
8 ounces uncooked Farfalle pasta
1 teaspoon cornstarch
1 cup grated Parmesan Cheese, divided use
Instructions
Adjust an oven rack such that it is in the middle position in the oven. Preheat the oven to 475 F. In a Dutch oven cook the Italian Sausage over medium heat, breaking up the pieces of meat into small pieces until it is no longer pink, 3 to 5 minutes. Transfer the meat to a separate dish. Pour all out all of the fat.**
Heat oil in the Dutch oven over medium heat. Add the onion, cinnamon and nutmeg and cook, until the onions are soft, about 5 to 7 minutes, stirring frequently. Add the garlic, tomato paste and oregano and cook until fragrant, about 30 seconds, stirring constantly.
Add the broth, ½ cup heavy cream, and salt. Stir to combine. Add the pasta, spinach, and Italian Sausage that was cooked earlier. Stir so that the pasta is covered in liquid and all ingredients are well mixed. Turn the heat up to high and cook, stirring often, until the pasta is tender, 9 to 12 minutes.
In a small bowl, combine the remaining ½ cup of heavy cream and cornstarch. Whisk until the cornstarch is dissolved in the heavy cream. Pour the heavy cream mixture into the Dutch oven and continue to cook until the sauce has thickened slightly, about 1 minute. Remove the Dutch oven from heat and stir in ½ cup of the Parmesan Cheese. Pour the pasta mixture into a 9 x 13 inch pan and sprinkle the remaining ½ cup of Parmesan Cheese on top.
Bake until the top is golden, about 5 to 10 minutes.
Serve hot.
*I made my own Italian Sausage with the Casing Removed.
Adapted from The Best Skillet Recipes: A Best Recipe Classic