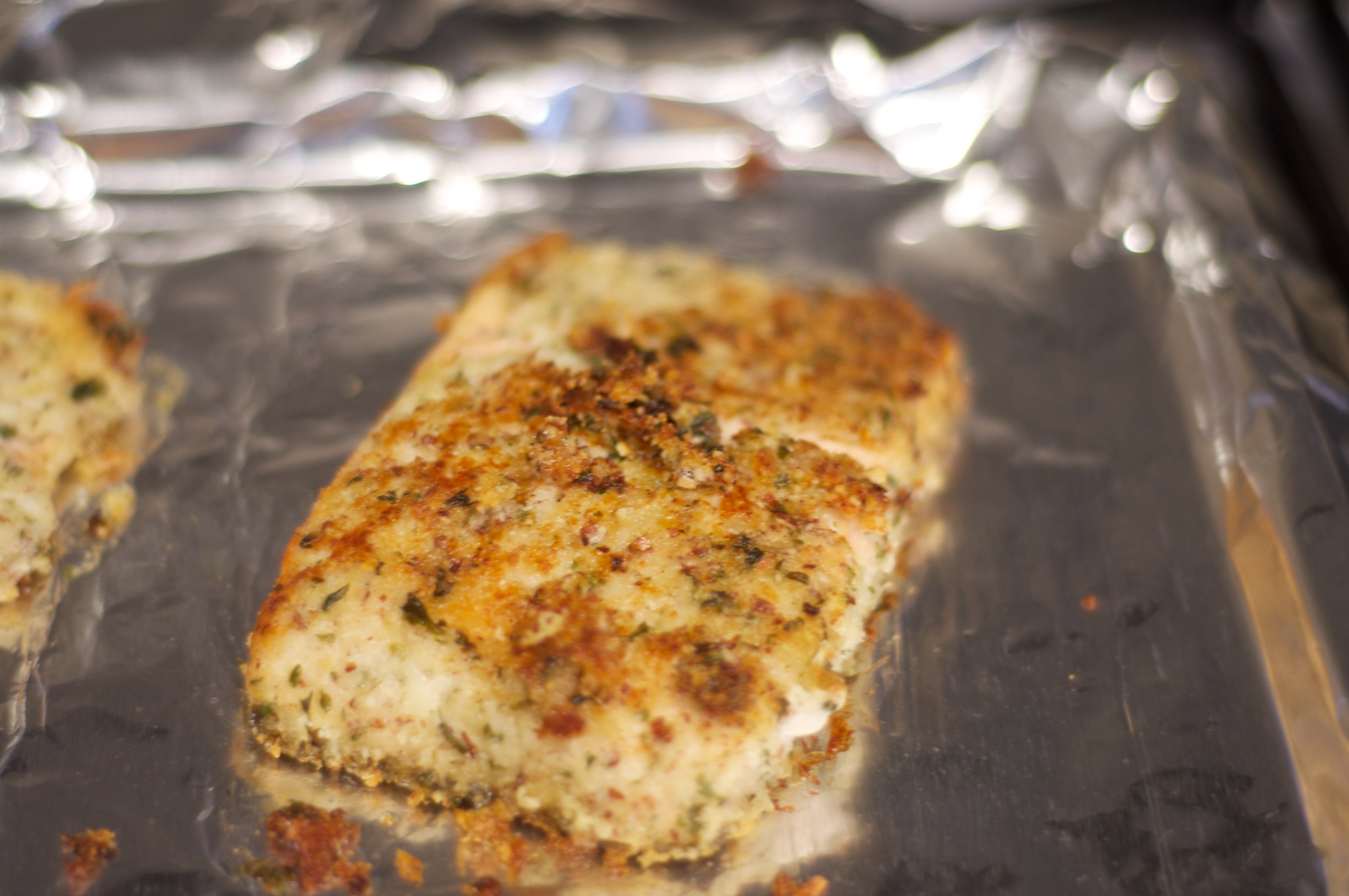 Almond Crusted Salmon
I love salmon.  It's healthy, delicious and often quick and easy to make.  I like to buy packages of frozen, wild caught, salmon from the grocery store.  Each piece is in a separate package, making it easier to pick how many servings to make.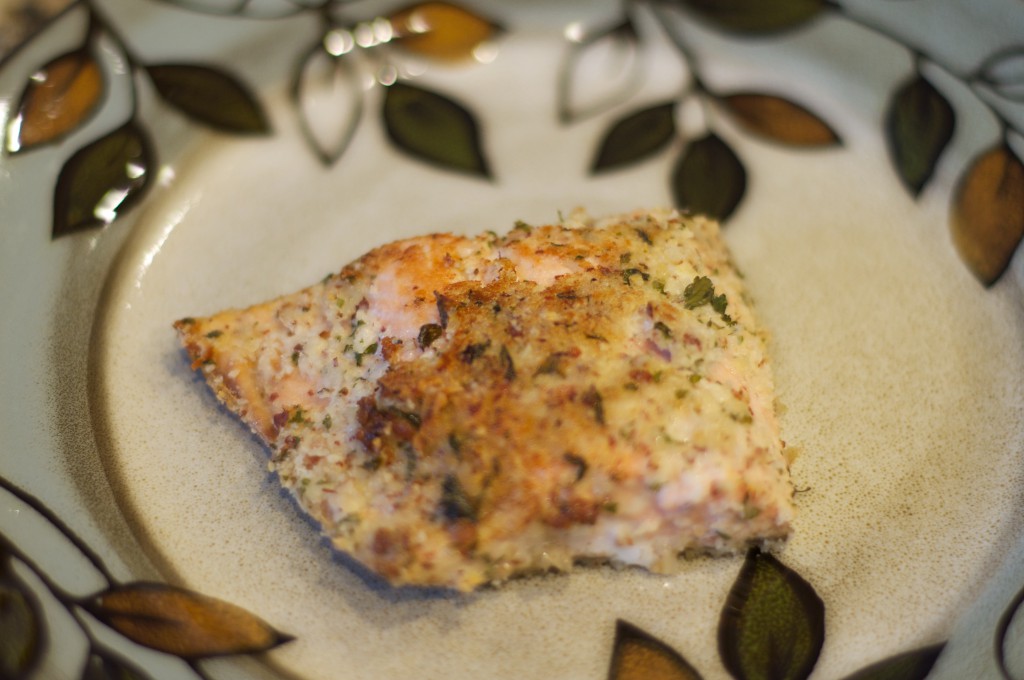 I'm always looking for new ways to cook the salmon.  As much as I love salmon, I don't like to eat the same flavors.  I'm also a big fan of baking food.  For some reason, whenever I try to cook salmon on the stove, it comes out rather dry.  However, when I bake it, it usually comes out juicy and delicious.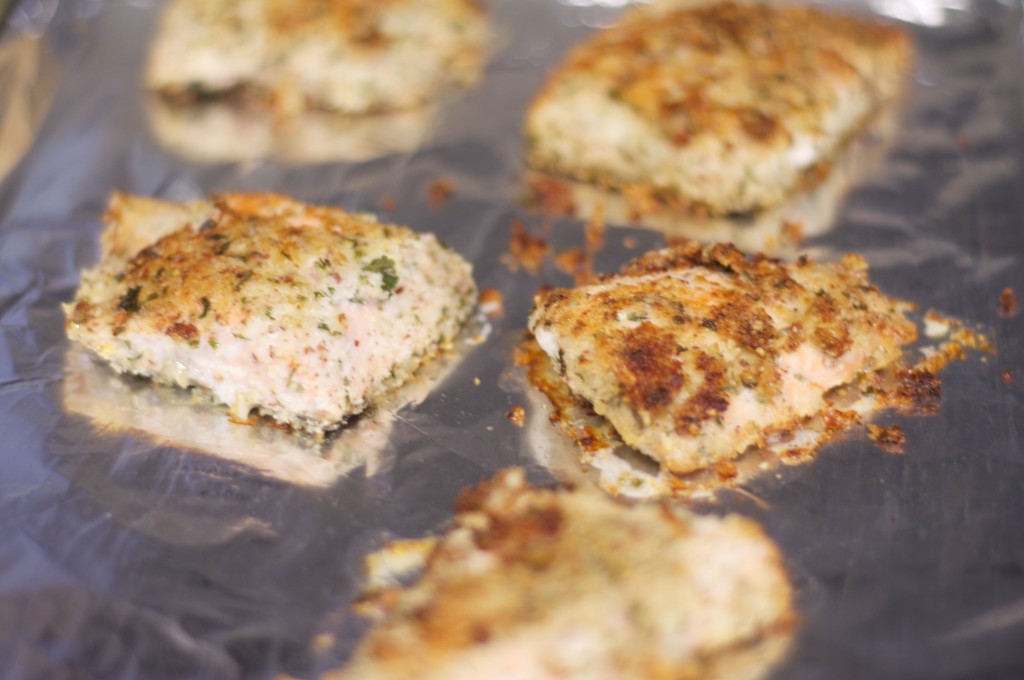 This salmon is juicy, tender AND crunchy.  It's coated in panko breadcrumbs and almond meal.  Sometimes when I bake food coated in breadcrumbs, the bottom of the food is soggy because bottom doesn't get a chance to crisp, even if I flip the food.  The almond meal adds a layer of crunch to this salmon, which doesn't get soggy the way that breadcrumbs do.  The salmon is seared on the stove prior to finishing in the oven to give it a nice crispy crust.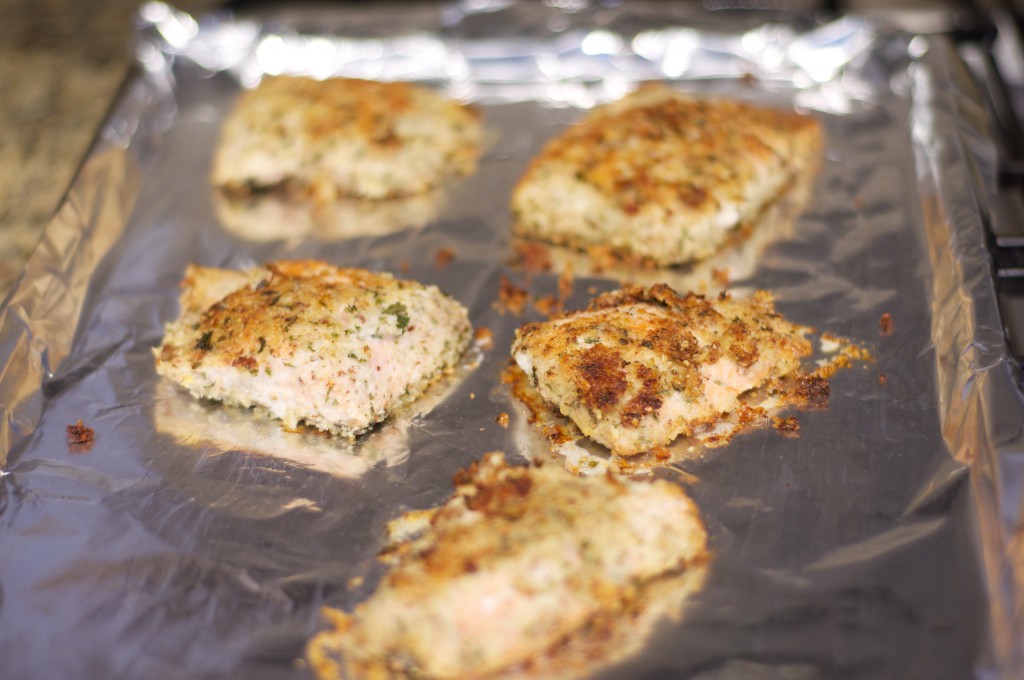 I had almond meal leftover from the Cinnilla Nut Mix, but homemade almond meal could potentially be made using a food processor.

Almond Crusted Salmon
Ingredients
½ cup almond meal
½ cup Panko breadcrumbs
4 teaspoons dried parsley
Salt and pepper to taste
4 salmon fillets, about 6 oz each
2 tablespoons unsalted butter
Instructions
Preheat oven to 400 F. Line a baking sheet with aluminum foil. This makes it easier to clean up afterwards.
In a medium bowl, combine the almond meal, breadcrumbs, parsley, and salt and pepper to taste. Mix until all ingredients are well combined. Place a salmon fillet in the bowl and press so that the fillet is coated with the breadcrumb mixture. Repeat with the remaining fillets.
In a large skillet, melt the butter over high heat. Sear the salmon so that it has a golden crispy crust, about 1 minute on each side. Transfer salmon to the baking sheet.
Bake until the salmon is cooked through and flakes easily with a fork, about 8 minutes.
Adapted from Damn Delicious