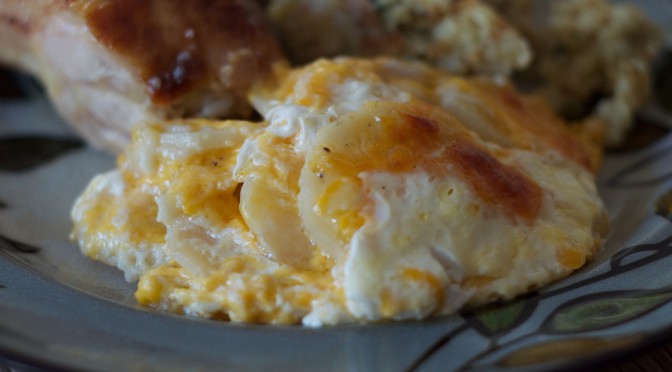 Scalloped Potatoes
One of the classic Mike recipe's and one of his favorite all-time dishes is scalloped potatoes.  Mike makes this dish whenever he has a potluck and for pretty much every holiday meal. He has been having this since he was a kid and there usually is a fight over who gets the top, which is crunchy and delicious. I have never posted this before and thought that it would be a fun dish to share.
Washed potatoes ready to be peeled.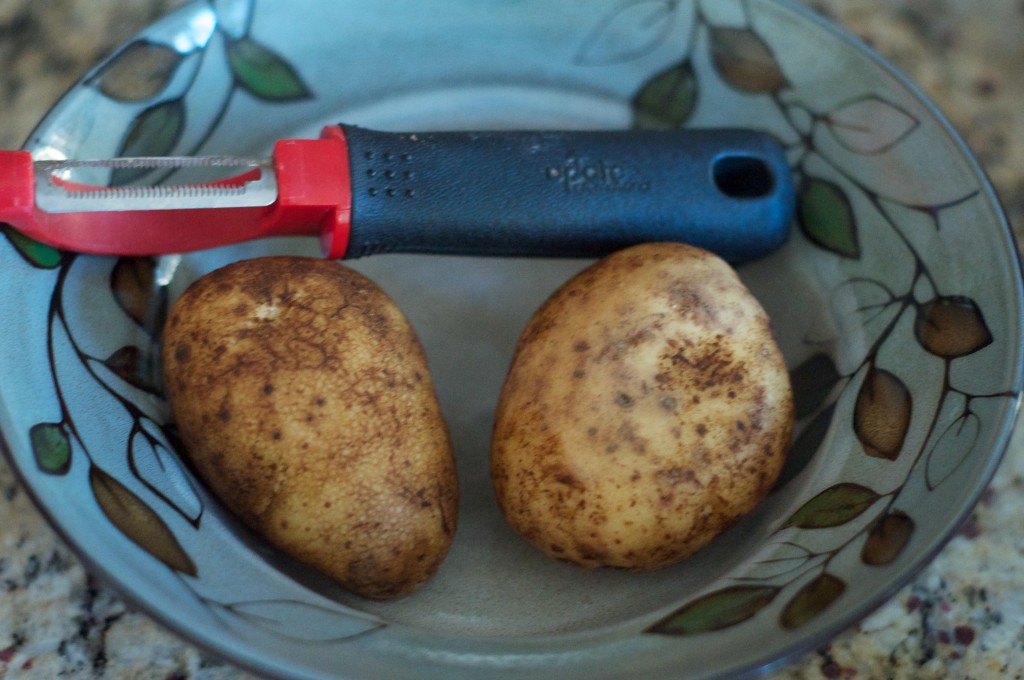 Sliced potatoes ready to be placed into our glassware.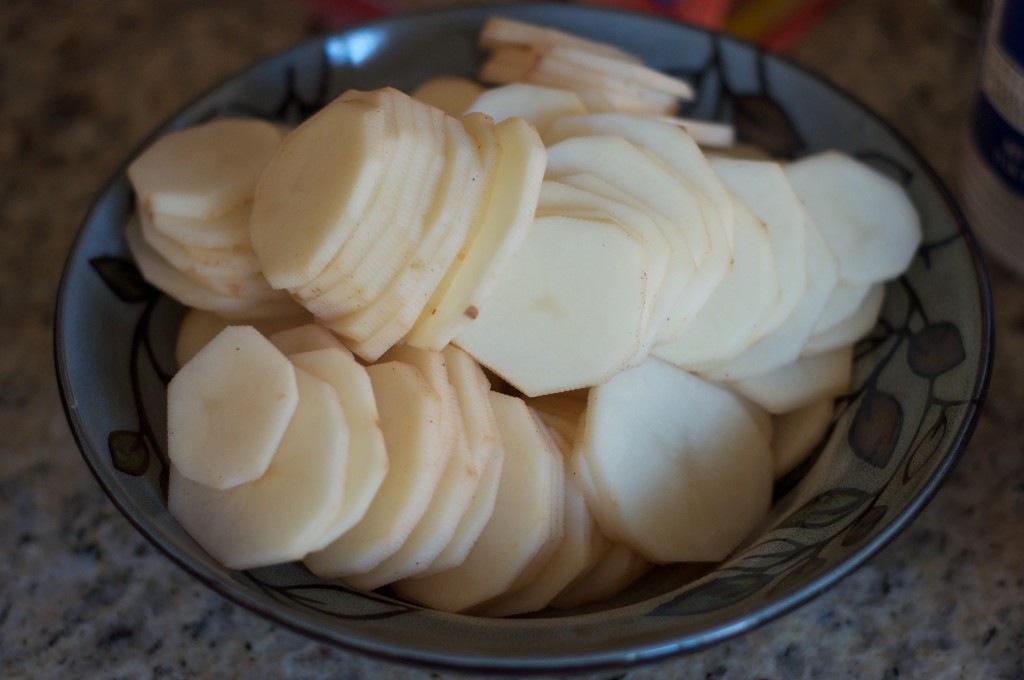 The first layer of sliced potatoes placed around the edges of the glassware.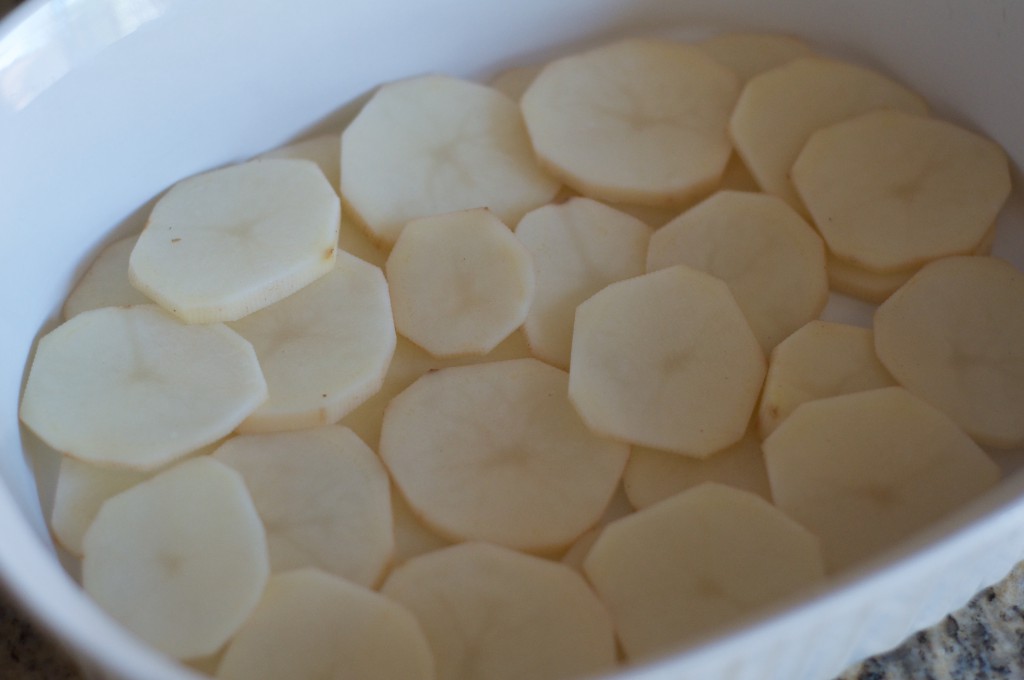 Flour, Onion, Salt, and Pepper are added. Awaiting first layer of cheese and butter to complete the bottom layer. You continue doing this until you hit the top of your pan!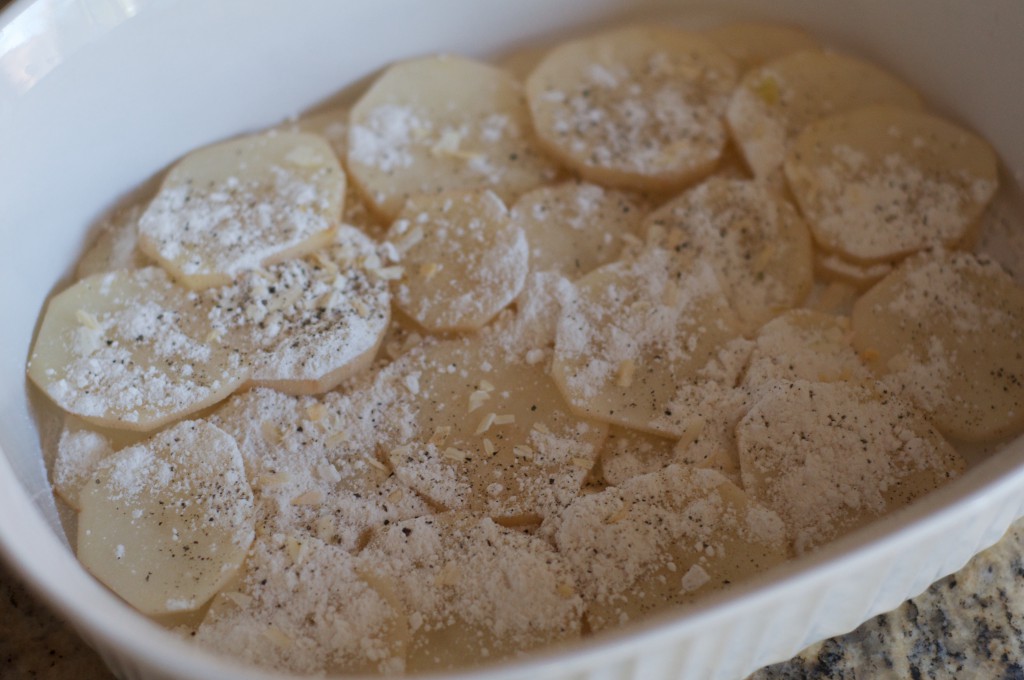 Completed scalloped potato dish ready to go into the oven. But do NOT forget to add the milk, otherwise it will be a pretty dry meal!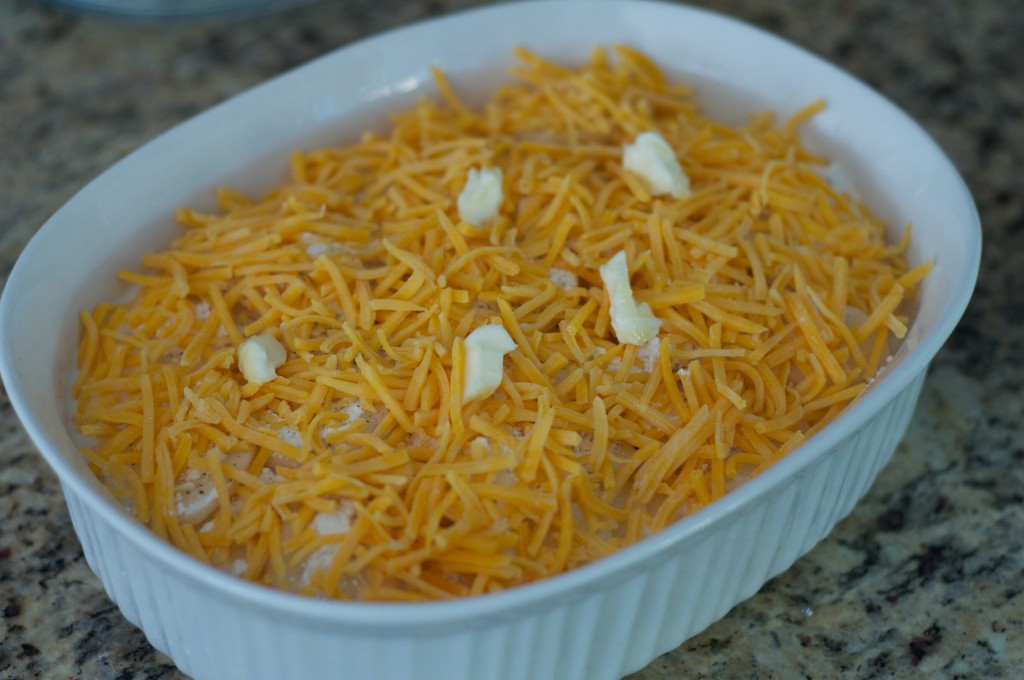 The dish in the oven when I am about to pull it out of the oven. Note that it cooks for the first 60 minutes covered and the last 30 minutes uncovered (for a total of 90 minutes).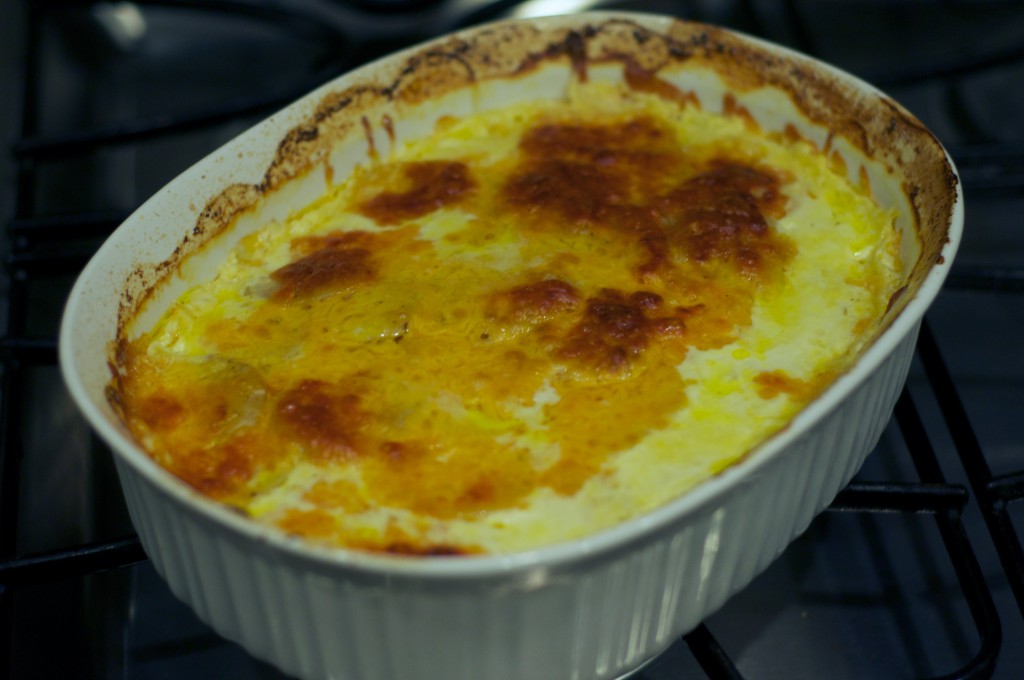 Completed scalloped potatoes, yummy!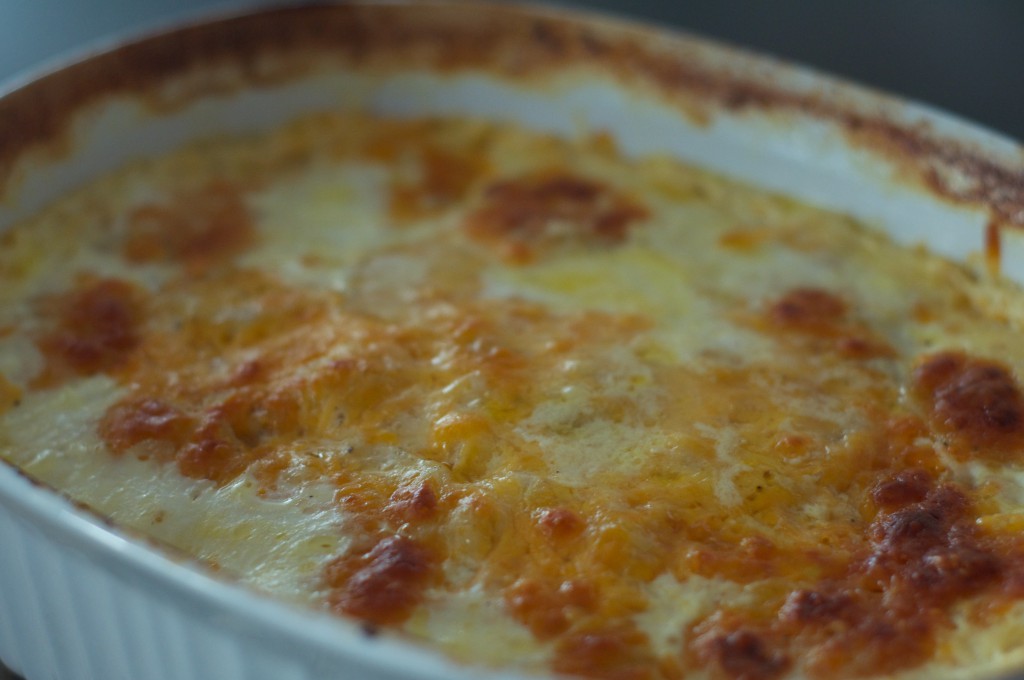 More of the completed Scalloped Potatoes.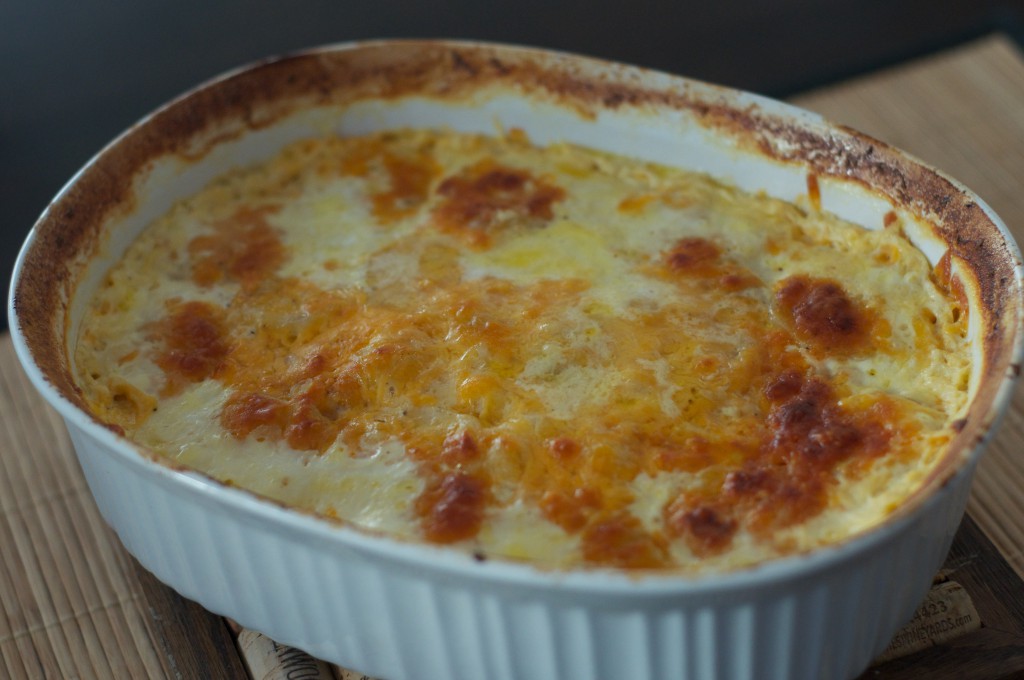 The little chef's Thanksgiving meal. Scalloped Potatoes, Rotisserie Chicken (from Costco) and stuffing.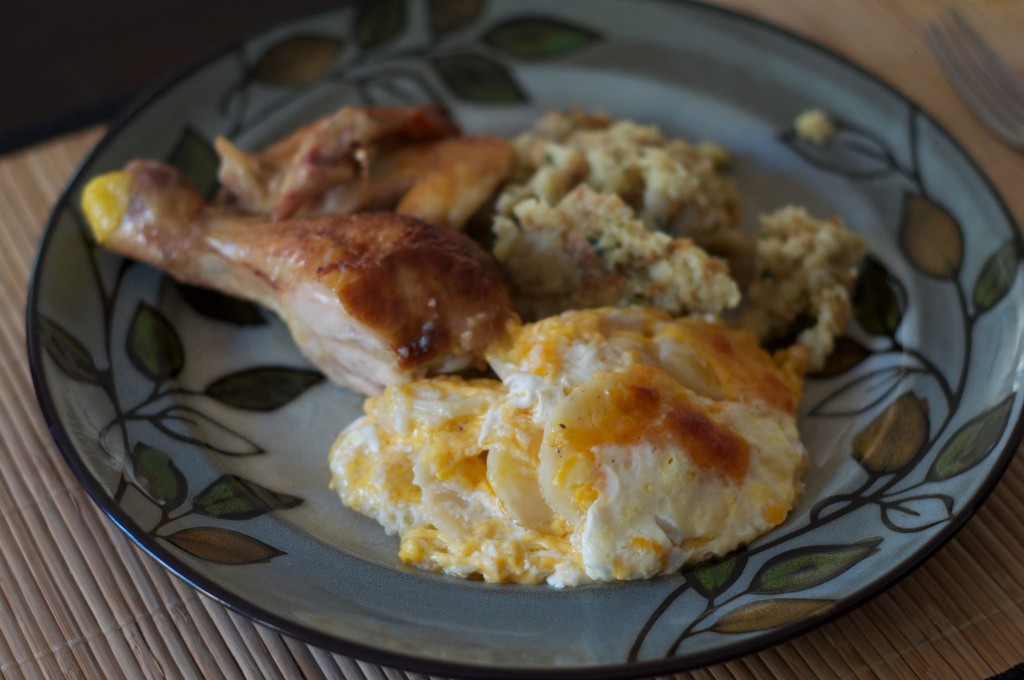 Scalloped Potatoes
Ingredients
3 Large Potatoes
4 Tbsp of Flour
4 Tbsp of Dehydrated Onions
1 tsp Pepper
2 tsp Salt
4 Tbsp Butter
16 Ounces of Shredded Cheddar Cheese
2 Cups of Milk
Instructions
Peel & slice potatoes as needed into about ⅛" slices or thinner. Too thick and they will take a long time to cook.
Layer potatoes in bottom of dish and then add 1 Tbsp flour, 1 Tbsp dehydrated onions, ¼ tsp pepper, ½ tsp salt, 1Tbsp butter (cut into ¼ Tbsp pieces) and distributed on top of everything, a little more is ok. All ingredients should be spread around the whole layer, don't just dump it all in the middle.
Add shredded cheddar cheese to the top of the layer, about ½" thick or 4 ounces.
Repeat entire process for each layer, and on the final top layer, add a bit more cheese. You will want a total of four layers.
Finally, add milk until you can see it just below the top layer at the edge of the dish.
Cover and cook in a 350 degree oven for 90 minutes, until the potatoes are fork tender (a fork passes easily thru them). Take the cover off for the last 30 minutes. It is recommended that you place a cookie sheet under the dish to catch overflow. Let cool for 15 minutes and enjoy!
Provided by Mike's family. Original source is unknown.