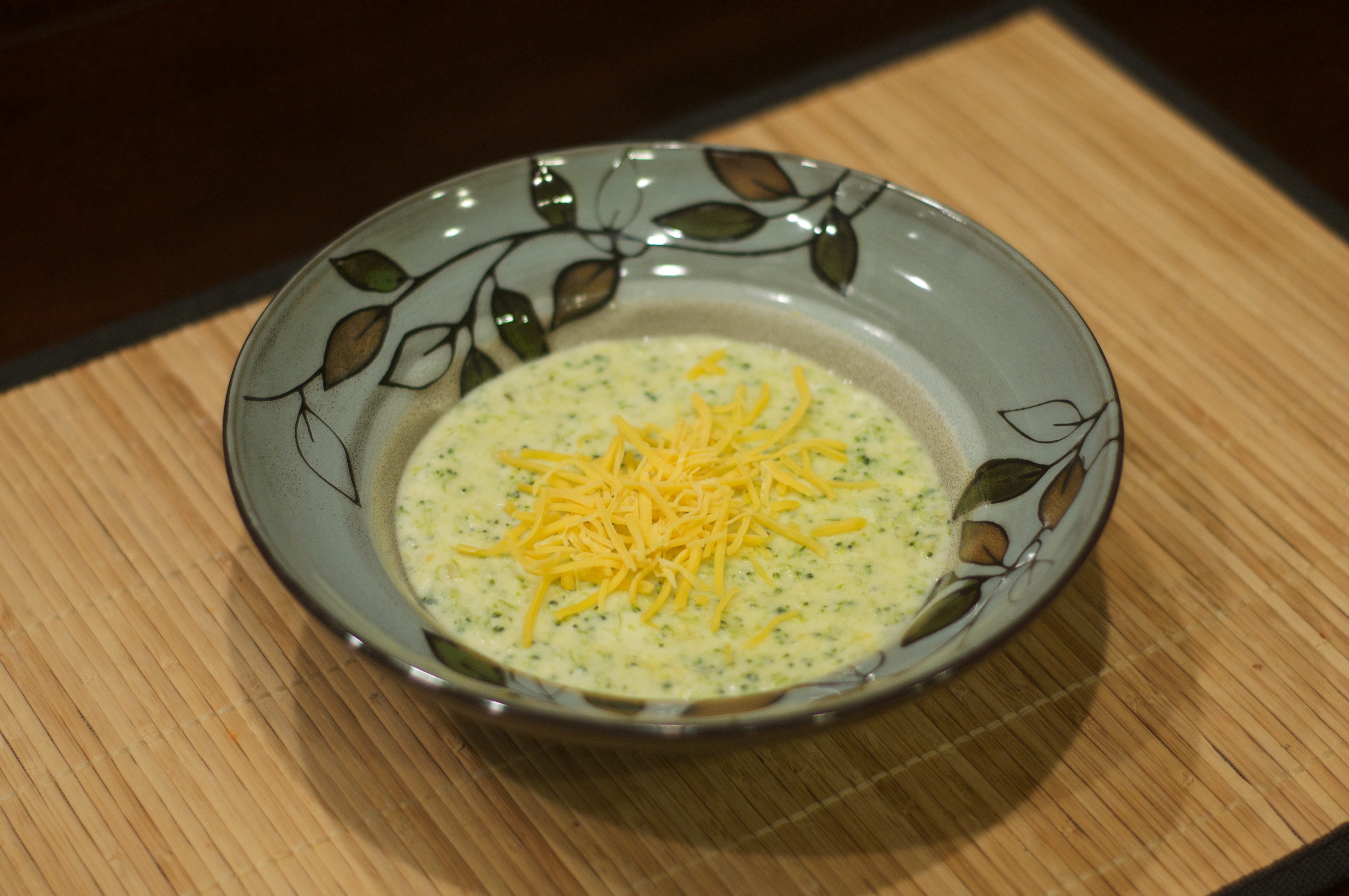 Broccoli Cheese Soup
Mike likes to have milk in the house.  I have to admit that it's useful for various recipes.  Mike also likes to have it around so that he can make chocolate milk.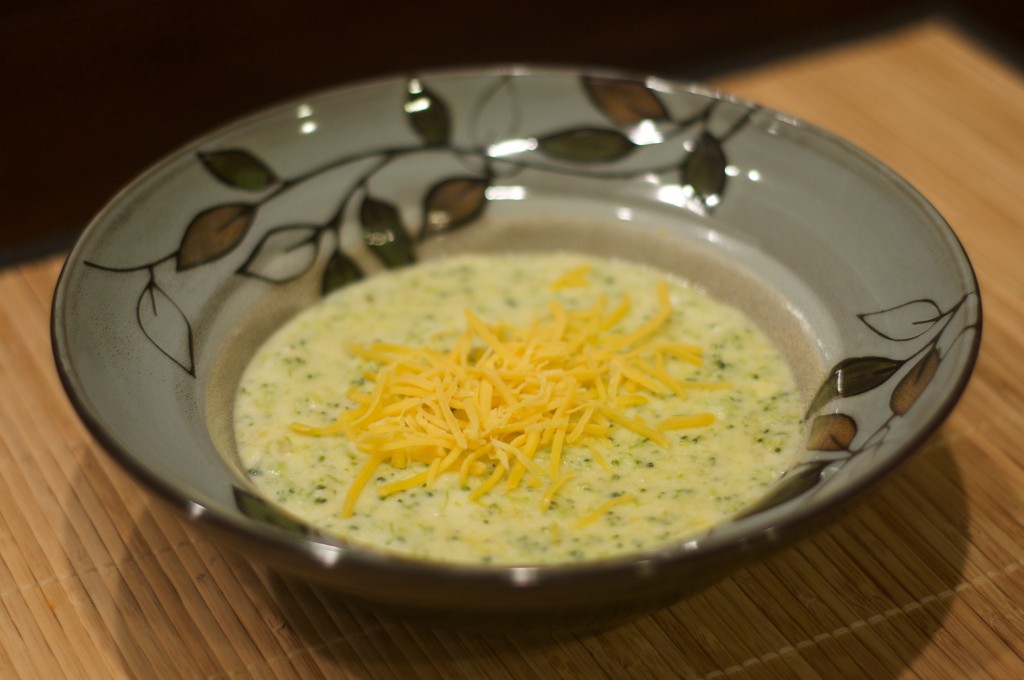 That being said, he doesn't drink chocolate milk every day.  It's difficult to determine how much milk to buy.  I don't want to buy too much and then throw out milk.  On the other hand, I don't want to have to go to the grocery store just to pick up milk that I need for a recipe.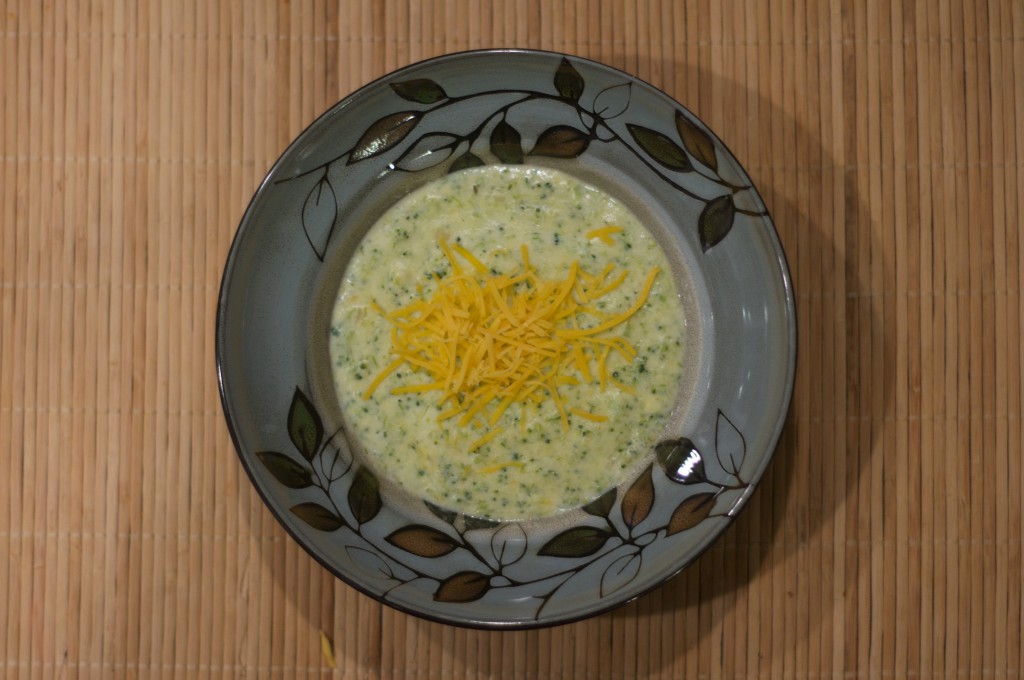 As a result, I sometimes end up making recipes which use up a lot of milk.  This is one of those recipes.  It also helped that I had a bit of broccoli that I wanted to use up as well.

Broccoli Cheese Soup
Ingredients
¼ cup butter
2 cloves garlic, minced
1 small onion, diced
¼ teaspoon dried thyme
3 tablespoons all purpose flour
3 cups milk
2 cups vegetable broth
½ cup heavy cream
3 heads of broccoli, cut into florets
1 cup shredded sharp cheddar cheese
¼ cup grated Parmesan
Instructions
Melt butter in a Dutch oven over medium heat. Add garlic, onion and thyme. Sauté until onions are translucent, about 4 minutes.
Slowly whisk in flour. Cook until flour is golden brown, stirring frequently. Slowly whisk in milk, vegetable broth and heavy cream. Stir to combine. Add broccoli and stir until everything is well mixed.
Bring milk mixture to a boil, reduce heat and simmer until broccoli is tender, about 8 minutes. Puree the soup until it has reached the desired consistency. I used my Vitamix to puree the mixture, but an immersion blender can be used instead. If a blender is used to puree the mixture, transfer the puree back to the Dutch oven.
Gradually add cheeses to the soup, stirring often so that the cheese is well blended into the soup. Leave a small amount of cheddar cheese for topping.
Divide the soup among 4 bowls. Top with the remaining cheddar cheese. Serve hot.
Adapted from Damn Delicious