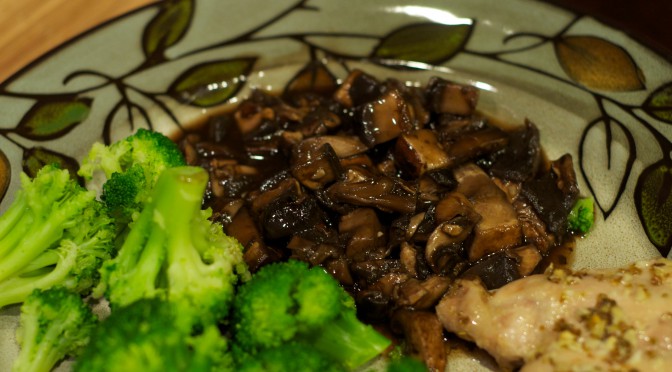 Mushroom Oyster Sauce Stir Fry
I bought two 8 oz packages of mushrooms from the grocery store because they were on sale.  When I cut up these mushrooms, they filled pretty much my whole Dutch oven.  Luckily they cooked down to a much more reasonable amount.  Although I like mushrooms, I can't imagine eating that many mushrooms.
This dish is great as a vegetarian side dish.  It probably would have been delicious with white or brown rice, but I ended up eating this with chicken and broccoli this time.
I used "regular" oyster sauce, but you could use vegetarian "oyster" sauce in order to make this dish vegetarian.  I've used vegetarian "oyster" sauce in the past and I really can't tell the difference between vegetarian "oyster" sauce and "regular" oyster sauce.
This is a great dish for weeknights, when you don't have the time or energy to slave away, over a hot stove.  Of course no one has to know how simple this delicious dish was to make.

Mushroom Oyster Sauce Stir Fry
Ingredients
2 tablespoons (vegetarian) oyster sauce
3 teaspoons soy sauce
⅔ teaspoon olive oil
4 teaspoons Chinese rice wine
¼ cup vegetable broth
1 tablespoons cornstarch
1 garlic clove, minced
1 pound assorted mushrooms, cut into bite sized pieces
4 teaspoons water
Instructions
In a small bowl, combine the oyster sauce, soy sauce, oil, Chinese rice wine, broth, cornstarch and garlic. Stir until the cornstarch is dissolved in the sauce.
Heat a large skillet over high heat until it is hot. Add the mushrooms and water. Sauté for one minute. Pour sauce over the mushrooms and stir to combine. Continue to sauté until the mushrooms are cooked and the sauce has thickened, about 2 minutes.
Serve hot.
Adapted from Simple Thai Food