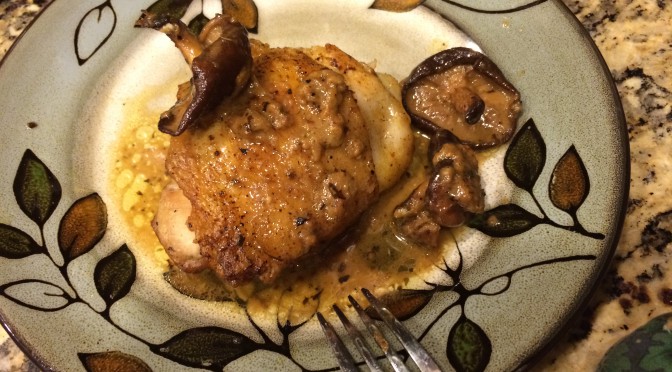 Baked Chicken and Mushroom Skillet
One easy and delicious way to cook chicken thighs is to brown the skin on the stove so that it is crispy and then finish cooking them in the oven.  This method makes chicken that is not only crispy on the outside, but also juicy and tender on the inside.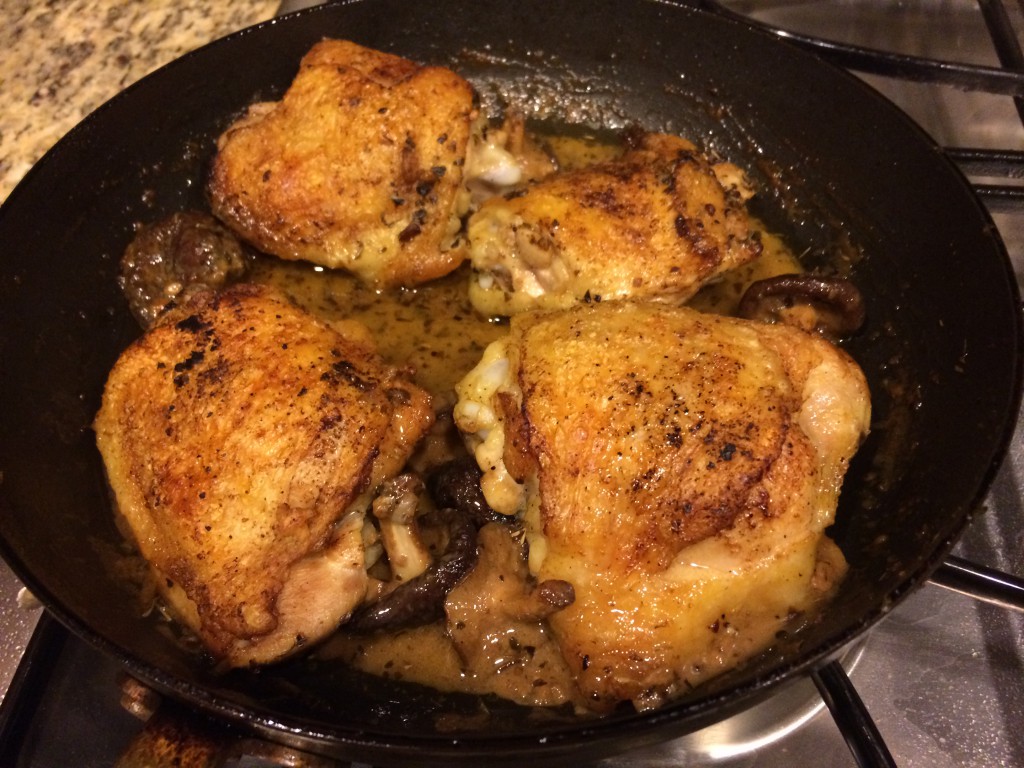 There are obviously different spices or sauces which can be used to flavor the chicken thighs.  I had some mushrooms and heavy cream in the refrigerator and decided to make a dish that would uses these ingredients.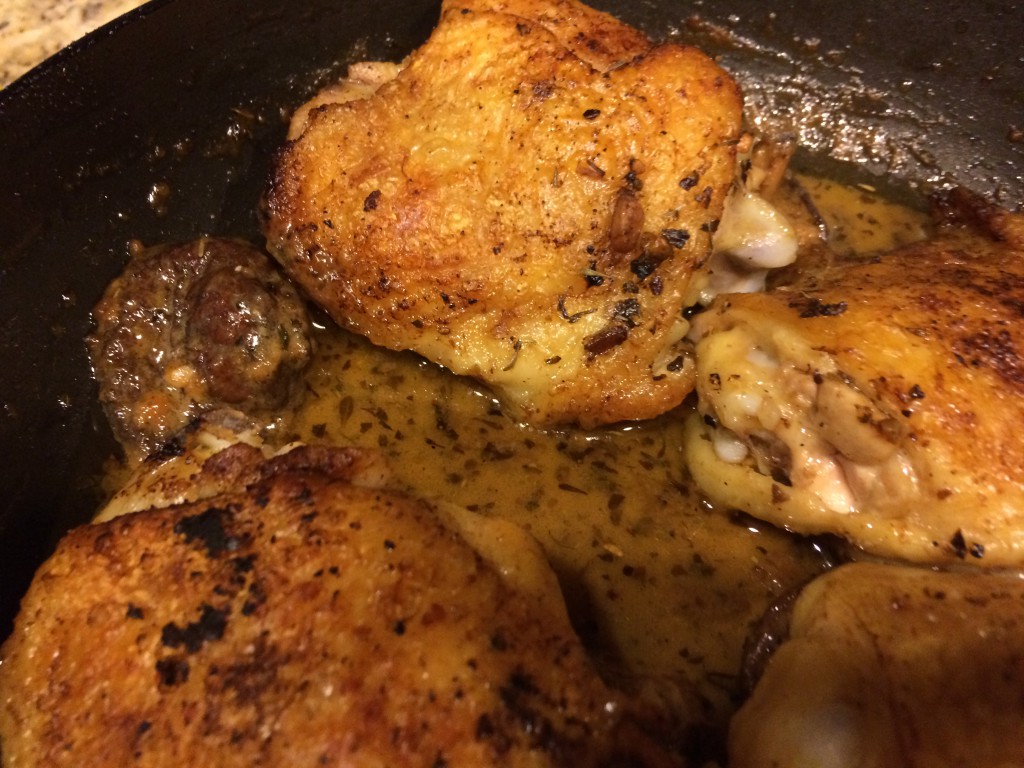 One bad thing about cooking chicken this way is that the fat from the skin gets all over the stove.  There is a lot of splatter from the chicken skin.  It's well worth the mess, though, because chicken cooked this way is generally delicious!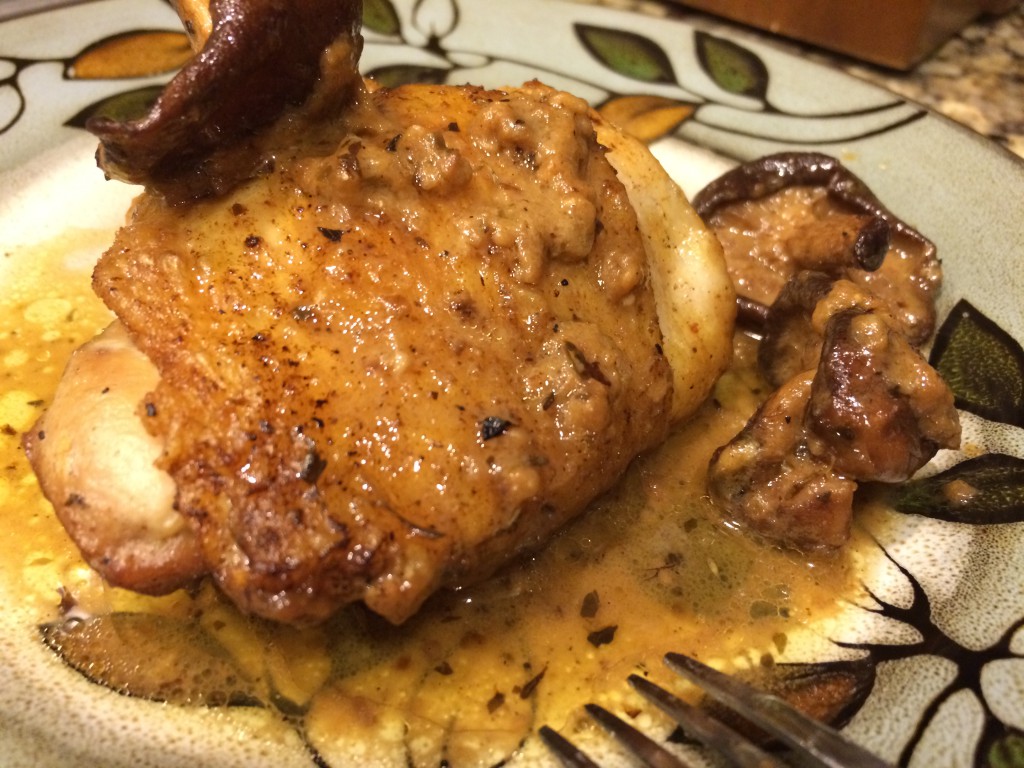 Although the chicken can be seasoned with salt and pepper prior to frying the chicken, it is best to be judicious with the amounts of seasoning that is added.  This chicken can become very salty if too much salt is added at this point in time.  On the other hand, the fried salt tastes amazing on the chicken skin.
Another benefit to making this chicken is how easy it is to cook.  It only takes a few minutes to sear and fry the chicken so that is crispy on both sides.  Then put the whole skillet in the oven and walk away/clean up the kitchen/wash dishes for 20 minutes and the chicken is done!

Chicken with Creamy Mushroom Sauce
Ingredients
4 boneless, skinless chicken thighs
Salt and pepper, to taste
1 tablespoon butter
1 garlic clove, minced
4 ounces sliced mushrooms
½ cup chicken broth
¼ teaspoon dried thyme
¼ teaspoon dried oregano
¼ teaspoon dried basil
2 tablespoons heavy cream
2 tablespoons Parmesan cheese
Instructions
Preheat oven to 400 F.
Lightly season chicken with salt and pepper, to taste. Melt 1 tablespoon butter in a cast iron skillet over medium high heat. Place chicken in skillet, skin side down, leaving space between each piece of chicken. Sear chicken for 3 minutes on each side. Transfer chicken to a plate.
Drain fat from the skillet, but do not wipe clean. There should be a thin layer of grease coating the bottom of the pan. Add garlic and sauté until fragrant, about 30 seconds. Add mushrooms and cook until mushrooms are tender, about 5 minutes.
Add the chicken broth, thyme, oregano and basil, and stir to combine.Season with salt and pepper, to taste. Be careful with the amount of salt and pepper that is added, since this sauce will be poured on top of the chicken, which already has seasoning.
Place chicken back in the skillet, skin side up. Roast for 20 minutes, or until chicken has reached an internal temperature of 165 F. Transfer chicken to a plate, leaving any remaining liquid in the skillet.
Bring sauce to a boil over high heat. Add the heavy cream and Parmesan cheese. Reduce the heat, and simmer until the sauce has thickened slightly, about 5 minutes.
Place a piece of chicken on each plate. Divide sauce evenly over each piece of chicken.
Serve immediately.
Adapted from Damn Delicious