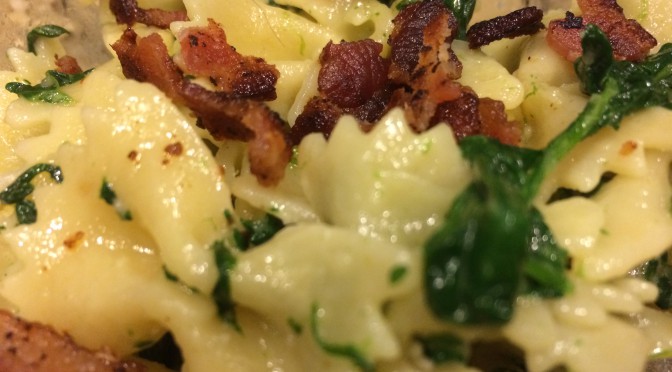 Creamy Spinach Pasta Alfredo
Although I love Alfredo sauce, I try not to eat it too often since it is so rich and creamy.  It used to be one of my favorite sauces at restaurants, until I looked saw the calorie count one day.
This dish really does look amazing when portioned out on a plate.  The green from the spinach, mixed with the dark red/brown from the bacon, which is set against the white of the Alfredo sauce makes a beautiful picture.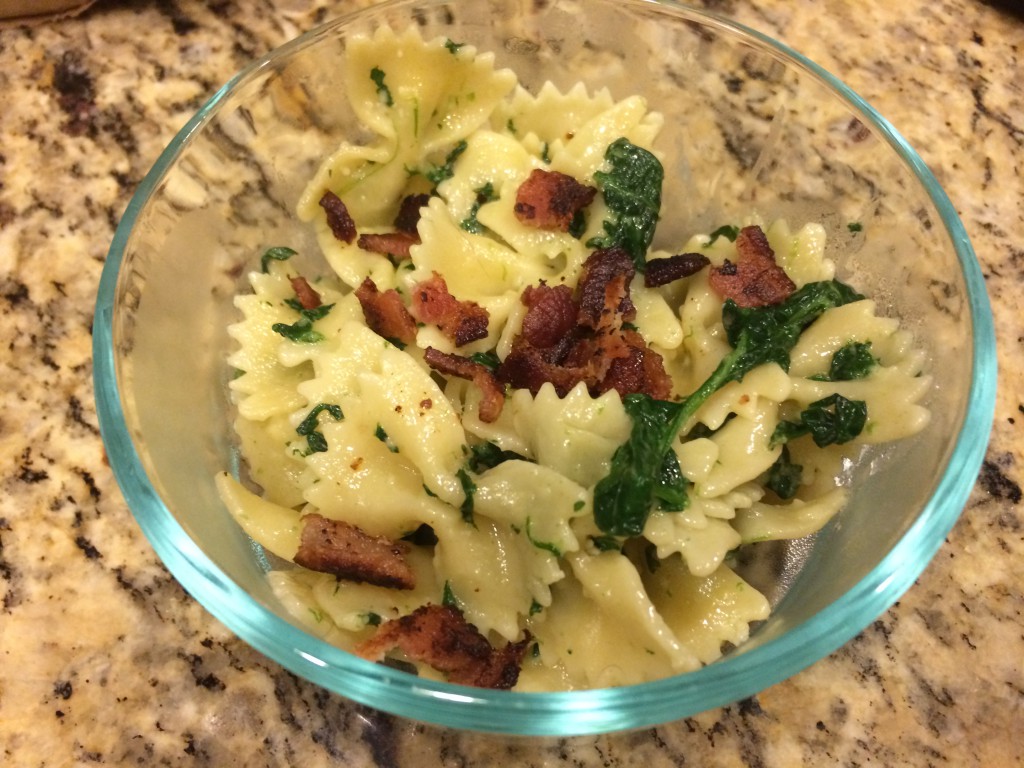 Although the dish is tasty when it is first made, it is even better if you have it for lunch the next day.  The flavors are able to meld together while it was in the refrigerator overnight.  I highly recommend making extra so that you can reheat it for another meal the next day.

Creamy Spinach Pasta Alfredo
Ingredients
8 ounces bacon, cut into ⅓ inch pieces
1 pound Farfalle pasta
Salt
2 tablespoons olive oil
2 garlic cloves, minced
10 ounces cooked spinach, remove all excess liquid
¾ cup heavy cream
Pinch nutmeg
Black pepper, to taste
4 tablespoons butter, cut into 1 inch cubes
½ cup plus 1 tablespoon grated Parmesan cheese
Instructions
Line a plate with a paper towel. Cook the bacon according to the instructions on the package. Place cooked bacon on paper towel lined plate and dab as much fat off of the bacon as possible. Use multiple paper towels, if necessary. Pour the fat out of the skillet and wipe it clean with a paper towel.
Meanwhile, in a large pot, bring enough water to cook the pasta to a boil. Add a tablespoon of salt to the water along with the pasta. Cook the pasta according to the package instructions for 1 minute less than directed to cook the pasta to al dente. Reserve ½ cup of the water from the cooked pasta. Drain the pasta in a colander.
Heat the olive oil in the skillet over medium heat. Add the garlic, and sauté until fragrant, about 30 seconds. Add spinach and stir to combine. Add the heavy cream, stir, and cook until heated through, about 2-3 minutes. Add the nutmeg, ½ teaspoon of salt, and ⅛ teaspoon of pepper, or to taste.
Reduce the heat to low, and add 2 tablespoons of the reserved pasta water. Stir in the butter and ¼ cup Parmesan cheese. If the sauce is too thick, slowly add pasta water until sauce has reached desired thickness.
Divide pasta mixture evenly among 6 bowls. Top the pasta with the cooked bacon and sprinkle with Parmesan cheese.
Serve hot.
Adapted from Pollan Family Table