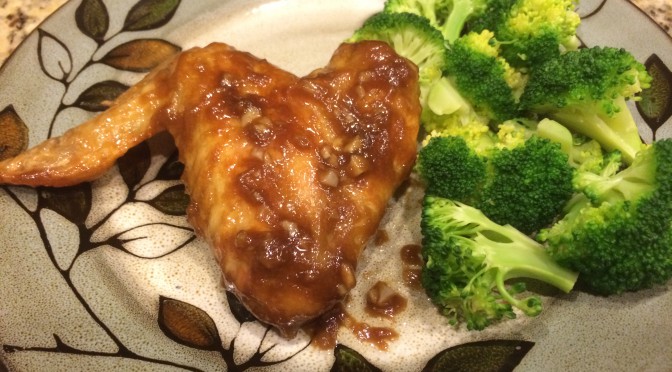 Honey Garlic Chicken Wings
I bought a few pounds of chicken wings at the grocery store because chicken was 50% off.  Unfortunately I was not paying attention and did not buy "party wings" (actually I didn't see a package of party wings and figured that this would be OK).  
The difference between "chicken wings" and   "party wings" is that the "drumstick" and the "wing" are separated.  Additionally, the tip of the wing is usually not included.  The wings I bought had all three pieces attached.
Earlier in the day, I had tried to cut up the triple pieces of chicken wings, and nearly broke my scissors.  It was difficult to find the correct location in the joint where I could cut the chicken.
As a result, I decided not to try to cut the chicken wings into pieces.  I just cooked it "whole" in the oven.  It actually turned out OK, but it is better to use party wings.  It will be much easier to eat, and the chicken will cook more evenly in a shorter amount of time
The chicken wings are healthier than chicken wings from "wing restaurants".  These wings are first crisped in the oven and then later tossed in the honey garlic sauce.  Most wing restaurants deep fry their wings before tossing them in a sauce.
Toss the wings in the sauce shortly after the sauce is finished.  Otherwise the sauce congeals rather quickly and the chicken wings will not be coated properly.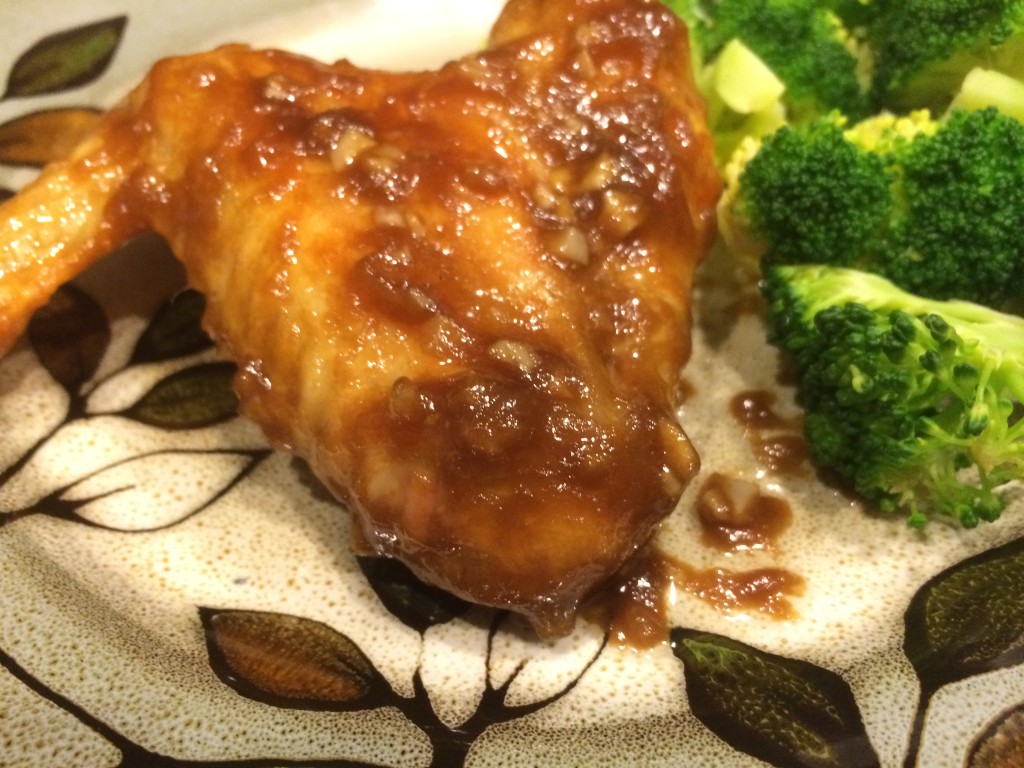 Honey Garlic Chicken Wings
Crispy chicken wings, tossed in sauce, that are baked, not fried!
Ingredients
3 pounds party chicken wings*
2 tablespoons melted butter
For the Sauce
4 tablespoons of butter
6 garlic cloves, minced
½ teaspoon onion powder
¼ cup honey
¼ cup water
1 tablespoon soy sauce
1 tablespoon all purpose flour
Instructions
Preheat the oven to 400 F. Line a baking sheet with parchment paper.
Dry the chicken wings with a paper towel and place them on the baking sheet, leaving space between each piece of chicken so that they are not touching each other. Drizzle the melted butter over all of the chicken wings.
Roast the chicken wings until they are cooked through and have reached an internal temperature of 170 F and have reached desired crispiness, about 40 minutes. Flip the chicken after about 20 minutes so that both sides are crispy.
For the sauce (start the sauce about 10 minutes before the chicken is finished)
In a small saucepan, over medium heat, add the butter, garlic, onion powder, honey, water and soy sauce and stir to combine. Bring mixture to a boil and whisk in flour. Vigorously stir the mixture so that the flour is well combined with the rest of the ingredients. Simmer the sauce until it has thickened slightly. Remove from heat.
Immediately toss the chicken wings in the sauce.
Serve hot.
Notes
* Regular chicken wings can be used, but it's best to use "party" chicken wings
Adapted from  Kirbie's Cravings