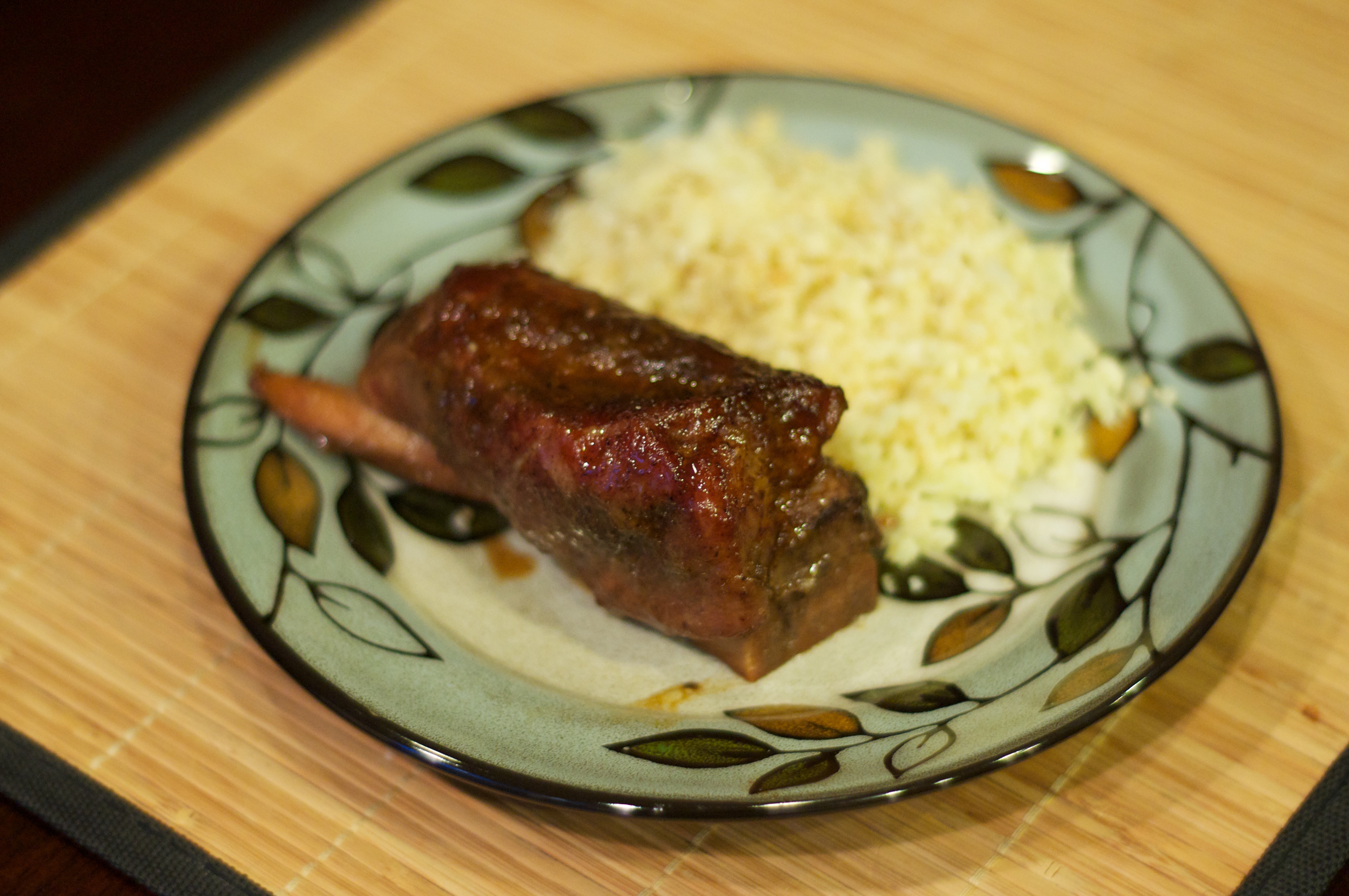 Char Siu Country Style Ribs
I don't really know what "country style ribs" are.  I've seen them at the store before, and know that they are usually large rectangular shaped cuts of meat.  I also know that it is pro, since that's usually on the packaging as well.  I have no idea what part of the pig the meat comes from, aside from the fact that it's probably from the rib section somewhere.  I am assuming that this cut of meat comes off of a pig's rib.  If it doesn't, that is clearly false advertisement!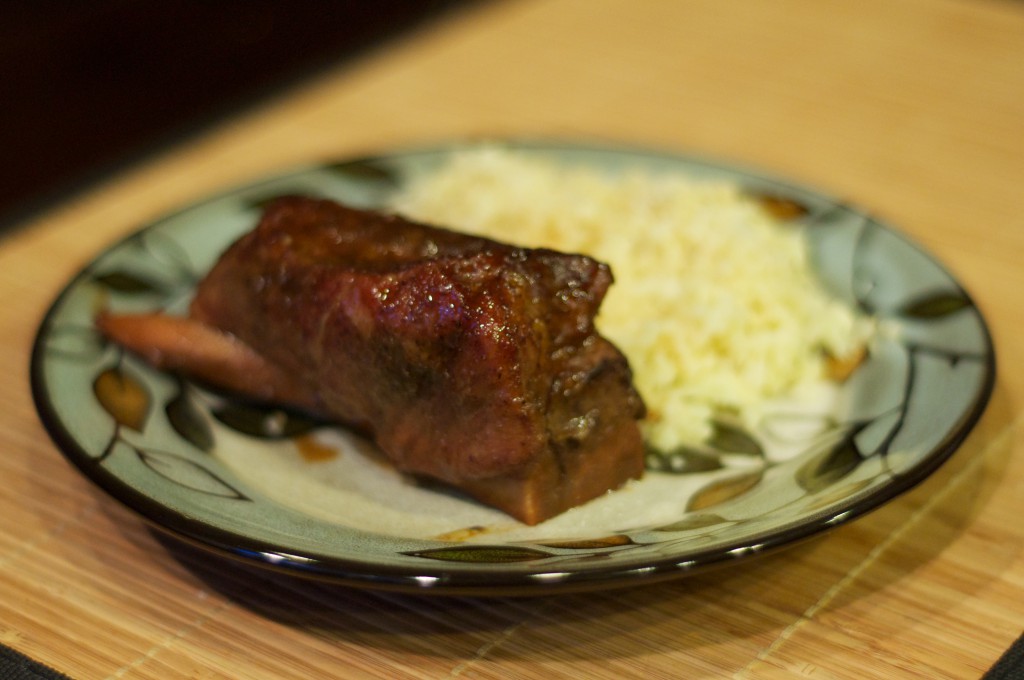 What I do know is that this meat is often on sale at the grocery store, and is often cheaper than ribs (especially baby back ribs).  I also know that this meat tends to be rather flavorful and juicy.  I can't say that this is very healthy, but it has the word "ribs" in the name…  That being said, they are absolutely delicious.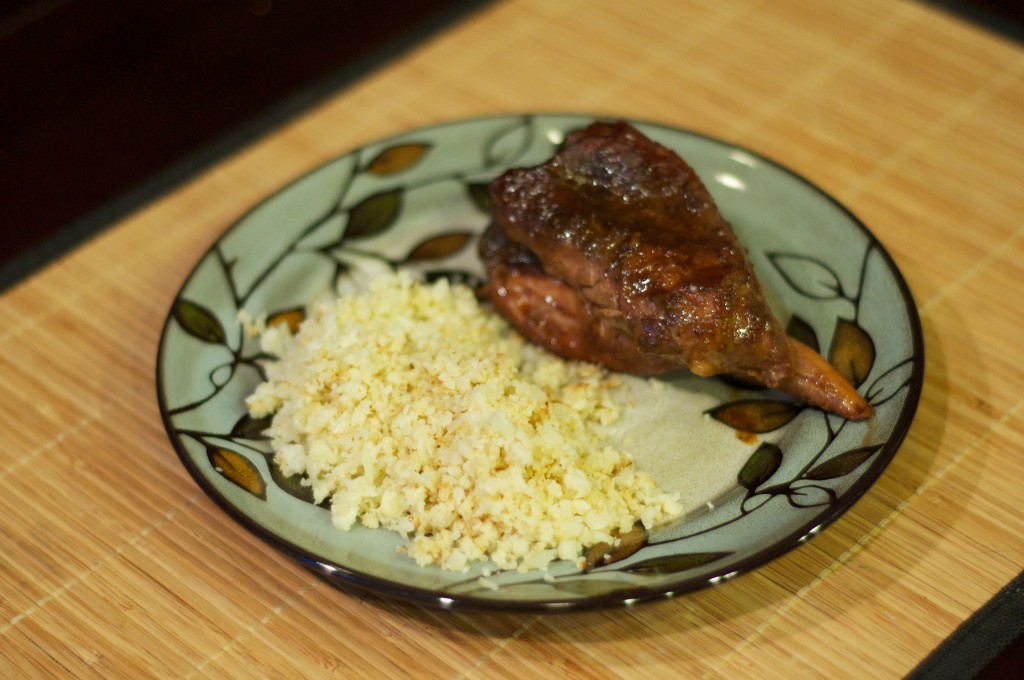 These ribs, like many other types of ribs, are cooked in the oven for a few hours until they are tender.  I don't like "soggy" meat, so I don't like meat that "falls off the bone" just by looking at it.  Don't get me wrong, these ribs are still soft and tender.  However, if you want ribs that are "fall off the bone", you will want to cook it longer.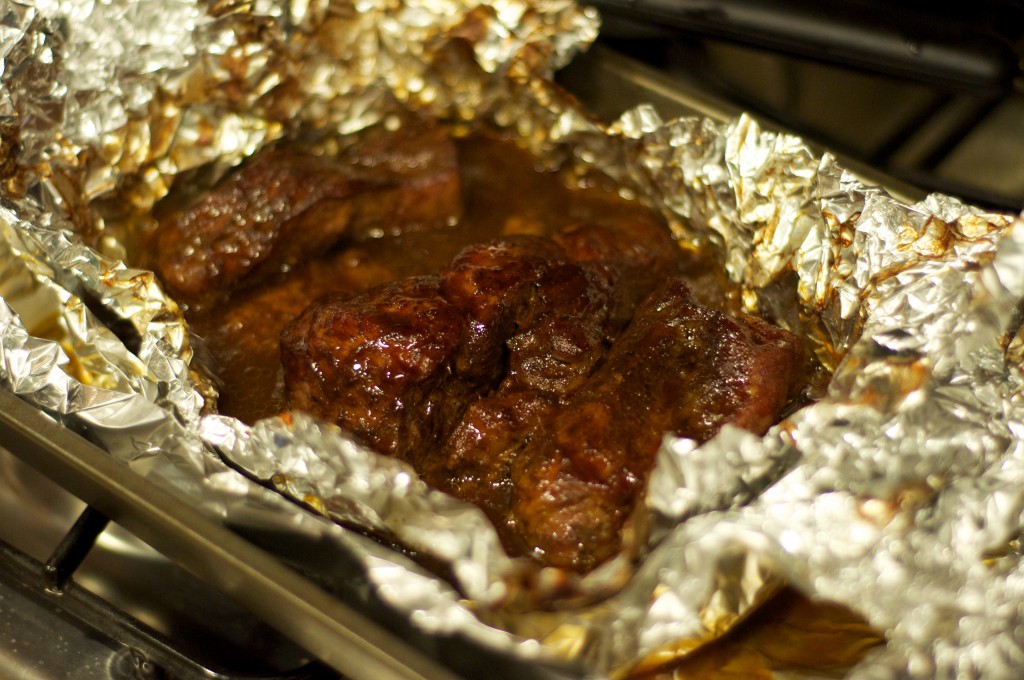 Another item of note is that the sauce is very strong.  I suggest serving this with a side dish that is very light.  I personally served this with Cauliflower Rice and thought the two paired very well together.

Char Siu Country Style Ribs
Ingredients
2-3 pounds country style ribs
¾ cup hoisin sauce
½ cup soy sauce
½ cup Chinese rice wine
2 teaspoons Chinese five spice
1 teaspoon white pepper
⅓ cup honey
Instructions
Preheat the oven to 250 F. Line a baking dish with aluminum foil.
In a small bowl, combine the hoisin, soy sauce, rice wine, five spice, white pepper and honey. Whisk together until ingredients are well combined.
Place the ribs in a single layer on the foil lined baking dish. Pour some of the sauce on the ribs, making sure that all sides of the ribs are well coated with the sauce. Reserve some of the sauce for later use.
Cover the baking dish tightly with aluminum foil. Bake at 250 for 2½ hours, or until ribs are almost tender.
Remove the foil cover and baste the ribs and place them back in the oven. Cook for another 30 minutes, or until they are tender, basting the ribs every 10 minutes.
Allow the ribs to rest for 10 minutes.
Serve hot with a lightly flavored side dish.
Adapted from  Slow Food USA