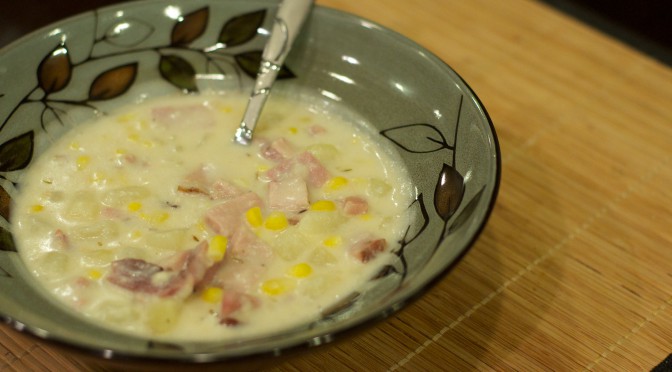 Potato Ham Chowder
I bought a spiral sliced ham from Costco when they were on sale for 99 cents/lb.  I'm not sure why the ham was that cheap, since it wasn't around a holiday when people "normally" eat ham.  Still, it was too good to pass up, since Mike loves ham, and the Costco hams are supposedly delicious.  On the other hand, the ham was about 10 pounds…
Needless to say, we weren't able to finish the whole ham.  We did eat the ham by itself, as well as having omelets, maybe a sandwich or two, but I needed to find other dishes which would use ham.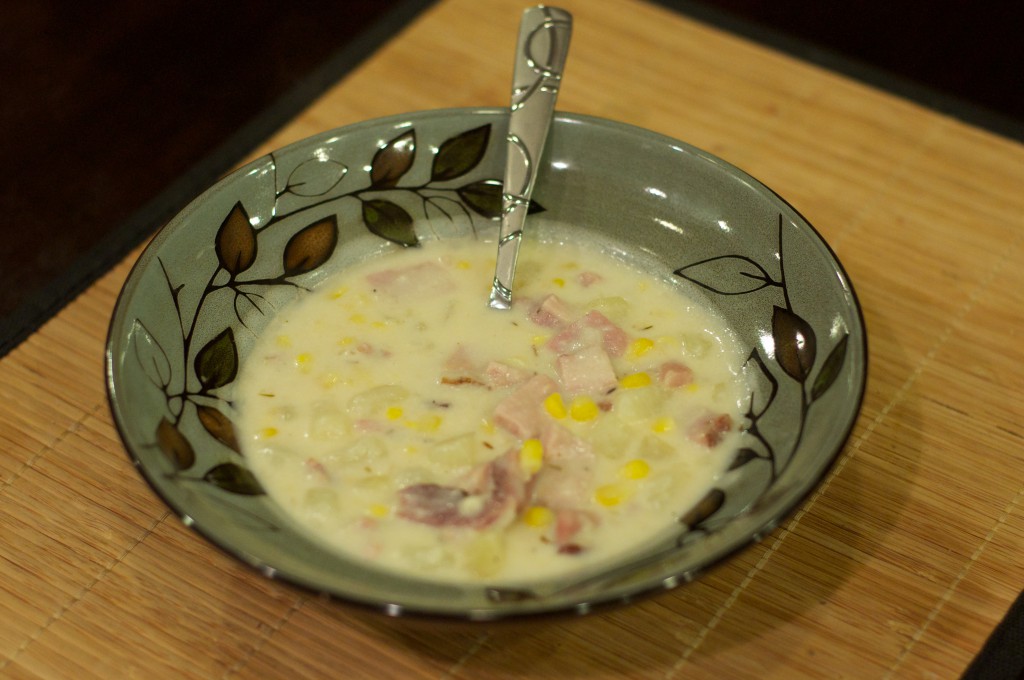 I also apparently have a problem being able to use up potatoes.  I like mashed potatoes in general, but they really are pretty unhealthy, what with all the butter, sour cream etc that go into them.
It's generally more cost efficient to purchase a 5 pound bag of potatoes than to buy the 3 potatoes that are needed in a recipe.  As a result, I'm usually on the lookout for various recipes which will use potatoes (I want to be able to make a variety of meals with the potatoes so that I don't get tired of eating the same thing.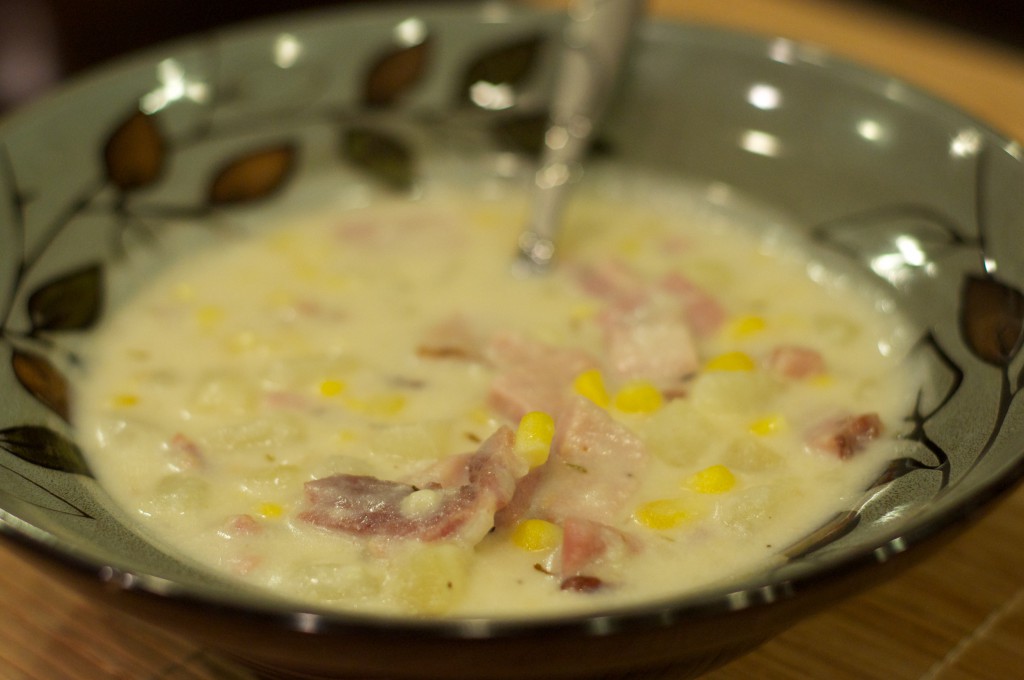 This soup turned out creamy and thick.    It's a hearty soup that would be tasty on a cold night when I am trying to get rid of ham.
Potato Ham Chowder
A hearty chowder that uses up leftover ham!
Ingredients
4 slices thick cut bacon
2 tablespoons unsalted butter
2 garlic cloves, minced
1 small onion, diced
1½ cups frozen corn kernels
⅔ teaspoon dried thyme
2 tablespoons all purpose flour
3½ cups milk
2 russet potatoes, diced
4 slices of ham (from a spiral cut ham), diced
Salt and pepper, to taste
Instructions
Cook bacon according to instructions on the package. Place two paper towels on a plate, place bacon on the plate and blot the grease off of the bacon slices with more paper towels.
In a dutch oven, melt the butter over medium high heat. Add garlic and sauté until fragrant, about 30 seconds. Add the onions and cook until translucent, about 2 minutes. Add the corn and thyme and continue to cook for another minute.
Whisk in the flour and stir to combine. Stir in the milk and simmer until mixture has thickened slightly, about 2 minutes.
Add the potatoes, and increase heat to high. Bring the soup to a boil and simmer the potatoes until they can be easily pierced with a fork, about 15 minutes. Stir in the ham and add salt and pepper to taste.
Crumble bacon slices over each bowl of soup and serve immediately.
Adapted from  Damn Delicious