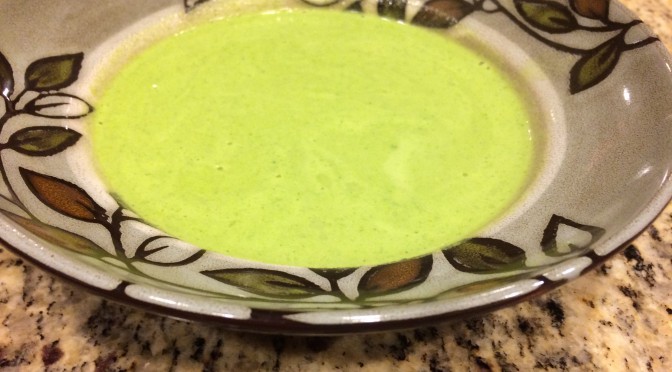 Cilantro Soup
Cilantro soup.  Yes, I know it sounds weird but it is really worth a try, especially if you have a bunch of cilantro at home.  It does taste a lot like cilantro (obviously), and is a pretty light soup.  
We had bought a bunch of cilantro for the street tacos.  I'm not a big fan of cilantro in general, and would have just left it out of the marinade, but Mike really wanted to follow the recipe exactly, so we bought cilantro.  The recipe only uses a little cilantro, so I had pretty much the whole bunch left (or at least it seemed that way).
Mike wasn't feeling well, and wanted to have a soup for dinner, so I decided to make him cilantro soup, mainly because it sounded like a great way to use up cilantro.
I was a little unsure about how the soup would turn out at first, but I was pleasantly surprised.  Another selling point for this soup is that is uses milk.  Since Mike was sick, he had not been drinking as much milk as usual.  As a result, I was trying to find creative ways to use up milk as well.
Tortilla chips could be added to this soup to add texture, but I didn't add that to the soup since Mike had a cold, and his throat was feeling raw.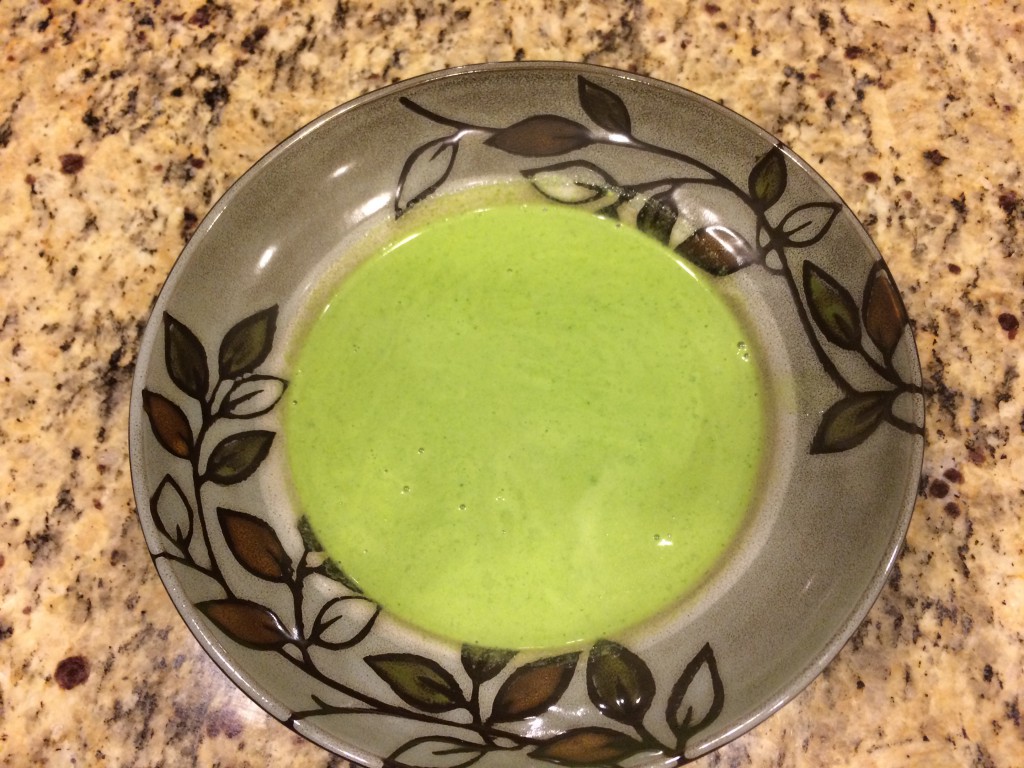 Cilantro Soup
A light soup that uses up cilantro.
Ingredients
1 cups milk
1 bay leaf
1 tablespoon unsalted butter
½ tablespoon olive oil
½ tablespoon diced onion
1½ tablespoons all purpose flour
1 bunch fresh cilantro, main stems removed
2 cups chicken broth
⅛ teaspoon ground white pepper
¼ teaspoon salt, or to taste
Tortilla chips (optional)
Instructions
In a small saucepan, over medium heat, add the milk and bay leaf and bring to a simmer, about 5 minutes. Remove milk mixture from heat and allow to cool slightly. Do not remove the bay leaf at this time.
In another pan, over medium heat, melt the butter. Sauté the onion until tender, about 3 minutes. Whisk in the flour and continue to cook until the mixture has thickened, about 5 minutes stirring often.
Remove the bay leaf from the milk mixture. Slowly add the milk to the onion mixture, stirring to combine. Continue to cook, stirring often, until the milk-onion mixture has thickened, about 5 minutes.
Pour the milk-onion mixture into a strong blender (such as the Vitamix). Add the cilantro and blend until smooth.
Pour the puree back into the pan. Over medium heat, add the chicken broth and pepper and stir to combine. Simmer the soup for another 10 minutes.
Divide the soup evenly among 3 bowls. Serve with tortilla chips if desired.
Adapted from  Williams Sonoma