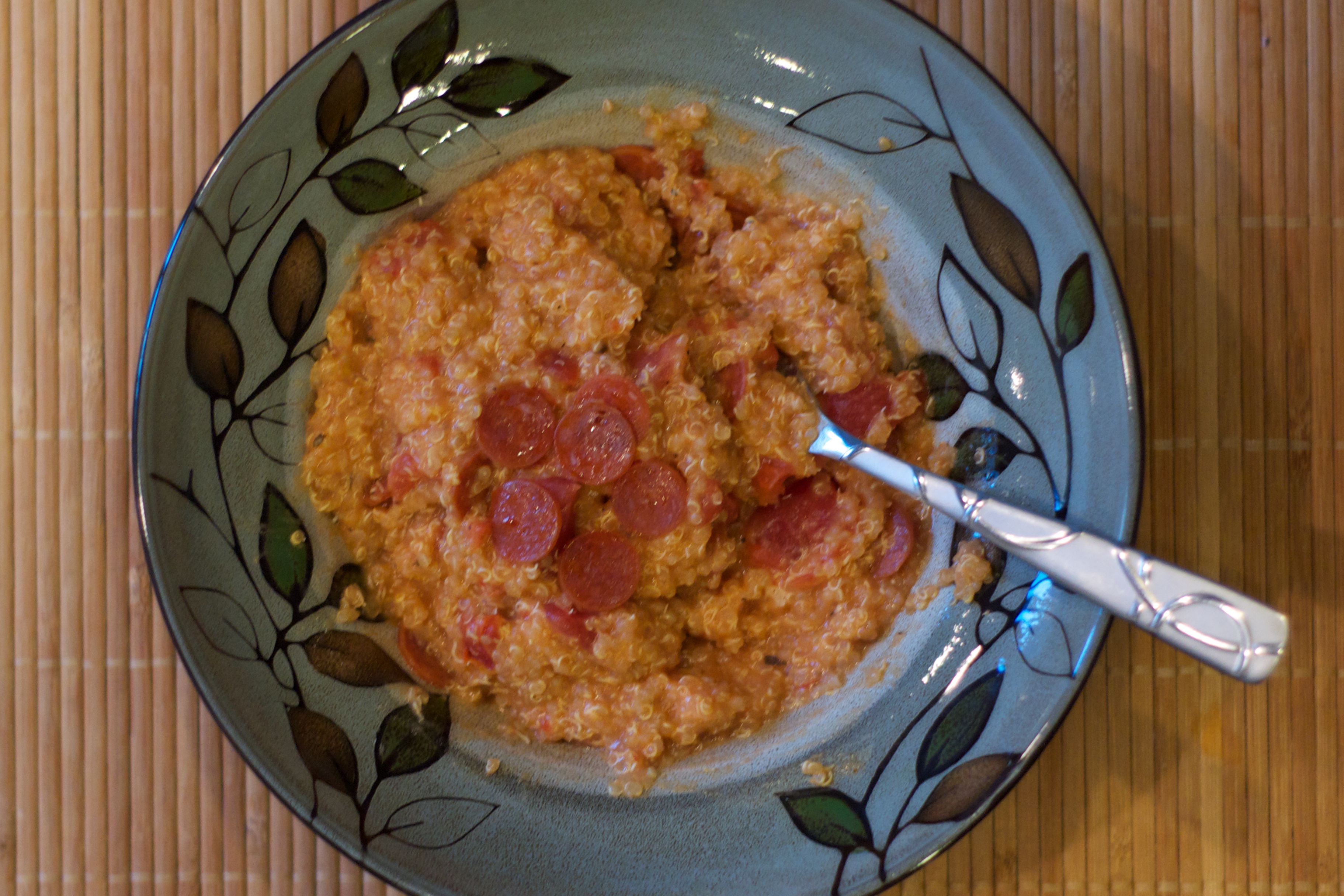 Pepperoni Quinoa
Mike recently discovered quinoa at the farmer's market.  There was a booth there where a lady was selling a package of uncooked quinoa with seasoning in it.  All you have to do is put it in a pot, add water, salt and butter or olive oil and you would have a nice side dish ready in about 20 minutes.  This very intelligent lady also had samples of the items she was selling.  Mike was hesitant to try it, but when I told him it was delicious after trying a sample, he agreed to try some too.  He loved it, and is now on the quinoa band wagon.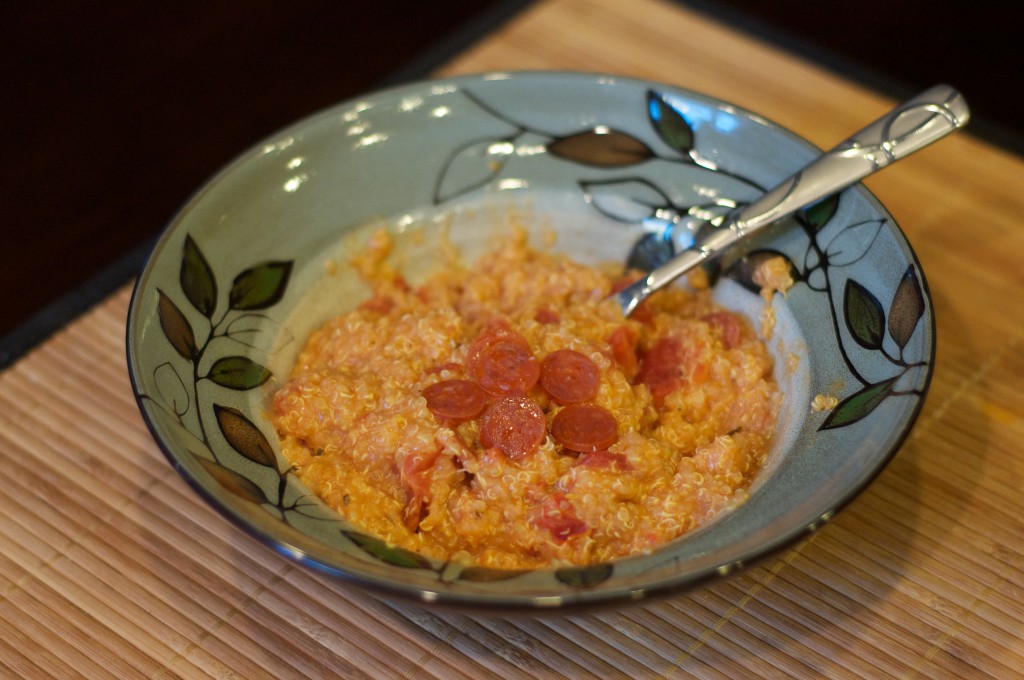 Mike also loves mini pepperonis.  I bought them once from the grocery store when he wanted to make pepperoni pizza at home because I couldn't find the "regular" sized pepperoni.  It was love at first bite.  I really don't know why he loves them so much more than regular pepperoni, but whenever he wants to make a pizza, I have to buy the mini pepperonis.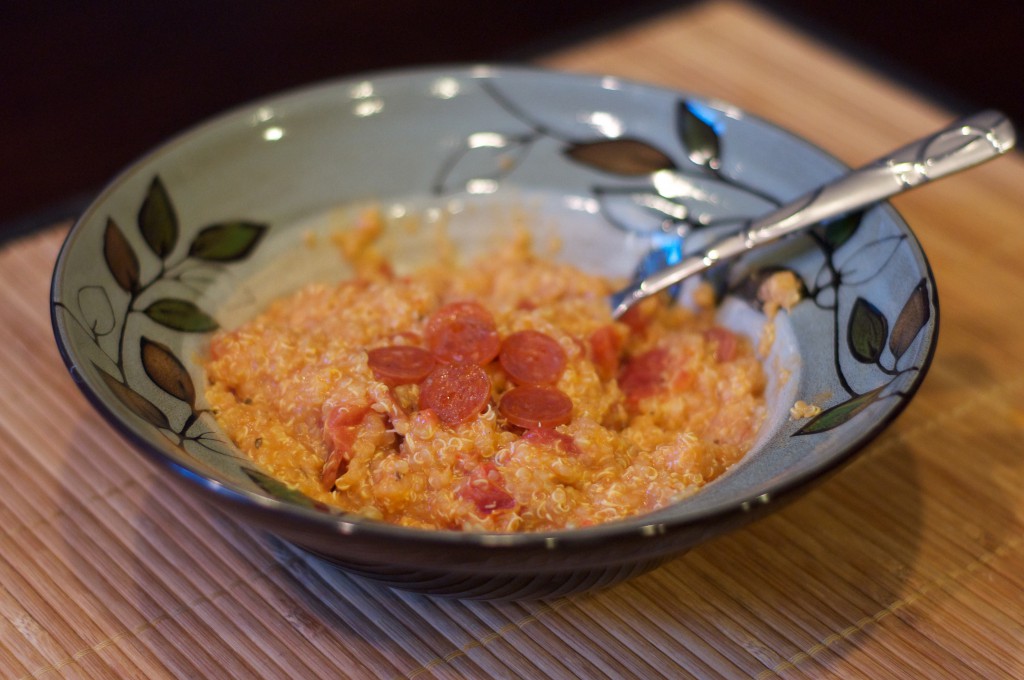 Normally, I wouldn't mind buying mini pepperonis, because they are just so cute!  However, they come in this huge package (it's really only about 5 ounces).  I'm not really sure how many mini pepperonis are in a package, but it seems like hundreds.  As a result, I am constantly looking for ways to use up those pepperonis.
I decided to try to make a dish that included both quinoa and the mini pepperonis.  Mike loves each of these items individually, why not put them together?  The result was deliciousness!

Pepperoni Quinoa
Ingredients
1 cup prewashed quinoa
2 cups chicken broth
1 (14 ounce) can diced tomatoes, drained
½ cup marinara sauce*
¼ cup mini pepperonis
2 garlic cloves minced
¼ cup shredded mozzarella
½ teaspoon salt
½ teaspoon onion powder
¼ teaspoon black pepper.
Instructions
In a medium pot over high heat, add the quinoa and chicken broth and bring to a boil. Reduce the heat to medium and simmer for 20 minutes, or until the quinoa is cooked.
Add the diced tomatoes, mini pepperonis, and garlic and continue to cook until the tomatoes and pepperoni are heated through.
Add the mozzarella, salt, onion powder and black pepper and stir until the mozzarella is melted and fully combined.
Serve immediately.
*I used Awesome Sauce
Adapted from  High Heels to Hot Wheels