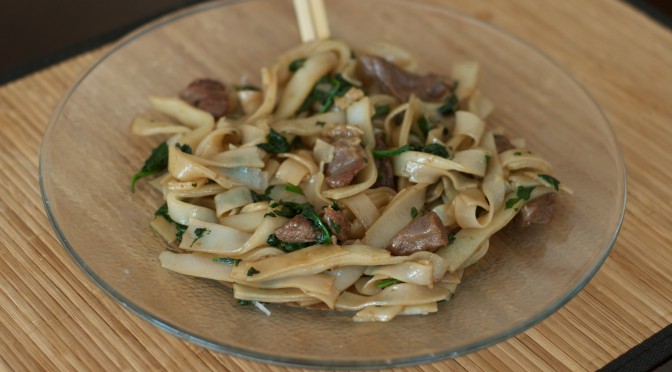 Beef Chow Fun
I love Chow Fun, and have always had dreams of being able to make it myself. I never knew which noodles to use. Apparently it's the flat rice noodles that I use for other dishes!
DO NOT place fresh flat rice noodles in the refrigerator.  This causes them to become hard.  They do not need to be refrigerated, however, they will spoil quickly.  It is preferable to buy the noodles on the day when the recipe will be made.
The spinach adds a strong taste to the chow fun, however it makes it healthier.  If a lighter taste is desired, a cup of bean sprouts could be substituted for the spinach.

Beef Chow Fun
Ingredients
1 teaspoon baking soda
6 ounces flank steak, thinly sliced
2 tablespoons olive oil
2 cloves garlic, minced
8 ounces cooked spinach
16 ounces fresh flat rice noodles
Marinade
1¼ teaspoons soy sauce
½ teaspoon Chinese rice wine
1 teaspoon cornstarch
Seasoning
2 tablespoons soy sauce
1 tablespoon oyster sauce
½ teaspoon fish sauce
¼ teaspoon sugar
Instructions
In a medium bowl, combine the baking soda and the steak. Make sure that the steak is well coated in the baking soda. Place beef in the refrigerator for 15 minutes. Thoroughly rinse the beef in cold water and pat dry. Make sure the beef is dry before placing in the marinade.
In a medium sized bowl, combine all ingredients for the marinade. Add the steak and stir to combine. Make sure that the steak is well coated in the marinade. Set aside. Allow the steak to marinate for at least 15 minutes.
In a small bowl, combine all of the ingredients for the seasoning. Set aside.
Meanwhile, break the noodles apart and place into a large bowl. Try to break the noodles into individual noodles if possible.
Once steak has marinated for at least 15 minutes, heat oil in a large skillet over high heat. Add garlic and sauté until fragrant, about 30 seconds. Add the beef to the skillet and sauté until the beef is partially cooked, about 1 minute.
Add the spinach, and rice noodles and stir to combine. Add seasoning to the noodle mix and stir to combine. Cook until the noodles are slightly charred, about 2 minutes.
Serve hot.
Adapted from Easy Chinese Recipes