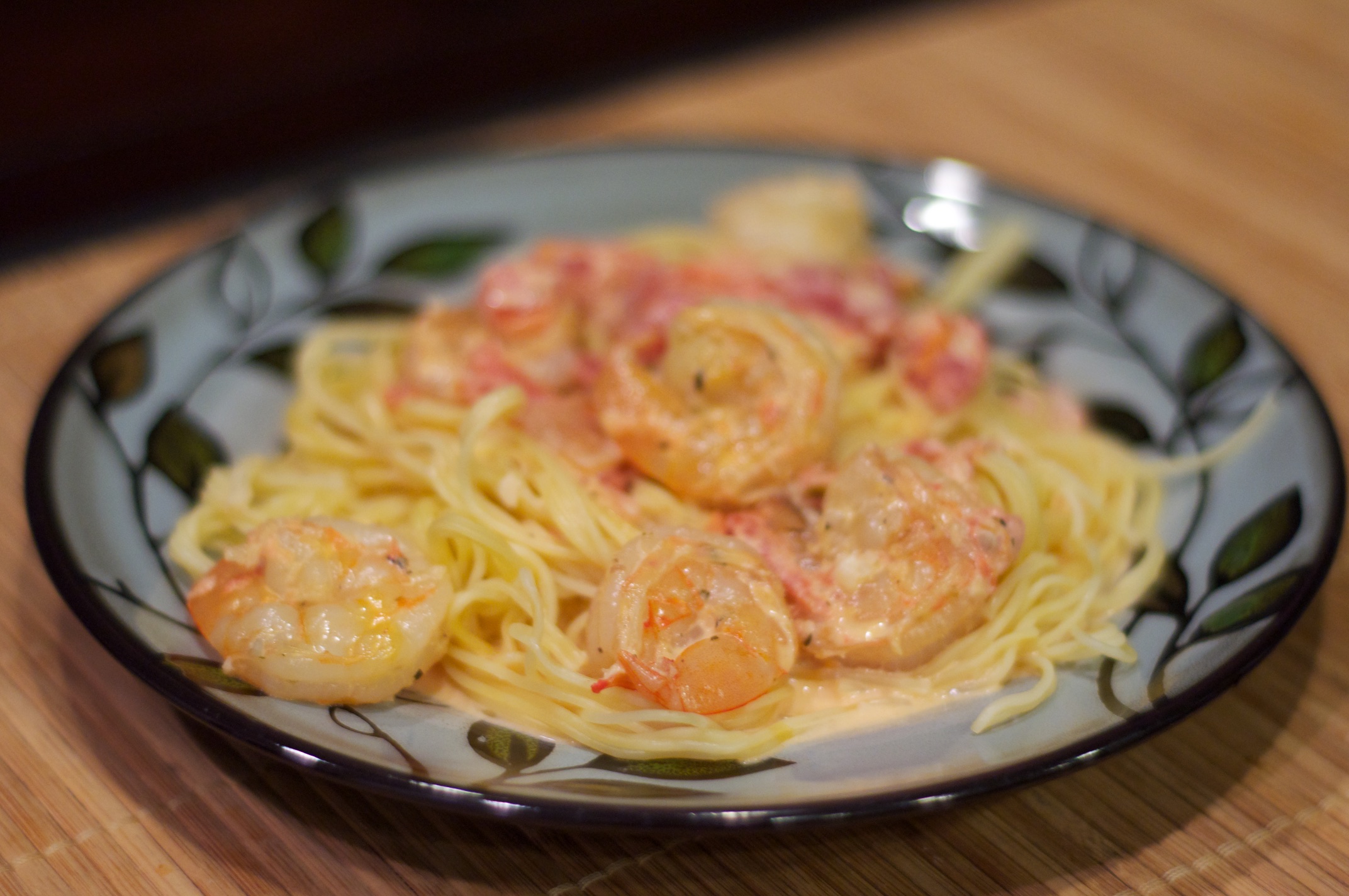 Angel Hair with Shrimp and Creamy Tomato Sauce
I have a love/dislike relationship with heavy cream.  On the one hand, I love heavy cream because many of the recipes that I have made which involve heavy cream have been amazing.  I dislike (I can't truthfully say that I hate heavy cream, because I don't hate it) heavy cream because it is very unhealthy, and you can really taste how unhealthiness in the dish.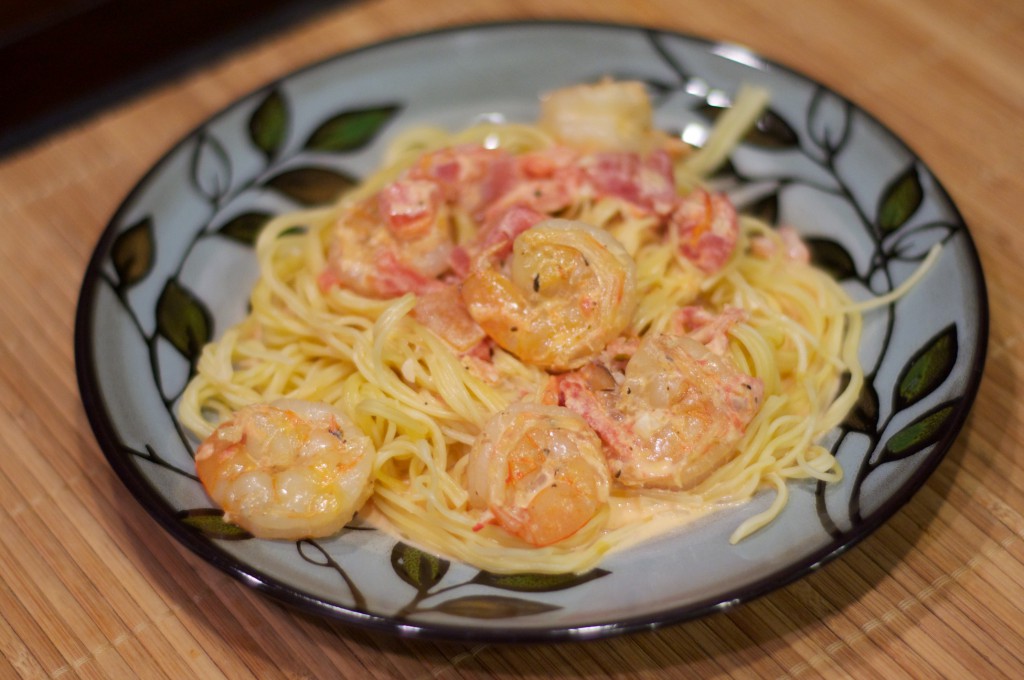 Another issue that I have with heavy cream is that I can never find small contains of heavy cream when I need it.  When I'm looking for heavy cream at the grocery store because it is needed for a recipe, they only seem to have the quart size or bigger in stock.  Other times, they have the pint size in stock, but it's maybe 20 cents cheaper than the quart.  I can get double the heavy cream for only 20 cents more?  Of course I'm going to buy the quart size.  But now I have to find recipes to use up that whole quart of heavy cream…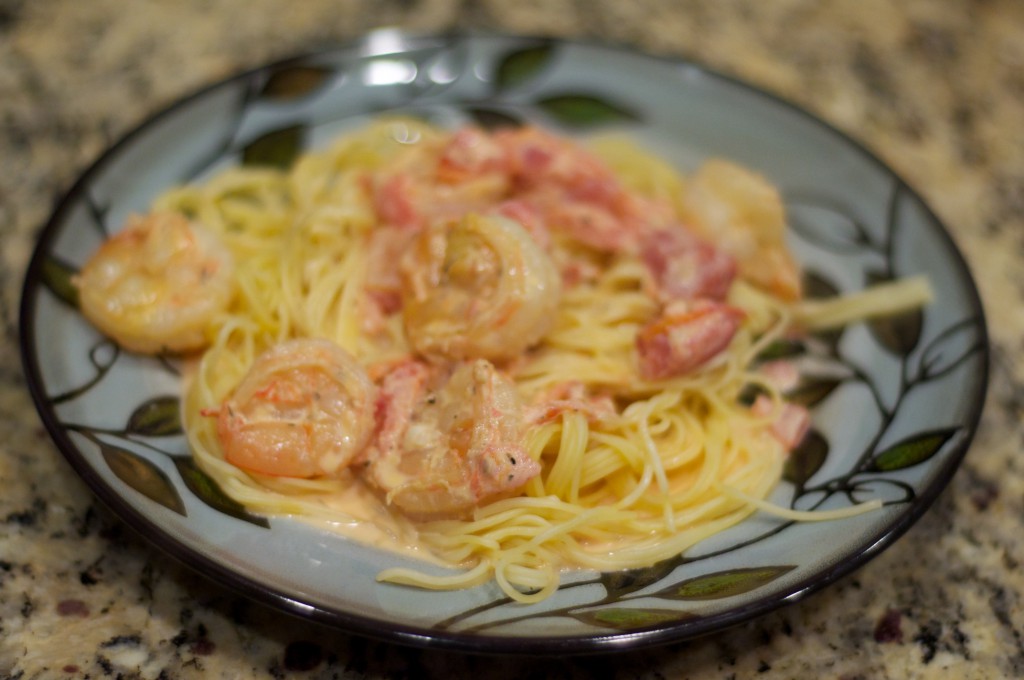 Then I start trying to figure out what dish to make with the heavy cream.  Soups are popular, but I'm not really a soup person, and neither is Mike, so we can only eat so much soup.  Luckily there are quite a few pasta dishes that use heavy cream, and Mike loves pasta.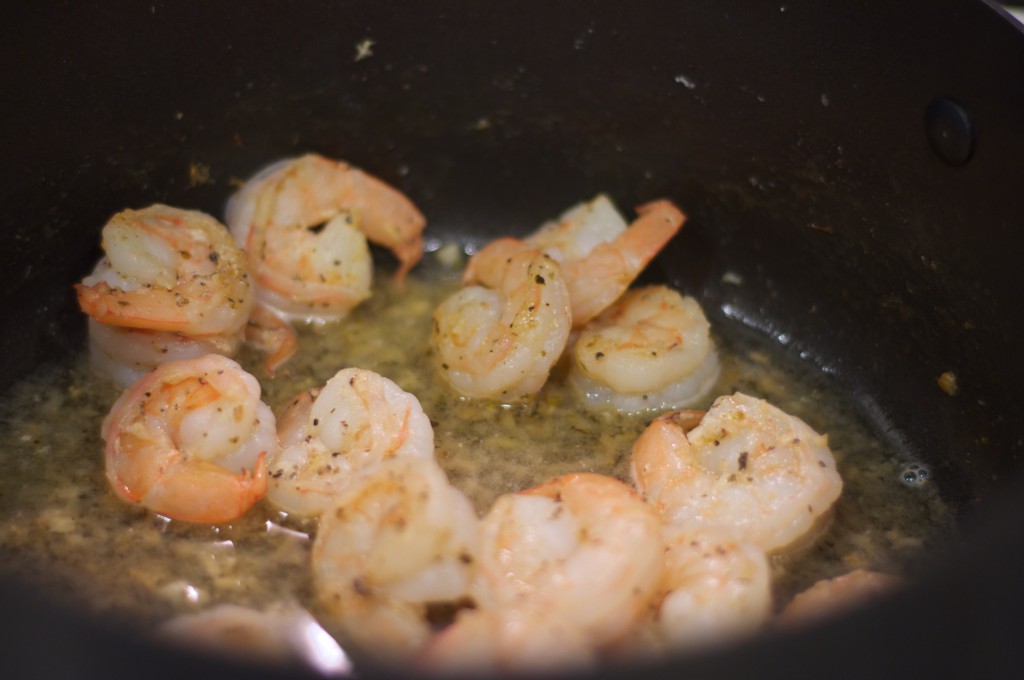 I've also learned to keep diced tomatoes on hand since those are great for pasta dishes.  I stock up on noodles when they are on sale and can easily make a pasta dish on a busy weeknight when I don't really have the time or energy to make an elaborate meal.  As it turns out, shrimp was on sale at the grocery store, so I threw that in too.  This dish, similar to the other dishes I have made which use heavy cream was amazing!

Angel Hair with Shrimp and Creamy Tomato Sauce
Ingredients
½ pound angel hair
2 tablespoons olive oil
1 pound shrimp, peeled and deveined
3 garlic cloves, minced
¼ teaspoon dried oregano
½ teaspoon salt
¼ teaspoon pepper
½ cup white wine
1 (14 ounce) can diced tomatoes, drained
¾ cup heavy cream
½ teaspoon lemon juice
Instructions
Cook angel hair according to the instructions on the package. Drain the angel hair once it is al dente, reserving a cup of the water which was used to cook the pasta.
While the angel hair is cooking, heat the olive oil in a large skillet over medium high heat. Add the shrimp, garlic, oregano, salt and pepper. Saute until the shrimp has just started to turn pink, about 2 minutes.
Add the white wine, tomatoes and cream to the shrimp mixture. Simmer until the sauce has thickened slightly, about 1 minute. Stir in the lemon juice and continue to cook until the shrimp is cooked through.
Divide the cooked angel hair equally across 4 plates. If the sauce is too thick, thin it with a tablespoon of the water that was used to cook the pasta at a time, until the sauce has the desired consistency. Pour the sauce evenly over the pasta. Serve immediately.
Adapted from  epicurious.com