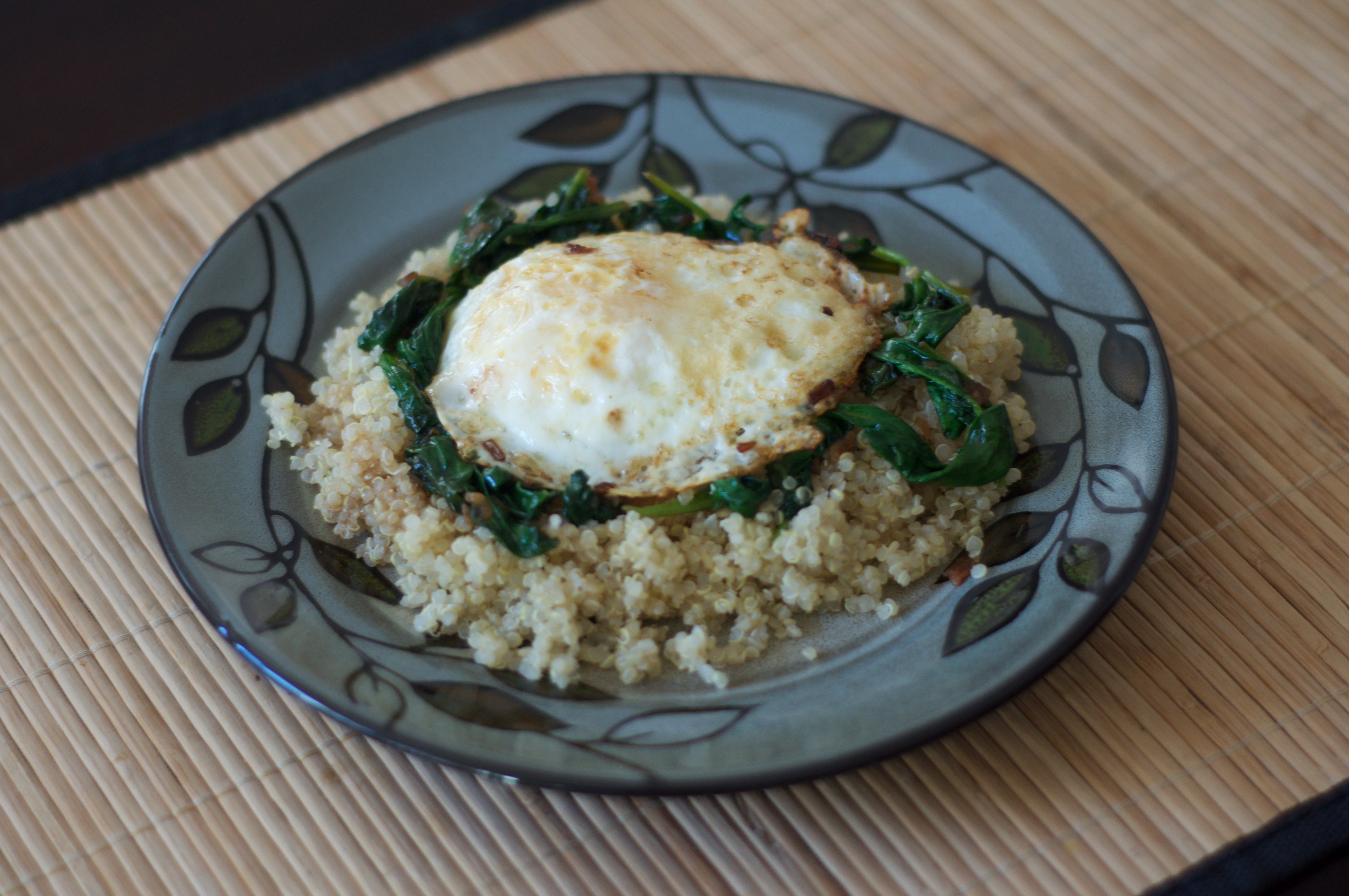 Quinoa with Fried Egg and Spinach
Some days I just want to eat a simple meal.  I'm tired and I don't want to spend a lot of time making a complex meal.  I just want to make something quick and easy.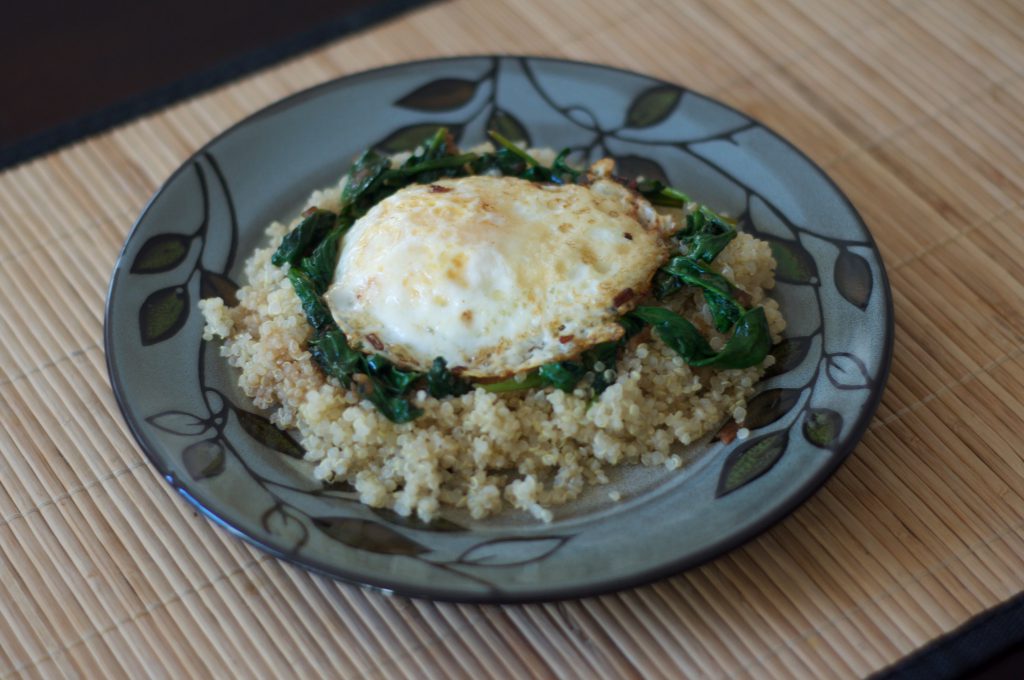 This recipe is not only simple and easy, it is also filling, yet not too heavy and rich.  It only takes a few ingredients, most of which you may already have in your house.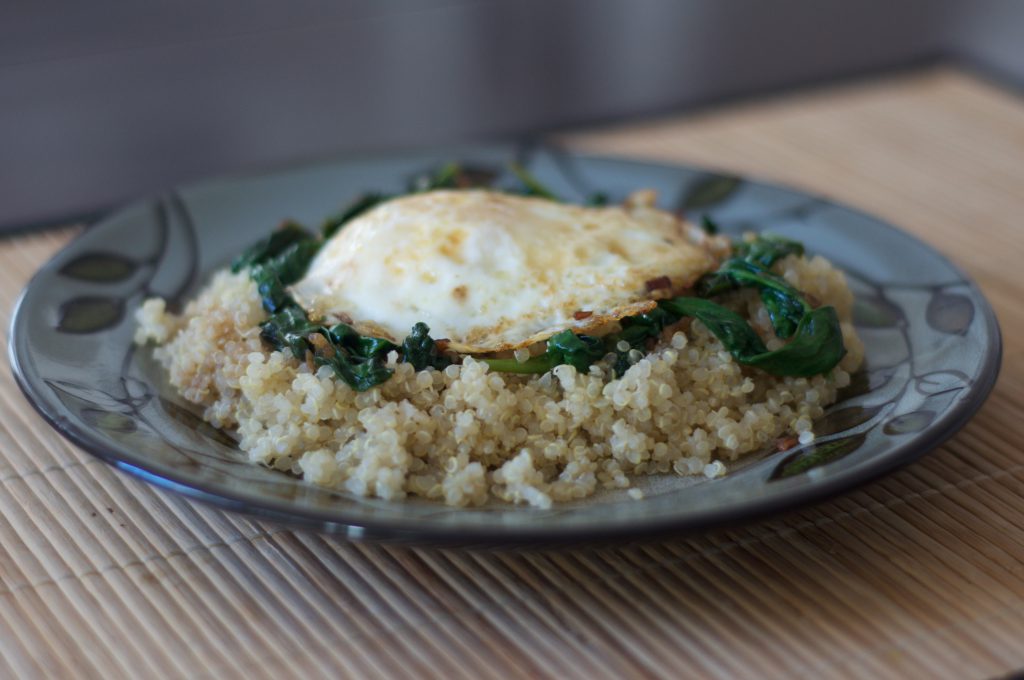 This dish is chock full of protein and vitamins.  I often find it difficult to eat enough vegetables.  This is probably because I don't like the taste of vegetables.  Spinach is nice because, even though I put a lot of spinach in the pot, it cooks down to a small amount.  It makes me feel like I am eating a lot of spinach, without actually having to eat that much spinach.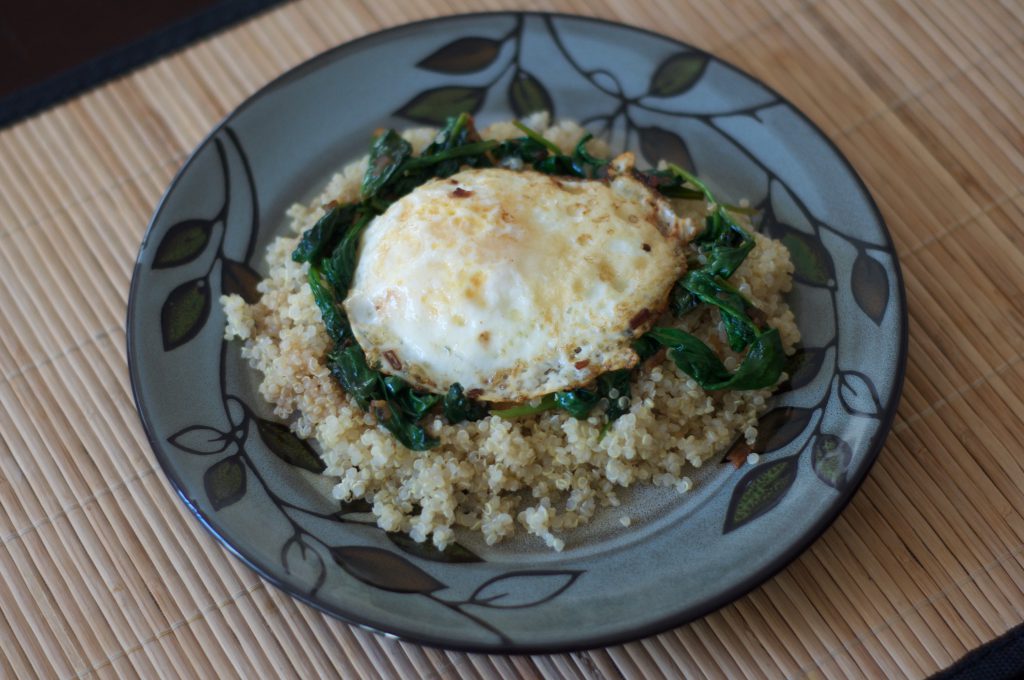 Yes, I realize that this is all in my head, and if I only eat a small amount of cooked spinach, I am only ingesting a small amount of vitamins, but it's better than not eating spinach!

Quinoa with Fried Egg and Spinach
Ingredients
1 cup washed, uncooked quinoa
1 tablespoon olive oil
2 tablespoons chopped onions
½ cup uncooked spinach, packed
1 teaspoon soy sauce, plus more to taste
2 eggs
Instructions
Bring 2 cups water to a boil. Add quinoa and stir to combine. Cover, reduce heat to medium and cook quinoa until most of the water has been absorbed, about 20 minutes. Remove from heat, and fluff quinoa. Divide quinoa evenly into two bowls.
Heat olive oil in a skillet, over medium heat. Add the onions and sauté for 3 minute. Add the spinach and cook until wilted, about 3 minutes. Add 1 teaspoon soy sauce to the spinach and stir to combine. Cut the spinach into smaller pieces with kitchen scissors. Place spinach mixture on top of the quinoa.
Do not clean out the skillet. Fry two eggs, over easy in the same skillet which was used to cook the spinach. Place the eggs on the spinach.
Drizzle additional soy sauce on each egg, if desired. Serve hot
Adapted from Dinner a Love Story