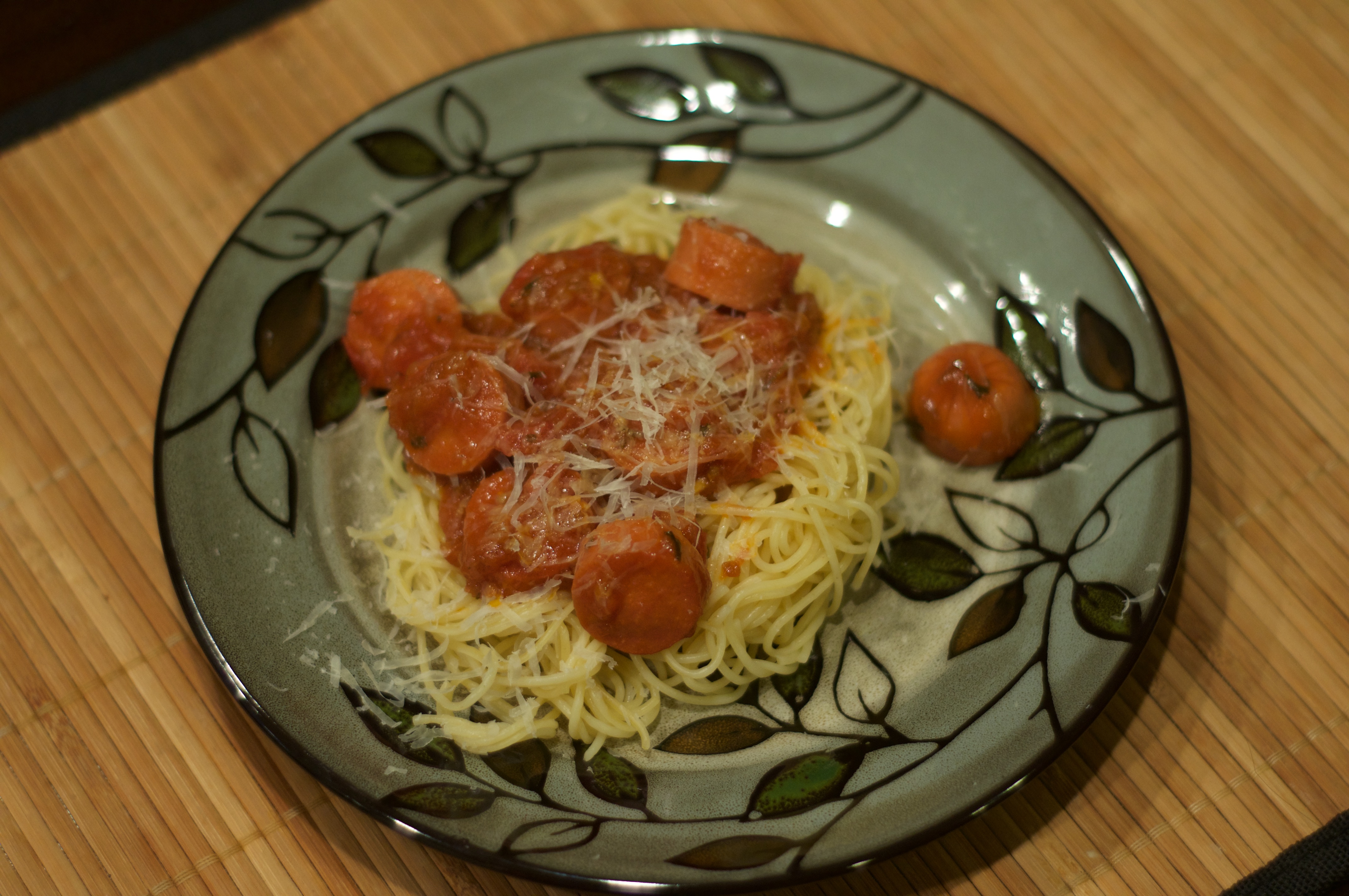 Spaghetti with Tomatoes and Hot Dogs
During one of the episodes of The Big Bang Theory, Sheldon talks about how his mom used to make him spaghetti with hot dogs.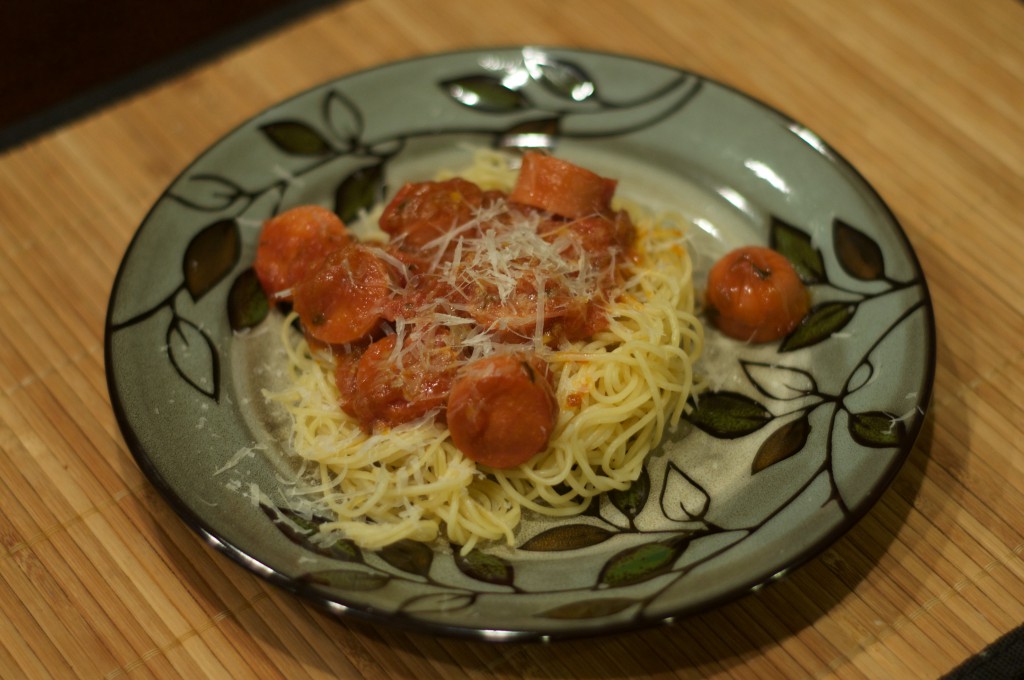 At first I thought this sounded terrible.  Then I thought about it some more (I also watched this episode a few more times), and decided it didn't sound that bad.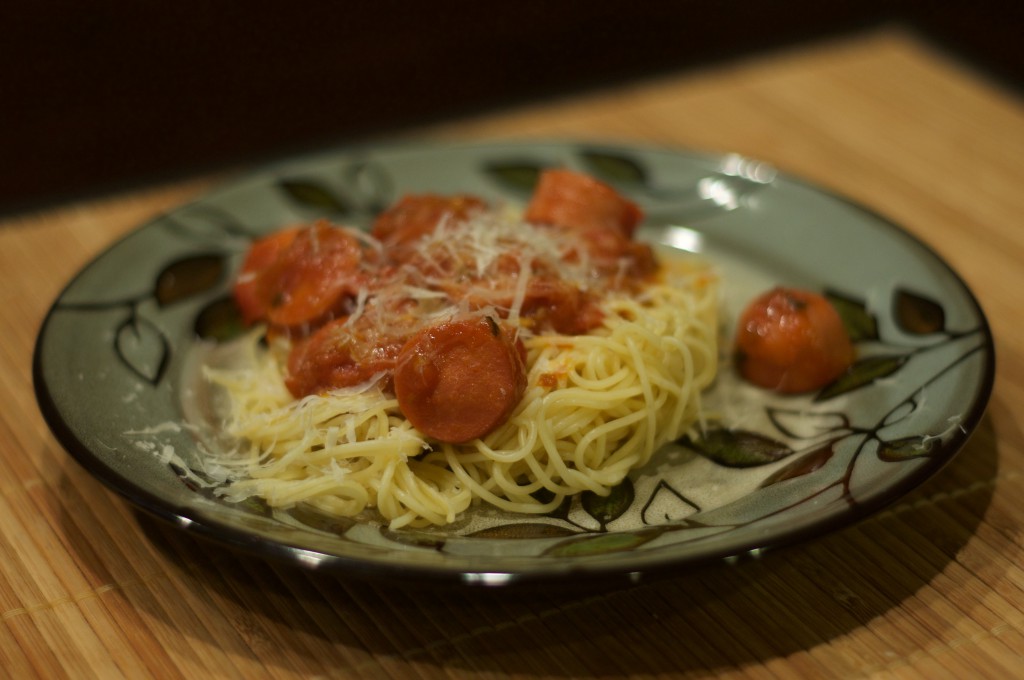 I was at the grocery store one day and hot dogs were on sale.  I decided to try to give it a try.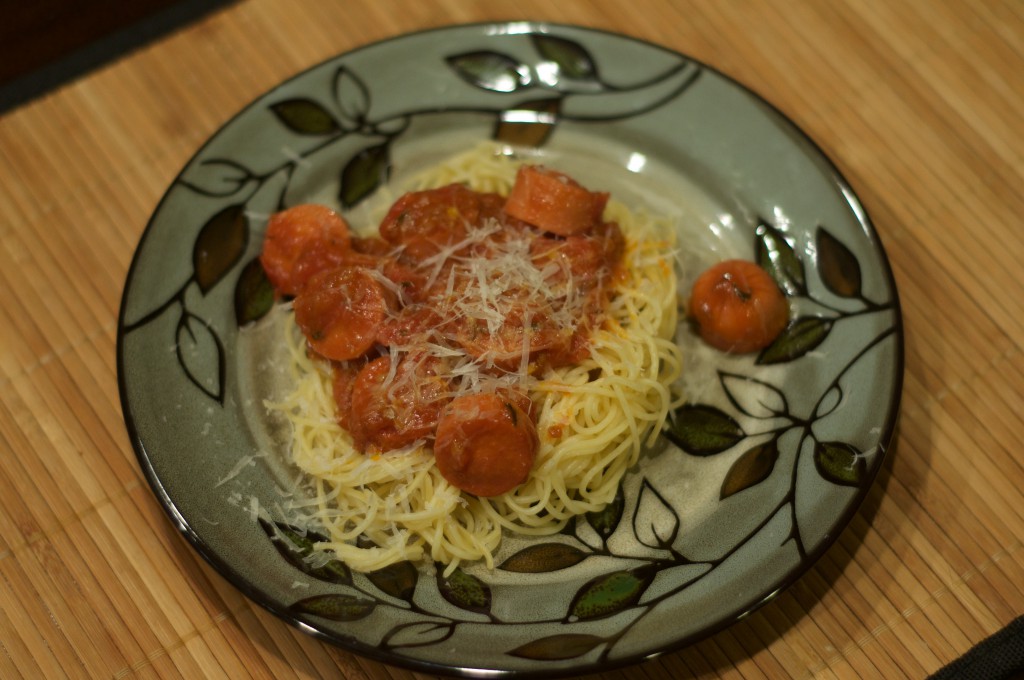 I was actually quite presently surprised by how delicious this dish turned out.

Spaghetti with Tomatoes and Hot Dogs
Ingredients
2 tablespoons olive oil
1 small onion, diced
2 cloves garlic, minced
4 Roma tomatoes, diced
4 tablespoons tomato paste
¾ teaspoon salt
1 teaspoon dried parsley
8 ounces hot dogs, cut into ½ inch slices
1 pound spaghetti, uncooked
½ cup grated parmesan cheese
Instructions
Heat olive oil in a large pan over medium high heat. Add the onions and sauté until they are translucent, about 5 minutes. Add garlic and sauté until fragrant, about 30 seconds.
Add the tomatoes and stir to combine. Cook the tomatoes for 2 minutes. Add tomato paste and stir to combine. Add one cup water, salt, parsley and hot dogs. Stir until all ingredients are well combined. Simmer until the tomatoes are soft and become incorporated into the sauce.
Meanwhile cook pasta according to the instructions on the package. Reserve 1 cup of pasta water prior to draining the pasta. If the sauce is too thin, add pasta water, 1 tablespoon at a time to the sauce until sauce has reached desired consistency.
Divide pasta evenly among 4 plates. Top with the sauce. Sprinkle parmesan cheese over pasta.
Serve immediately.
Adapted from Food Network