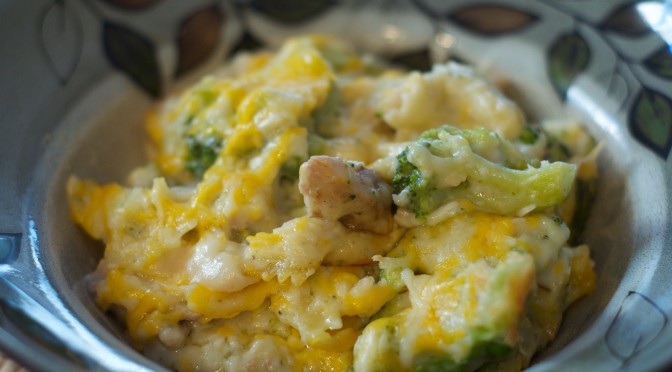 Chicken Broccoli Casserole
Broccoli is one of those few vegetables that Mike is willing to eat.  As a result, I sometimes buy a large quantity of broccoli crowns when they are on sale at the grocery store.  The problem is, I sometimes buy too much.  Mike is only willing to eat a side of steamed broccoli so many times a week.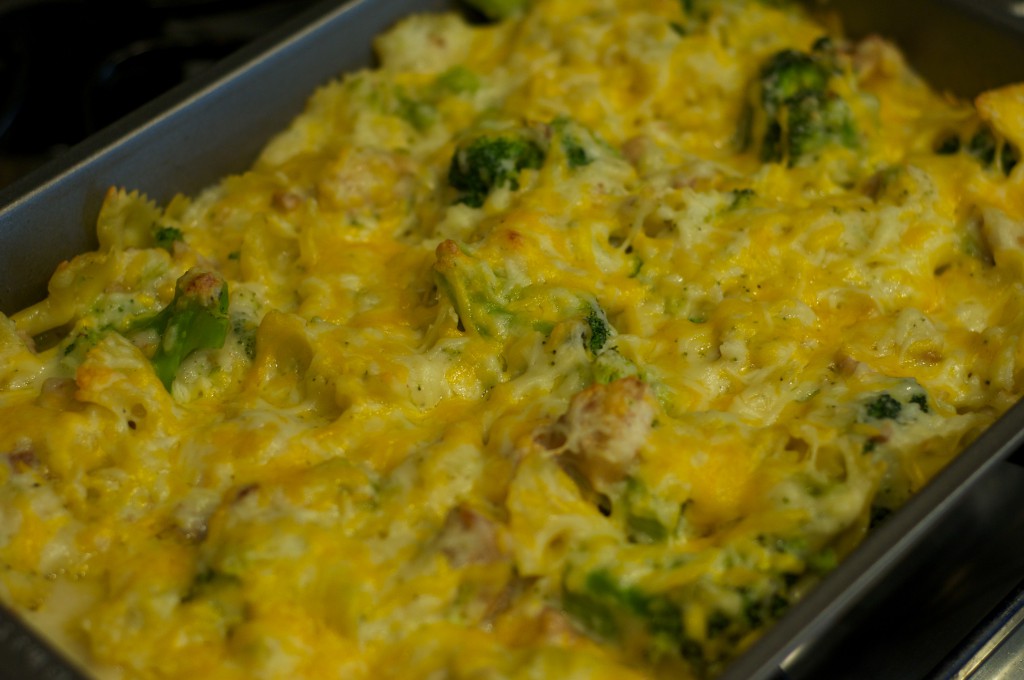 This chicken broccoli casserole is a great way to use up extra broccoli.  I made my own condensed cream of broccoli soup so that I could use up more broccoli.  You could use the store bought cream of broccoli soup, but those have a lot of sodium.  Condensed cream of mushroom or condensed cream of chicken soups could be used instead of cream of broccoli soup.

Broccoli Casserole
Ingredients
For the Condensed Cream of Broccoli Soup:
½ cup butter, divided use
4 garlic cloves, minced
⅔ cup onion, diced
1 cup broccoli, diced
½ cup flour
2 cups milk
1½ cups chicken broth
For the Casserole:
1 pound Farfalle pasta
4 cups diced broccoli
2 cups diced, cooked chicken
2 cups shredded cheddar cheese, divided use
⅛ teaspoon salt
⅛ teaspoon pepper
Instructions
Make the Condensed Cream of Broccoli Soup:
Melt one tablespoon of butter in a Dutch oven, over medium high heat. Add garlic and sauté until fragrant, about 30 seconds. Add the onion and broccoli. Sauté until vegetables have started to soften, about 5 minutes. Transfer broccoli mixture to a bowl. Set aside.
Melt the remaining 7 tablespoons butter in the Dutch oven, over medium high heat. Whisk in flour and cook until for 2 minutes, stirring constantly.
Slowly whisk in milk and broth, stirring to combine. Add broccoli mixture back to the milk mixture. Bring to a boil. Reduce heat and simmer until soup has thickened to the consistency of condensed soup, about 10 to 15 minutes, stirring occasionally. Season with salt and pepper, to taste. Remove from heat and set aside.
Make the casserole:
Preheat oven to 350 F.
Cook the pasta for 3 minutes less than the time listed in the instructions. Drain well.
Meanwhile blanch broccoli and drain well.
Place cooked pasta, broccoli and chicken in a 9 x 13 inch pan. Stir to combine. Pour the cream of broccoli soup evenly over the pasta mixture. Sprinkle 1½ cups of the cheese, salt and pepper over the pasta mixture. Stir to combine. Sprinkle the remaining ½ cup of cheese over the top of the pasta mixture.
Bake until contents are heated through, about 25 to 30 minutes.
Serve hot.
Adapted from Once a Month Meals and  Once A Month Meals