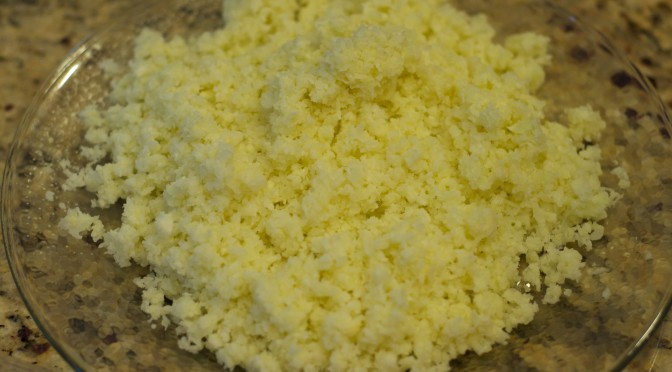 Cauliflower Rice
I'd seen a number of recipes for "Cauliflower Rice", but was always afraid to try it.  I know that white rice is not healthy, and this could potentially be a substitute for it.  I decided to make it since we had friends coming over who were on the Paleo diet.
It was actually pretty easy to make this "rice" using the Vitamix.  I think one of the most annoying aspects was cutting up the cauliflower.  One other annoying aspect is getting all of the "rice" particles out of the Vitamix and into my skillet.  Since there are so many little "grains", they tend to "stick" to the side of the Vitamix when I try to get them out.  This isn't a problem when I'm finished using the Vitamix, since they come out when I wash them out.  However, I am losing a number of those little "grains".  It just feels like such a waste, even though I don't really think I'm losing that much cauliflower.
I notice that the "ricing" turns out a lot better if I cut the cauliflower into smaller pieces (maybe a little bigger than the size I like my broccoli).
This "rice" needs to be eaten with another dish that has seasoning, such as seasoned chicken, since it really doesn't taste like much.  However, I normally don't eat rice by itself anyway, so it's a fair comparison.
This dish does NOT taste like rice.  However, as I was eating it with my chicken, I "forgot" that I wasn't eating rice and stopped really noticing that it wasn't really rice.  It was just another slightly crunchy substance to go with my seasoned meat .  One of the bigger differences is that these "rice" kernels are much  smaller than normal rice kernels.
I used the Vitamix to make this, but I'm pretty sure any strong blender will work.  Michele uses a grater and makes the "rice" that way.

Cauliflower Rice
Ingredients
1 large cauliflower head
1 tablespoons olive oil
Instructions
Cut cauliflower into bite sized florets. Working in batches, place a small amount (about a handful) of cauliflower in the Vitamix. Set the Vitamix speed to 2 and turn on the machine until the pieces are cut into roughly rice shaped pieces, about 5 seconds. Repeat until all pieces of cauliflower have been cut to size
In a large skillet, heat olive oil over medium heat. Add cauliflower and cooking, stirring occasionally until cauliflower has softened, but still has a small amount of bite, about 10 minutes.
Serve hot.
Adapted from Salted Paleo