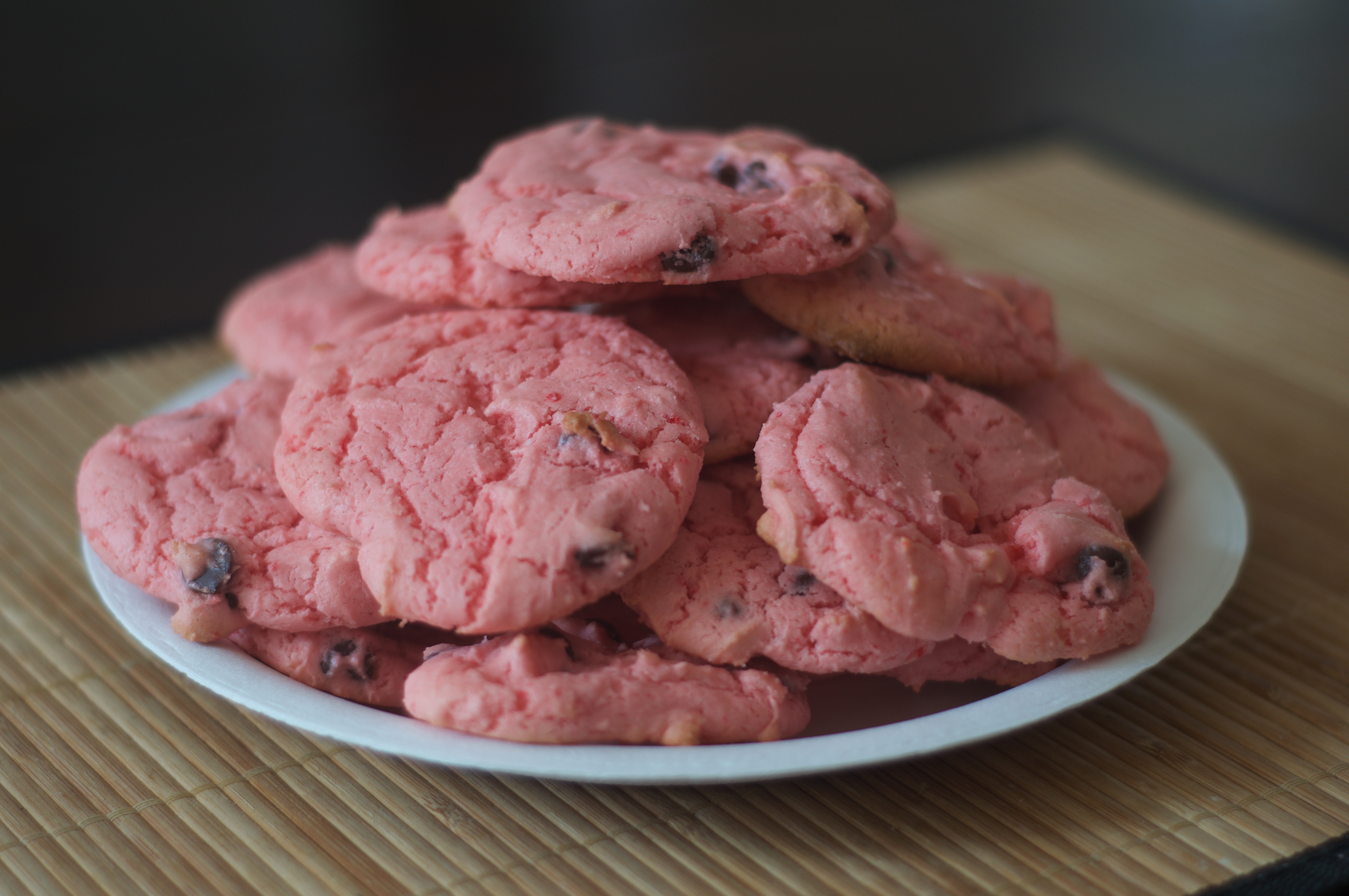 Strawberry Chocolate Chip Cookies
Mike is a big fan of chocolate chip cookies.  In fact, if he had his way, he'd make chocolate chip cookies every day.  The problem with that is that he'd eat a few chocolate chip cookies every day too…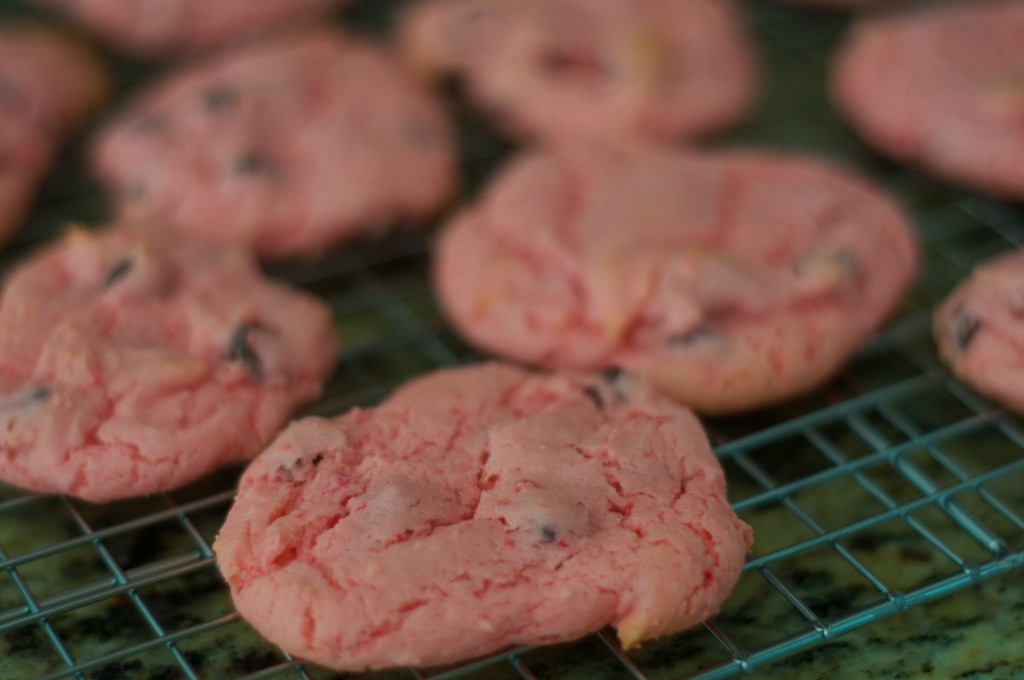 I, on the other hand, am not a dessert person.  Surprisingly enough, it drives Mike crazy.  I thought he would be happy, since it means more dessert for him.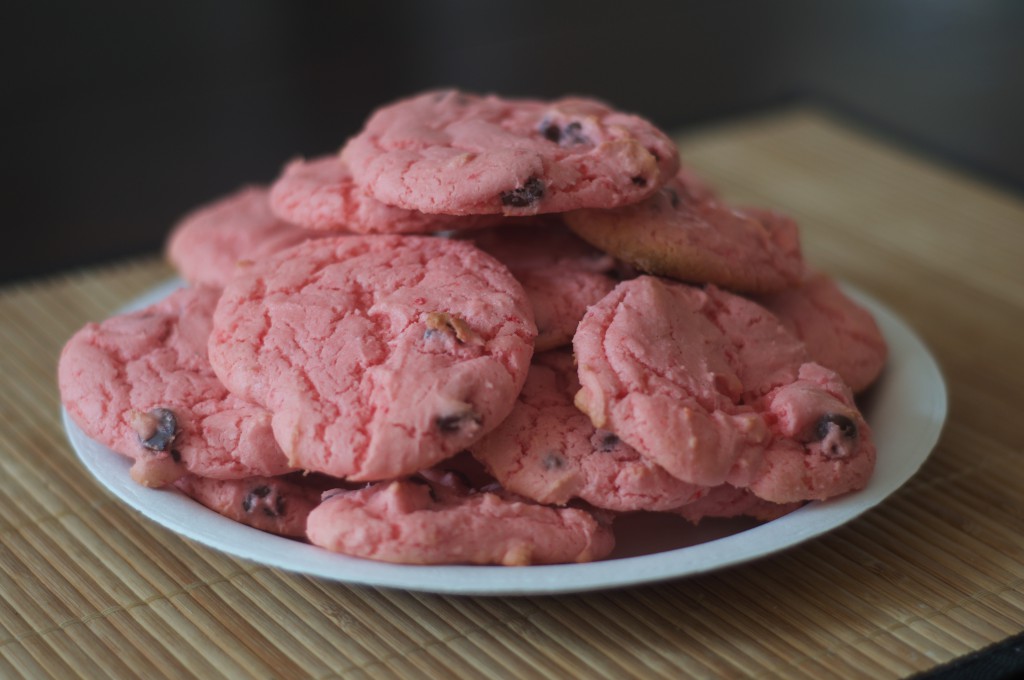 The problem, in his opinion is that he will spend all this time making cookies (or some other dessert) because he wanted to eat it, and yet no one else is around to eat them and praise his baking skills.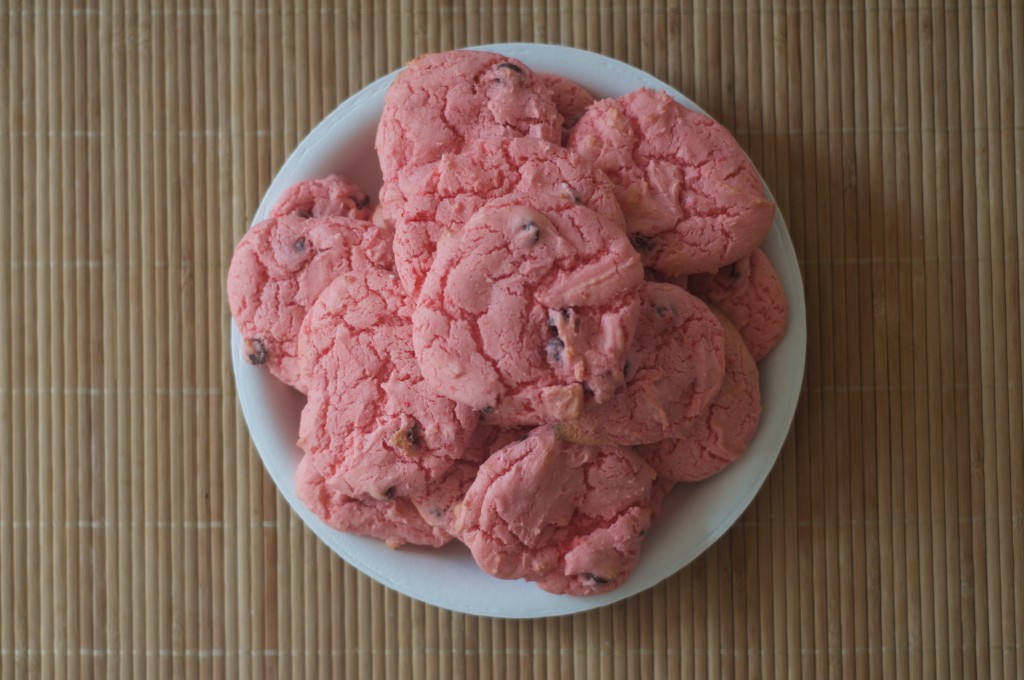 At first I thought it was because he didn't have anyone else to help him eat the cookies, but he claims this is not the case.  I personally think it's because he feels guilty for eating all those desserts by himself.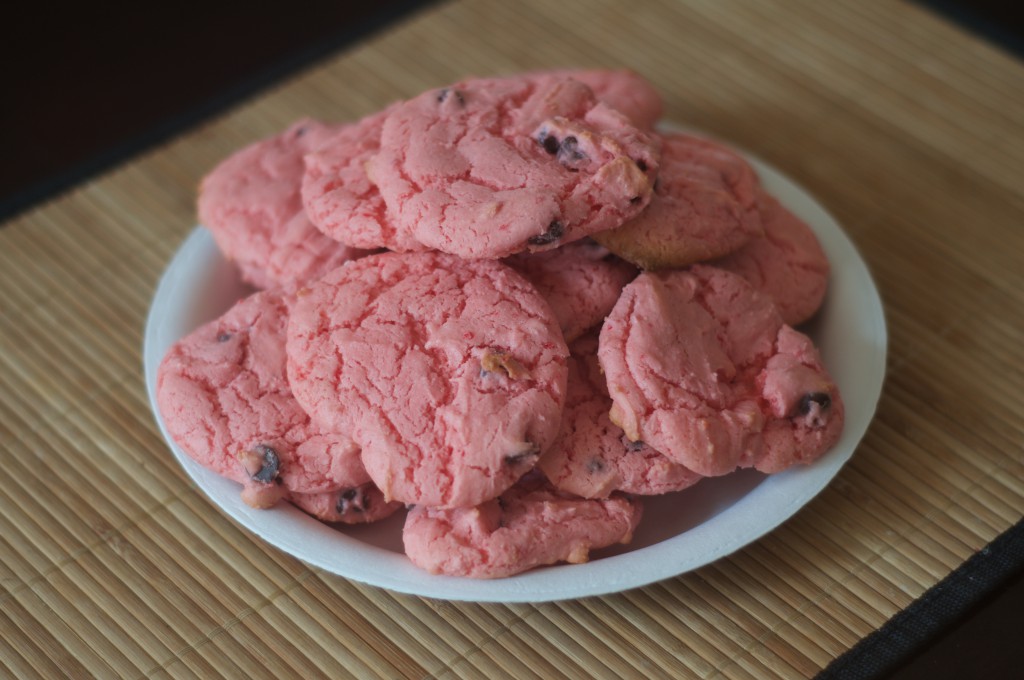 These cookies are unique in the fact that they are strawberry flavored.  These can also be made/enjoyed all year round, not just during strawberry season, since the strawberry flavor actually comes from strawberry cake mix!

Strawberry Chocolate Chip Cookies
Ingredients
1 box (18.25 ounce) strawberry cake mix (I used Betty Crocker)
1 teaspoon baking powder
2 eggs
⅓ cup vegetable oil
½ teaspoon vanilla extract
1 cup semi sweet chocolate chips
Instructions
Preheat oven to 350 F. Line a baking sheet with parchment paper. Set aside.
Add strawberry cake mix and baking powder to a stand mixer (I used the KitchenAid mixer). Use the paddle attachment to mix the ingredients. Add the eggs, oil and vanilla extract to the mixer bowl. Mix until all ingredients are well combined and a dough is formed. There should not be any pockets of dry cake mix left. Slowly stir in chocolate chips.
Working in batches, use your hands to form small "balls" of dough, using about 2 tablespoons of dough, and place on prepared baking sheet, leaving space between each ball of dough.
Bake the cookies for 10 minutes and remove from the oven. They will still be soft and will not be golden brown. Leave the cookies on the baking sheet for 3 minutes. Transfer cookies to a wire rack so that they can completely cool. Repeat with the rest of the dough.
Serve.
Adapted from Sally's Baking Addiction