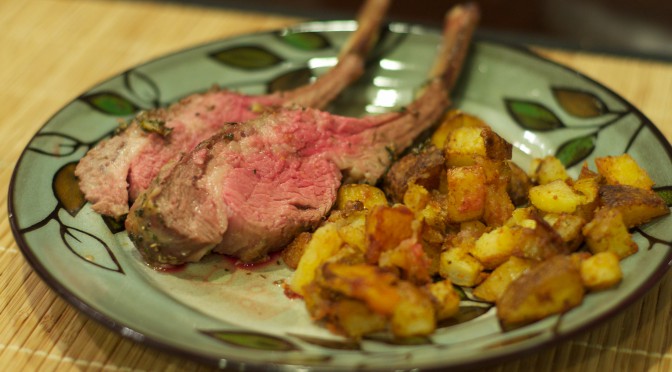 Don't Worry… I Cook Lamb!!!
I've only had a rack of lamb at a steakhouse before.  It was absolutely delicious, but also quite expensive.  I honestly think it was better than the other menu items I tried, such as Mike's filet mignon.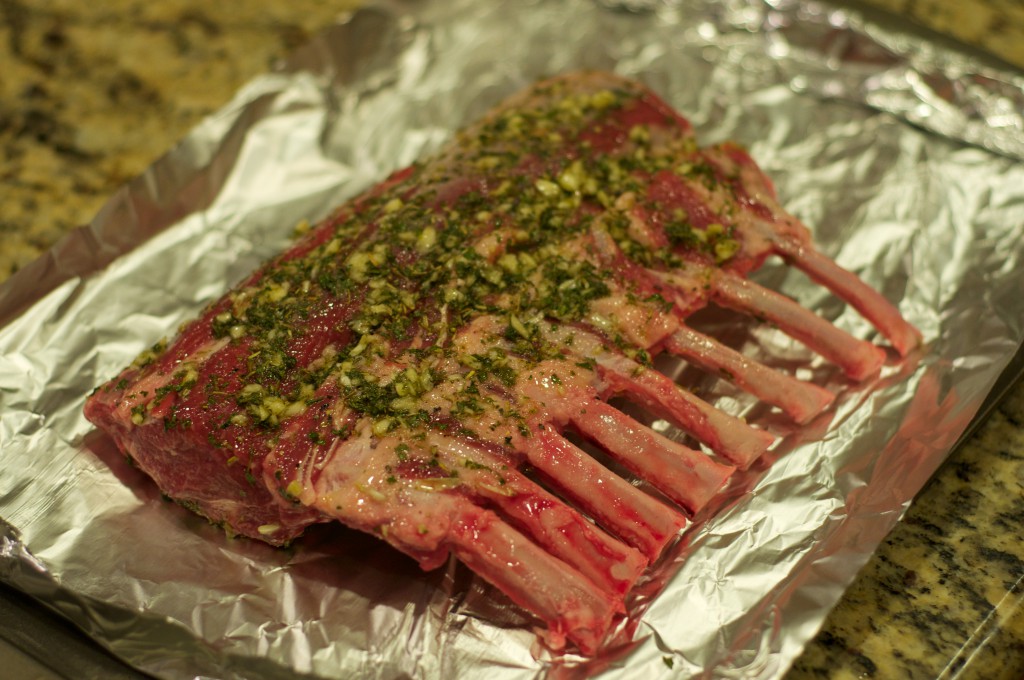 I figured that this lamb wouldn't be as delicious as the dish at the steakhouse, since they obviously (hopefully) had much more experience making lamb and other meats than I did.  Despite all this I wanted to give it a try because I've never made a rack of lamb before.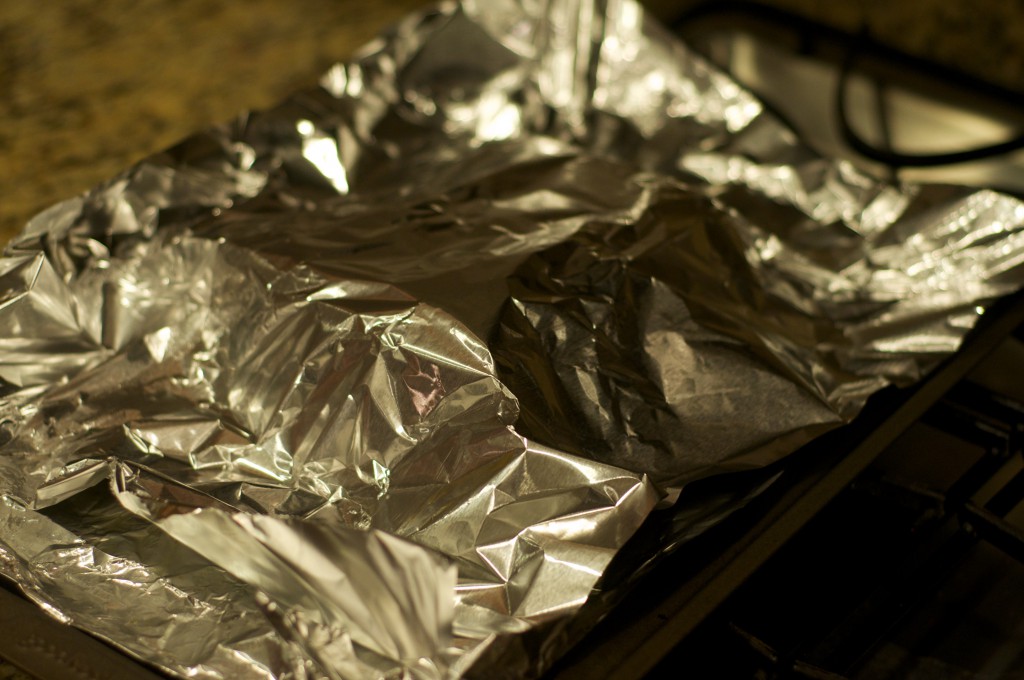 I bought a rack of lamb from Costco.  Surprisingly enough, it was cheaper to buy it from Costco than Trader Joes.  One general issue that I have with Costco is portion size.  For example, today I saw a 4 pound beef tenderloin… which would have cost $80.  I'm not sure how much a similar cut would cost at the grocery store, but I'm hoping that I can buy a 2 pound one for much less.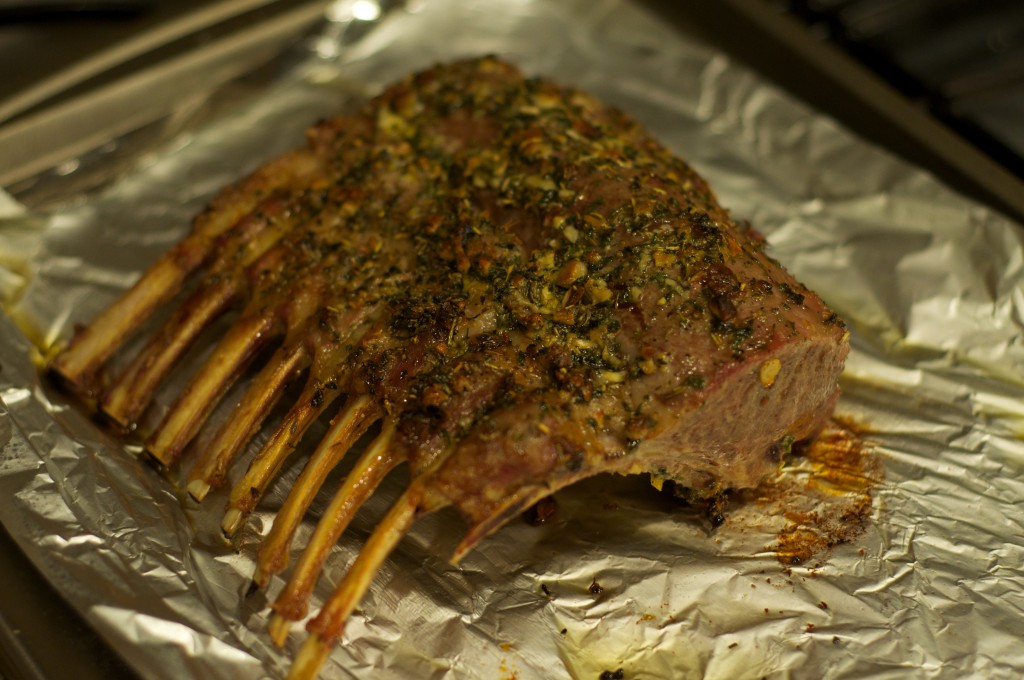 The rack of lamb at Costco was actually about the right size.  It was actually a little small.  I was supposed to buy a rack of lamb that was about 2 pounds, but the biggest one that I could find at Costco was slightly less than 2 pounds.  I believe it was around 1.75 or so pounds.  I bought it anyway since it was around the right size and I didn't want to have to go to another store to potentially buy the lamb.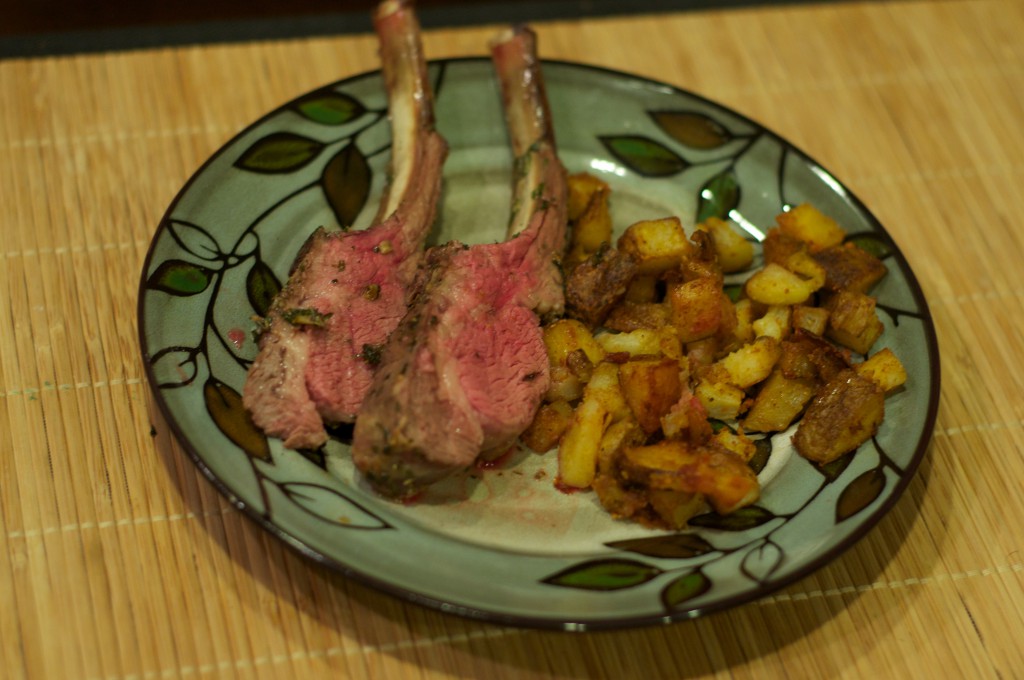 I did have to spend a bit of time cutting the fat off of the lamb.  I guess rack of lamb is just a very fatty.  It was worth it, thought because the lamb was amazing!  
Lamb is traditionally served with mint jelly.  I personally hate mint so I served the lamb "plain" with a side of amazingly delicious parmesan roasted potatoes.

Don't Worry... I Cook Lamb!!!
Ingredients
6 large garlic cloves, minced
4 teaspoons dried parsley
1 teaspoon dried thyme
⅔ teaspoon dried rosemary
2 tablespoons olive oil
1 rack of lamb (8 ribs), approximately 2 pounds, trimmed of excess fat
Salt and pepper, to taste
Instructions
Place an oven rack in the upper third of the oven and preheat to 450 F. Line a baking sheet with aluminum foil
In a small bowl, combine the garlic, parsley, thyme, rosemary and olive oil. Mix until all ingredients are well combined.
Liberally sprinkle salt and pepper on both sides of the rack of lamb. Spread the garlic mixture over both sides of the lamb. Place lamb on the prepared baking sheet.
Roast the lamb until it is nicely browned, approximately 15 minutes. Rotate the baking sheet and roast for another 5-10 minutes, or until a thermometer inserted into the center of the lamb reads 135 F.
Remove the lamb from the oven, and tent with aluminum foil for 8 minutes.
Slice the rack into individual chops and serve hot.
Adapted from The Pollan Family Table