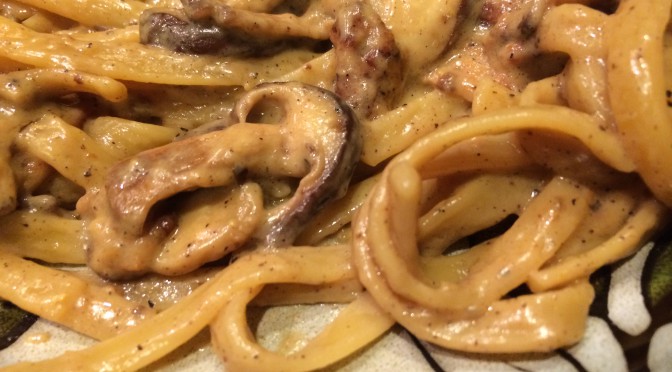 Mushroom Bacon Fettuccine
At first I was a little doubtful as to the taste of this dish.  I like soy sauce in Asian dishes, but I've never tried to add it to an Italian dish before.  I considered forgoing the soy sauce and simply adding Parmesan cheese or a little salt.  I decided to add the soy sauce anyway, since adding Parmesan cheese or salt would basically make it a "regular" creamy Italian pasta dish and I wanted to try something different.
This dish turned out amazing!  The soy sauce was not too strong in the sauce at all!  The dish did taste pretty rich, though.  However, when most of the fat is coming from bacon grease, well, it's not going to be a healthy dish.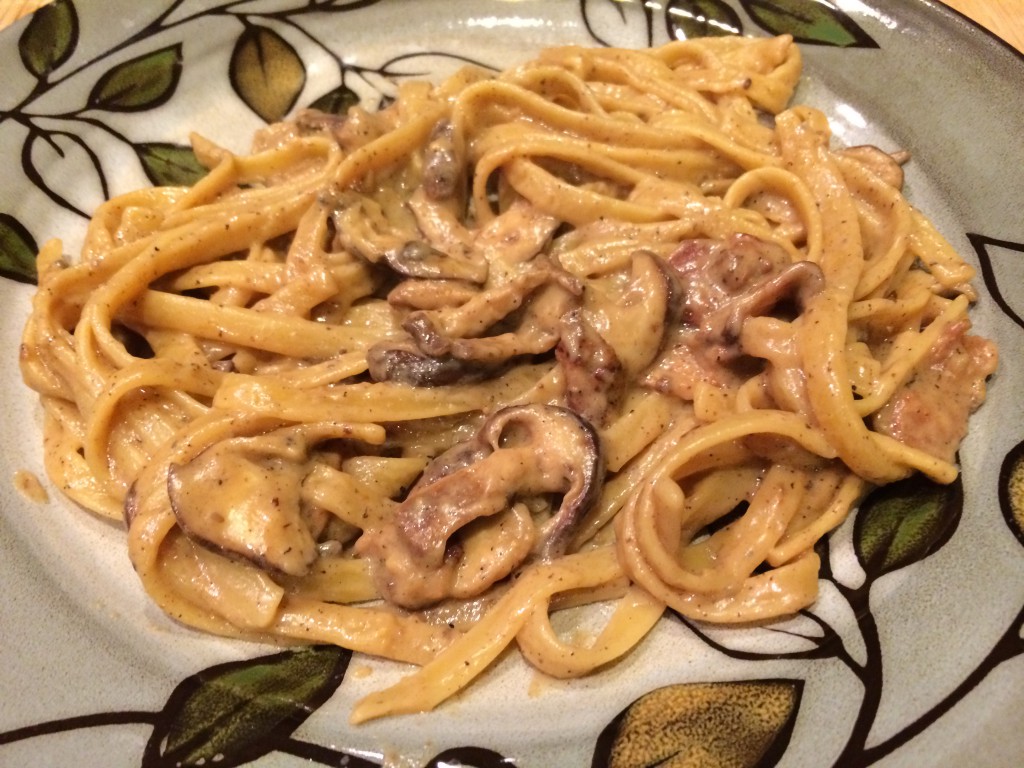 That being said, it was simple and relatively quick to cook.  The bacon still tasted slightly crispy and paired well with the mushrooms.  The bacon pieces were slightly salty and added a nice crunch.
Any mushroom could probably be used.  I happened to use Shitake mushrooms because they were on Manager's Special for 50 cents for the package.  Mike saw the container and exclaimed, "Wow, these mushrooms must be $20 normally if they are on Manager's Special for $5.  Clearly mushrooms are evil AND expensive."

Mushroom Bacon Fettucine
Ingredients
8 ounces of fettuccine
2 cloves garlic, minced
4 slices thick cut bacon, cut into ½" pieces
1 lb shiitake mushrooms, sliced
2 tablespoons all-purpose flour
1¼ cup milk
1 cube vegetable bouillon
1 tablespoon. soy sauce
Instructions
Cook fettuccine according to the instructions on the box and set aside.
Place bacon in the skillet and cook over medium heat, stirring occasionally, until it starts to be crispy around the edges, about 5 minutes. Add garlic and saute until fragrant, about 30 seconds.
Add the mushrooms and continue to sauté until mushrooms are tender, about 5 minutes. Add flour and stir to combine. Whisk in milk. Add the bouillon cube and break it up so that it dissolves in the sauce. Add soy sauce and stir to combine.
Add fettuccine and mix so that the fettuccine is completely coated in the sauce.
Serve immediately.
Adapted from JustOneCookbook