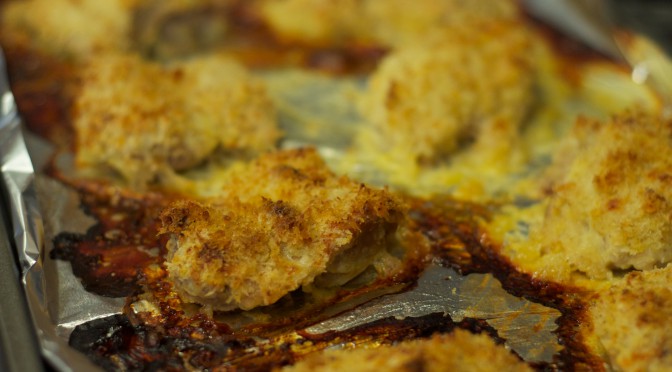 Oven Fried Chicken
I love fried chicken.  I don't know what it is about those crispy morsels, but they are just so good!  That being said, deep frying has never been my strong point.  I don't know what it is, but I just hate standing over that hot stove, trying to figure out when the food is done.  It also doesn't help that I will then have to clean up all of the oil splatters after cooking.
Oven fried chicken, on the other hand, will not leave oil splatters all over my stove.  Another nice feature is that I can place the chicken in the oven and then sit down near the chicken (or more likely wash the dishes and clean up the kitchen).  I don't have to stand in front of the hot stove, fighting little bits of oil hitting my hand whenever I'm trying to check on the chicken.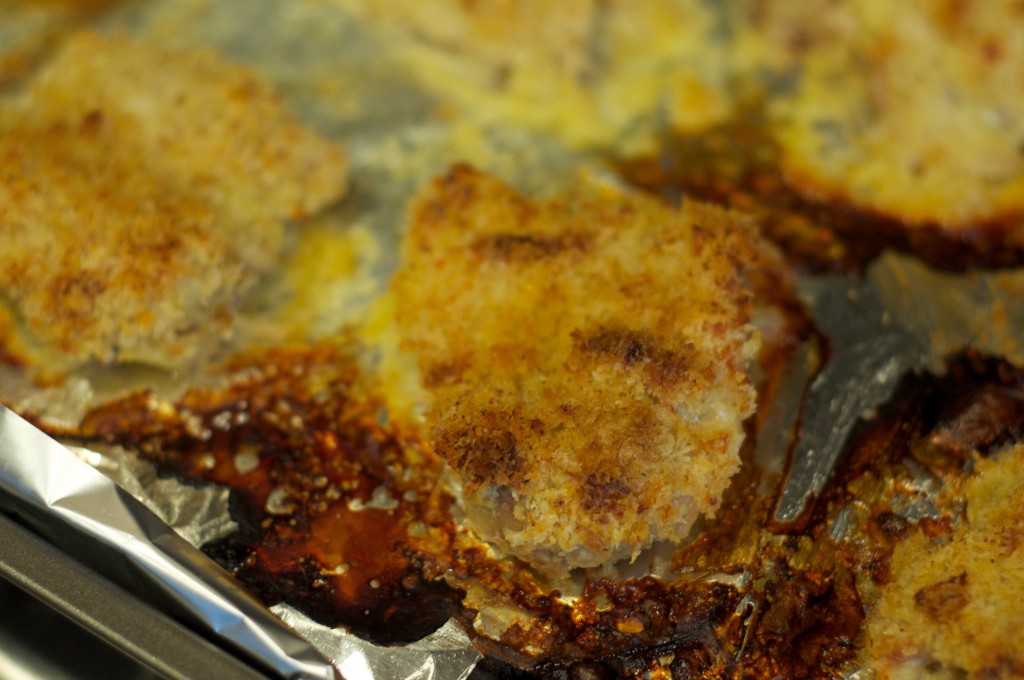 What's interesting about this recipe is that you only put the breadcrumbs on one side. This way you don't have to flip over the chicken pieces, which makes the chicken really crispy. Since the chicken is pretty thin anyway, when you eat a bite of it, you don't really notice that it's not breaded on both sides since you get a good crunch anyway. It's an excellent technique. I've noticed, while making other "oven fried chicken recipes" that the chicken is not that crunchy, since one side usually ends up "wet" when it is flipped over.

Oven Fried Chicken
Ingredients
Cooking spray
½ cup all purpose flour
4 eggs
½ cup buttermilk
3 cups Panko breadcrumbs
1 tablespoon olive oil
¼ teaspoon garlic powder
½ teaspoon salt
¼ teaspoon pepper
⅛ teaspoon Grizzly Joe Seasoning (or poultry seasoning)
4 boneless, skinless chicken thighs, cut in half
Instructions
Adjust the oven rack so that it is in the upper-middle position of the oven. Preheat oven to 425 F. Line a baking sheet with aluminum foil, and spray with cooking spray.
Place flour in a shallow bowl. In another shallow bowl, beat the eggs until foamy. Add the buttermilk and stir to combine. In a third shallow bowl, combine the breadcrumbs, oil, garlic powder, salt, pepper and seasoning.
Pat chicken dry with paper towels. Working with one piece at a time, and only coating the top and sides of the chicken, dredge the chicken in the flour, shaking off excess flour. Dip the chicken in the egg mixture, and finally coat with the breadcrumb mixture, pressing to make sure that the breadcrumbs stick to the chicken. Place on the prepared baking sheet, uncoated side down. Repeat with the remaining pieces of chicken, ensuring that there is space between each piece of chicken.
Spray the chicken with cooking spray. Bake until the breadcrumbs are golden and the chicken is cooked through, about 20 minutes. Serve hot.
Adapted from Comfort Food Makeovers