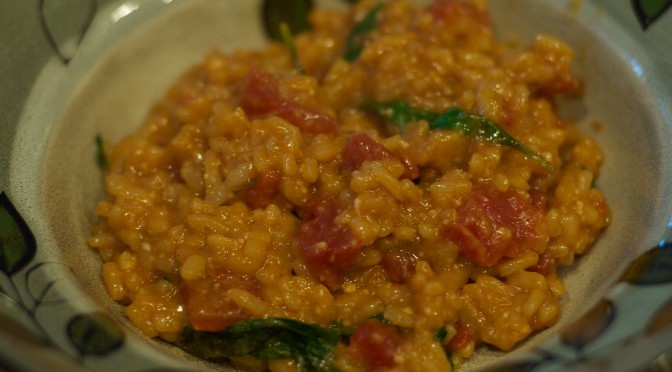 Tomato Basil Risotto
I love risotto. I love all kinds of risotto. It's probably my favorite dish. However, it's not very healthy because most risotto dishes use heavy cream. As a result, I try not to eat it too much. It also is one of the more expensive dishes at a restaurant.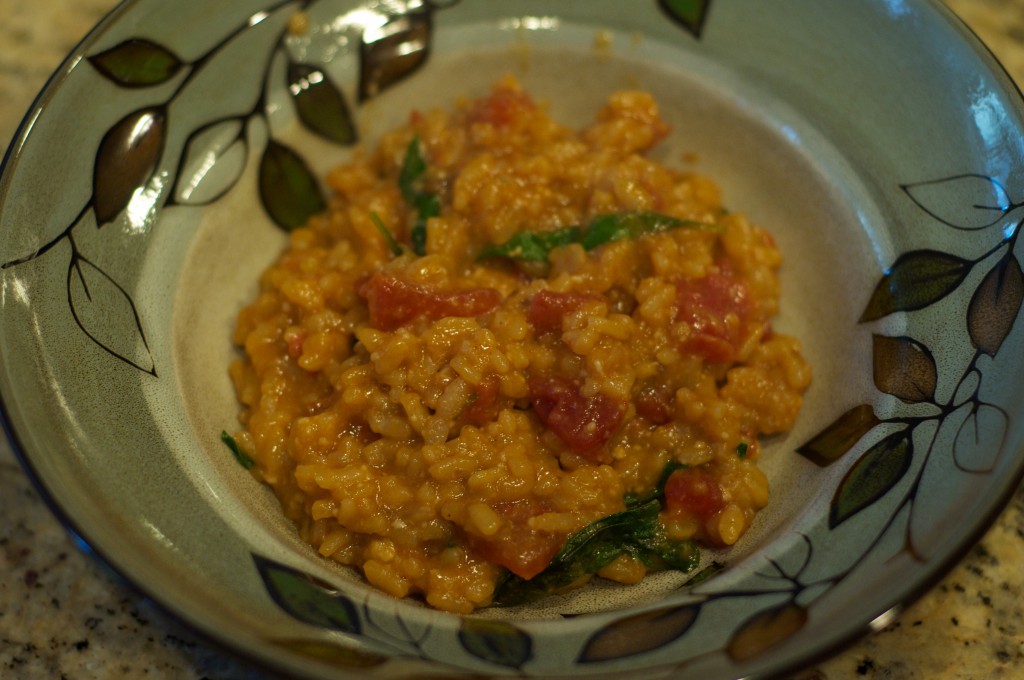 I'd always been afraid to make a risotto before since I heard that it is a LOT of work.  I won't say that making a risotto is easy, but I also don't think it's as hard to make as many make it seem.  Yes, you do have to stand over the stove for about a half and hour or so and ladle in liquid until the rice is cooked.  Others may disagree, but I feel that standing in front of a stove for half an hour isn't too large of a price to pay for this delicious meal.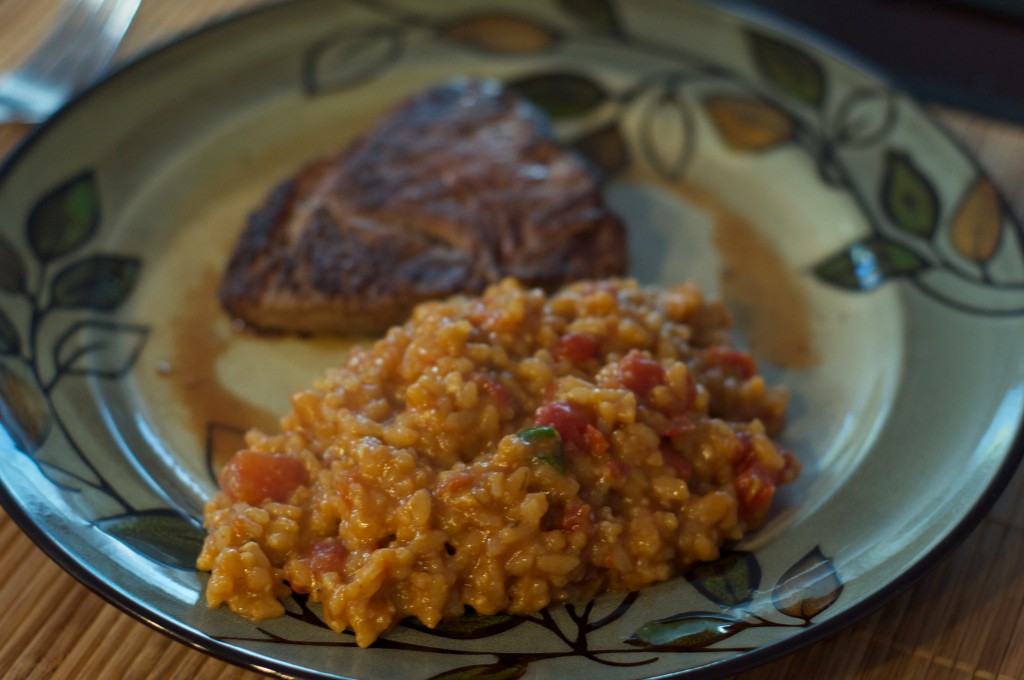 This risotto can be enjoyed as a man dish or a side.

Tomato Basil Risotto
Ingredients
7 cups vegetable broth
2 tablespoons olive oil
½ cup minced onion
Salt to taste
2 garlic cloves, minced
1½ cups Arborio rice
1 (14 ounce) can diced tomatoes, drained
⅓ teaspoon dried thyme
½ cup white wine
¼ cup slivered fresh basil
½ cup grated Parmesan cheese
Instructions
In a large pot, heat the vegetable stock. Once it is heated, reduce heat to a simmer.
In a large, heavy bottom skillet, heat olive oil over medium heat. Add the onions and a large pinch of salt, or to taste. Cook until the onions are translucent and tender, about 5 minutes, stirring occasionally.
Add the garlic and rice and stir to combine. Continue to cook the rice until it has started to crackle. Add the tomatoes and thyme and stir to combine. Continue to cook until the tomatoes have softened and start to coat the rice, about 5 to 10 minutes.
Add the wine, stir and cook the rice until the wine has been absorbed by the rice. Add the broth, a ladleful at a time. The broth should just cover the rice. Cook until the broth has been absorbed by the rice. Add more broth, a ladleful at a time until the rice is cooked. This will take around 20-25 minutes.
If the risotto is too thick, stir in some more broth. Remove from heat and add the basil and Parmesan cheese. Stir until the Parmesan cheese is melted and fully incorporated into the dish. Add salt to taste.
Serve immediately, in wide bowls, or plates, spreading the risotto in a thin layer rather than a large mound.
Adapted from New York Times Cooking